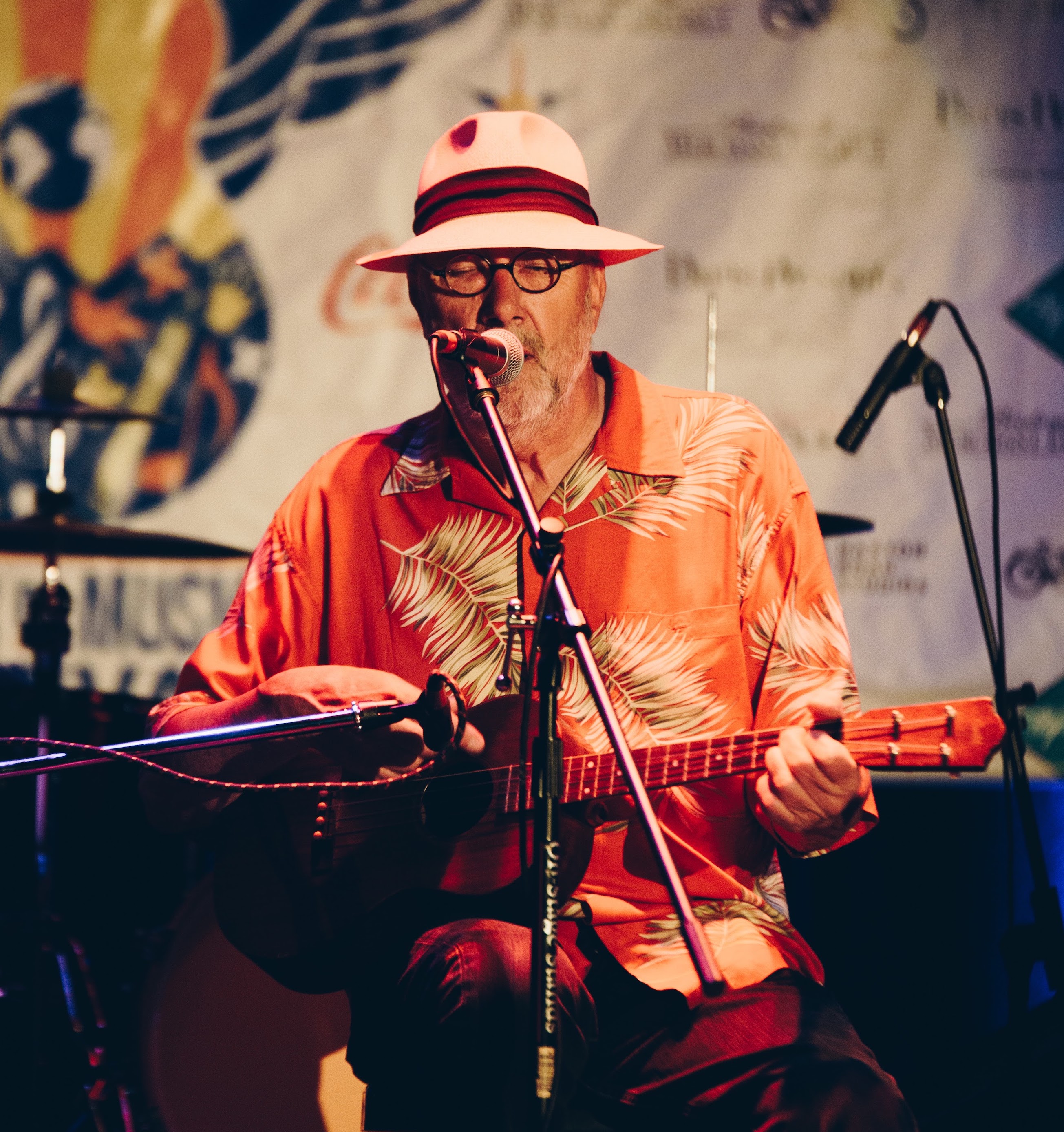 Roger Cook
Top Hits Include:
"Long Cool Woman In A Black Dress" - The Hollies
"I'd Like To Teach The World To Sing" - The New Seekers, Coca-Cola Theme Song
"You've Got Your Troubles" - The Fortunes
"I Just Want To Dance With You" - George Strait
"I Believe In Love" - Don Williams
Performing: April 28
Roger Cook  is an English singer, songwriter and record producer, who has written many hit records for other recording artists. He has also had a successful recording career in his own right.
He is best known for his collaborations with Roger Greenaway. Cook's co-compositions have included "You've Got Your Troubles", and the transatlantic million selling songs, "I'd Like to Teach the World to Sing" and "Long Cool Woman in a Black Dress".They were the first UK songwriting partnership to be granted an Ivor Novello Award as 'Songwriters of the Year' in two successive years.
In 1997, Cook became the only British songwriter to enter the Nashville Songwriters Hall of Fame.
Amongst hits he has written with others, including Greenaway and writers such as Albert Hammond, Mike Hazlewood and Tony Macaulay are "I'd Like to Teach the World to Sing" (The New Seekers), "Good Times, Better Times" (Cliff Richard), "Softly Whispering I Love You" (The Congregation), "Something's Gotten Hold of My Heart" (Gene Pitney), "Home Lovin' Man" (Andy Williams), "Blame It on the Pony Express" (Johnny Johnson and the Bandwagon), "Something Old, Something New" (The Fantastics), "Something Tells Me (Something's Gonna Happen Tonight)" (Cilla Black), "I've Got You on My Mind", "When You Are a King" and "My Baby Loves Lovin'" (White Plains), "Gasoline Alley Bred" and "Long Cool Woman in a Black Dress" (The Hollies); "Freedom Come, Freedom Go" (The Fortunes), "Doctor's Orders" (Sunny), "I Was Kaiser Bill's Batman" (Whistling Jack Smith) and "Like Sister and Brother" (The Drifters). "Miracles" (Don Williams), Cook co-wrote "I Just Want to Dance with You" with John Prine; Prine recorded the song in 1986 for his album German Afternoons, and it was a hit for George Strait in 1998.
Cook and Greenaway also wrote "High 'N' Dry" (Cliff Richard), which was the B-side of "Congratulations", the runner-up song for the UK Eurovision Song Contest in 1968.
In 1975 Cook moved to the US and settled in Nashville, Tennessee, where he produced more hits including "Talking in Your Sleep" (Crystal Gayle in 1978, first recorded by Marmalade) and "Love Is on a Roll" (Don Williams). In 1977 he produced The Nashville Album, a record by Chip Hawkes, who had recently left the Tremeloes (but would rejoin the group a few years thereafter). He also opened a publishing company with accomplished songwriter Ralph Murphy named Pic-A-Lic.
In 1992 he joined former Stranglers member Hugh Cornwell and guitarist Andy West to release an album, CCW. Later he turned to writing for the stage and he has worked on two musicals, Beautiful and Damned, based on the lives of Jazz Age author F. Scott Fitzgerald and his wife Zelda, in collaboration with Les Reed; and Don't You Rock Me Daddio, set in 1957 at the height of the skiffle age, with Joe Brown.
In 1997, Cook became the first (and so far only) British songwriter to enter the Nashville Songwriters Hall of Fame.
---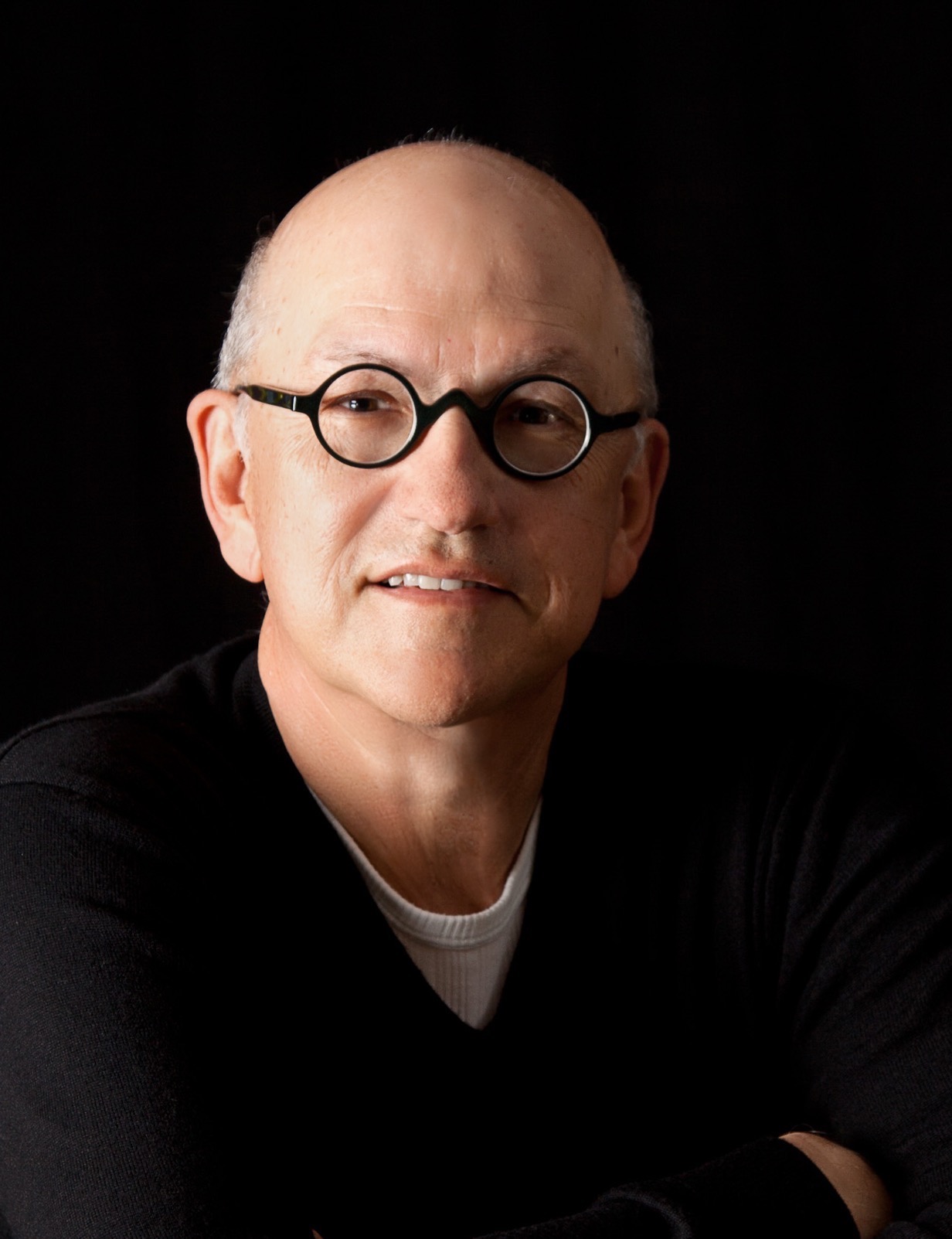 Randy Goodrum
"You Needed Me" - Anne Murray (#1 Pop & Adult Contemporary, 1979 Grammy for Best Pop Vocal Performance and the ACM Song of the Year)
"Bluer Than Blue" - Michael Jackson (#1 Adult Contemporary, Top 10 Pop)
"It's Sad To Belong" - England Dan & John Ford Coley (#1 Adult Contemporary, Top 10 Pop)
"A Broken Hearted Me" - Anne Murray (#1 Adult Contemporary)
"Before My Heart Finds Out" - Gene Cotton (#1 Adult Contemporary)
"If I Believed" - Patti Austin (#1 Adult Contemporary)
"Oh Sherrie" - Steve Perry (#3 Pop)
"Foolish Heart" - Steve Perry (#1 Adult Contemporary)
"I'll Be Over You" - Toto (#1 Adult Contemporary)
"Who's Holding' Donna Now" - El DeBarge (#1 Adult Contemporary)
"A Lesson In Leaving" - Dottie West, and Jo Dee Messina (#1 Country, twice, once with each artist) 
Performing: April 27
Randy is always associated with a unique style and outstanding execution whether in songwriting, producing, or performing. Born in Arkansas, Randy was influenced by the many original American Music forms that originated in that region: jazz, blues, country, rhythm and blues, and rock and roll. "Part of the reason my writing and playing is so diverse is because of where I grew up," Goodrum has said. "In order to work you had to be able to play it, sing it, and write it all, and do it authentically."
Randy has also penned these hits: "All Over Again" (Ronan Keating-duet hit in multiple countries with guest singers from each country), "You Needed Me" (Boyzone, #1 in Europe), "Now and Forever (You And Me)" (Anne Murray-ASCAP Country Song of the Year), "If She Would Have Been Faithful" (Chicago), "Lesson in Leavin'," "I'm Gonna Put You Back on the Rack," "Leaving's for Unbelievers" (Dottie West), "What're We Doin' in Love" (Kenny Rogers and Dottie West), "It's True Love" (Loretta Lynn and Conway Twitty), "She's Mine" (Steve Perry), "If I Had My Wish Tonight" (David Lasley), "Tell Me Tomorrow" (Angela Bofill), "Silhouette" (Randy Goodrum), "The Fool In Me" (Sonny James), "Foolish Heart" (Sharon Bryant), "Fallin' In Love" (Sylvia), "I Will If You Will" (John Berry), "Melanie" (Toto), and "20-20" (George Benson).
Goodrum has had a considerable number of songs appear in major motion pictures and TV, such as: three songs in Stir Crazy (Gene Wilder and Richard Pryor), one song in Back to School (Rodney Dangerfield), Oh, Sherrie in the final season of Breaking Bad,one song in Cowboy (Ted Dansen), one song in Why Would I Lie (Lisa Eicher), one song in Chipmunk Adventure, three songs in Heavenly Kid, and one song, If You Believe, in the motion picture Prancer Returns, which was awarded 2001 Best Original Song in a Motion Picture at the Variety Video Awards. Randy received a Cable Ace Awards Nomination for Song of the Year in 1994 for a song in the Cable TV hit series, Roundhouse. Goodrum and Dave Grusin co-wrote the theme for the daytime TV drama, One Life To Live.
Goodrum's grounding in various styles has provided him with a songwriting passport that's been stamped by a wide array of artists, including: Phoebe Snow, Tammy Wynette, Russ Malone, The Raybon Brothers, Gladys Knight, Reba McEntire, Brian Kennedy, Earl Klugh, Alabama, Johnny Lange, Avalon, Christopher Cross, John Berry, Bryan White, Ray Charles, Steve Wariner, Chakka Kahn, Russ Taff, Glen Medeiros, Patty Austin, Mark Knopfler, Rick Trevino, The Memphis Horns, David Benoit, Dave Grusin, Judy, Ronnie Milsap, Helen Reddy, Bobby Caldwell, Amy Grant, Lori Morgan, Michael McDonald, K.T. Oslin, Rita Coolidge, Al Jarreau, Chet Atkins, Natalie Cole, Floyd Cramer, Princess Vaughn, The Commodores, Olivia Newton-John, B.J. Thomas, Kansas, Maura O'Connell, Billy Joe Walker, Dusty Springfield, Vince Gill, Trisha Yearwood, Bill Medley, Debby Boone, Teddy Pendergast, Michael Bolton, David Pack, The Imperials, David Gaither, Chesney Hawkes, Billy Joe Walker, Roger Whitaker, Agnetha Faltskog, The Jefferson Starship, Deodato, James Galway, Isaac Hayes, Millie Jackson, Ferrante and Teichner, Peobo Bryson, Jeffrey Osborne, Wendy Moten, Stacy Lattisaw, Rick Price, Amanda Stott, Tommy Emmanuel, and the list goes on and on.
Goodrum has received numerous awards he has received for his work. In Oct. 2000, Randy was inducted into the prestigious Nashville Songwriters Hall of Fame, and has won dozens of ASCAP Songwriter and Publisher Awards for his many hits throughout his prolific career. In 1981, he won six ASCAP Awards in a single year, and was named ASCAP Country Songwriter of the Year, having already received a Grammy Nomination for "You Needed Me" as Song of the Year. "You Needed Me" was also Song of the Year for The Academy of Country Music, The National Music Publishers Association, and The Nashville Songwriters Association. Goodrum's song, "Now and Forever (You and Me)," recorded by Anne Murray was 1986 ASCAP Country Song Of The Year. "You Needed Me" was named one of the Top 10 ASCAP Songs of the Decade as well as being awarded one of the Top Ten Country ASCAP Songs of the Twentieth Century.
Other interesting achievements associated with Randy's songs are "So Soft, Your Goodbye" (Grammy awarded to Chet Atkins and Mark Knoffler for Best Country Instrumental Performance), "You Needed Me" (Grammy for Best Female Vocal to Anne Murray), "What're We Doin in Love" (Grammy Awarded to Dottie West and Kenny Rogers for Best Country Duo), Arkansan of the Year award from the Arkansas Broadcasters Association, induction into the Hot Springs High School Hall of Fame, in 1996 Randy was inducted into the Arkansas Entertainment Hall of Fame as well as receiving the Governor's Award for special merit, and in 1997 he received the President's Choice Award from the Nashville Songwriter's Association International for meritorious service toward the songwriting community.
Randy received a prestigious honor from his college Alma Mater, Hendrix College (Class of 1969, Bachelor of Music). The honor was the 2010 Hendrix College Odyssey Award in the category of Artistic Creativity.
Goodrum's diversity has also served him well as a producer and session and touring keyboardist, where he's worked with such artists as Roy Orbison, Dionne Warwick, B.J. Thomas, Olivia Newton-John, Jerry Reed, Patti Austin, Earl Klugh and George Benson.
Goodrum is also a recording artist. His albums include Fool's Paradise, Caretaker of Dreams, An Exhibition and Words and Music.
Randy's latest projects include multiple JaR albums (a collaboration with famed session guitarist Jay Graydon and a new solo project underway with legendary LA Musician, Larry Williams as co-producer featuring many world class players.
---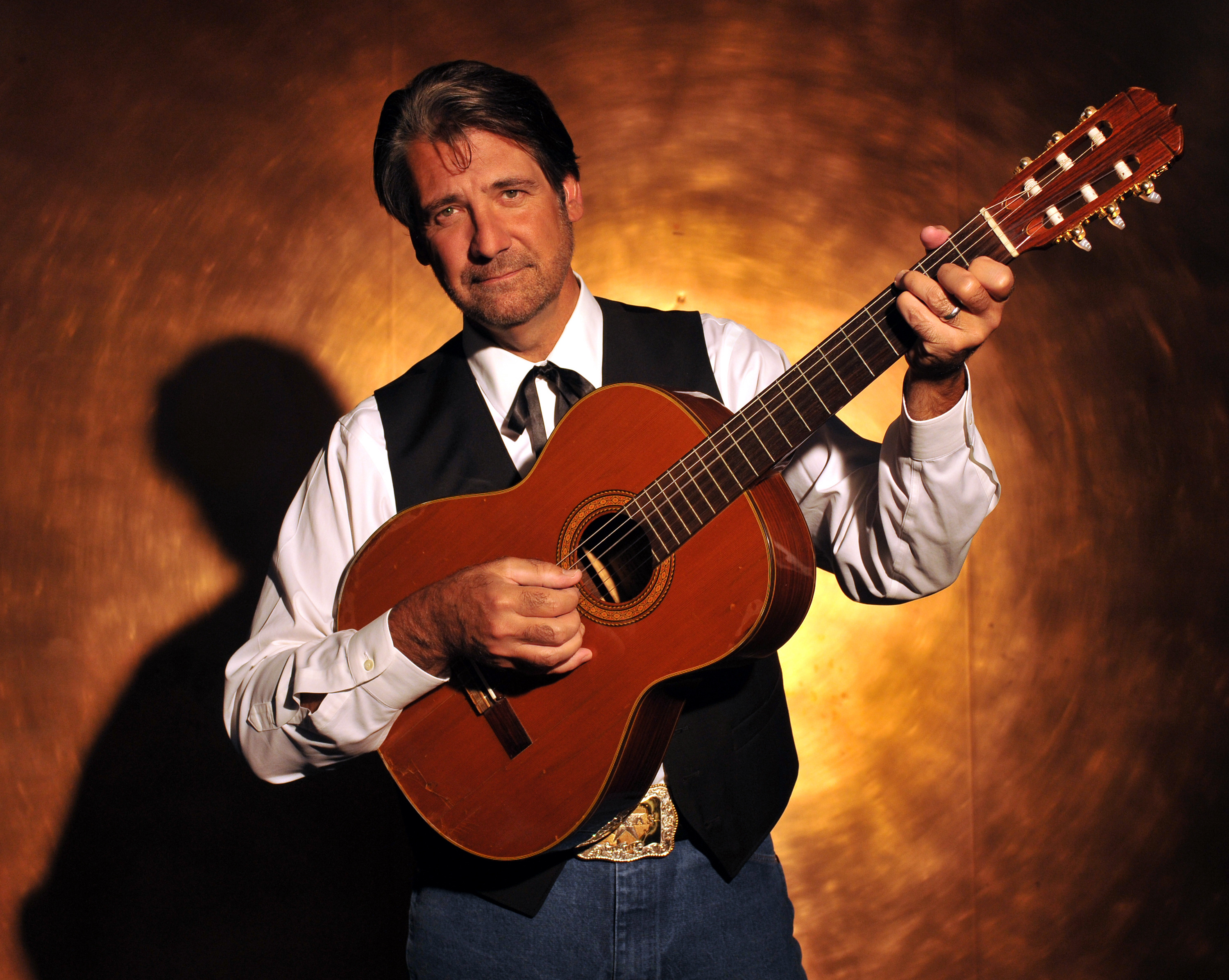 Richard Leigh
Top Hits Include:
"Don't It Make My Brown Eyes Blue" - Crystal Gayle
"Cold Day" - Dixie Chicks
"It's All I Can Do" - Anne Murray
"Somewhere In My Broken Heart" - Billy Dean
"Life's Highway" - Steve Wariner
Performing: April 28
Richard Leigh has had hits spanning 4 decades and 9 #1 records. He kicked off the 21st century with a top ten hit, "Cold Day In July", recorded by the Dixie Chicks. In September of 2009, his good friend, Billy Dean, recorded an entire album of Leigh's compositions called Billy Dean Sings Richard Leigh. On November 1, 2015 SESAC presented Leigh with its Songwriter Legacy Award, "for extraordinary artistic achievement with words and music". Crystal Gayle and Reba McEntire were on hand to help present Leigh with this prestigious award.    
Leigh, who has been writing songs since he was ten years old and professionally since he was twenty-three, got his first break in 1976 when Crystal Gayle released "I'll Get Over You", and took it to #1 on Billboard's Country Chart. This was made all the sweeter when it garnered Leigh his first, of now seven, Song Of The Year nominations, this one from the Country Music Association (CMA).   
Two years later, in 1978, Leigh was back at the CMA's, this time to take home the Song Of The Year award for "Don't It Make My Brown Eyes Blue" which itself has had a phenomenal career: this Leigh composition reached the #1 position on both Pop and County charts and remained on the charts for more than six months. It was nominated at the 20th Grammy Awards in both the Pop and Country Best Song categories (a feat not repeated again until 1993).  It won a Grammy Award for Best Country Song and became a million selling single, and was named one of the ten most performed Country Songs Of The Century at the 1999 ASCAP Awards. In addition to his own three Grammy Nominations, five of Leigh's songs have become vehicles to the Grammy Awards for other artists in the Best Performance, Record of the year, and Vocal Event categories.   
To date, Leigh has made fourteen trips to the Top Ten and has written or co-written nine #1 singles: the hauntingly beautiful "Somewhere In My Broken Heart" (written with Billy Dean), voted 1991 Song Of The Year by the Nashville Songwriter's Association (NSAI), and also by the Academy Of Country Music (ACM); "Only Here For A Little While", (written with Wayland Holyfield); "The Greatest Man I Never Knew" (written with Layng Martine, Jr.), nominated at the 1993 Grammy Awards for Best Country Song); "Come From The Heart" (written with Susanna Clark and recorded by Kathy Mattea);  Don Williams' "Thats The Thing About Love" (written with Gary Nicholson); Steve Wariner's "Life's Highway" (written with Roger Murrah); Mickey Giley's "Put Your Dreams Away" (written with Wayland Holyfield), and the aforementioned "I'll Get Over You" and "Don't It Make My Brown Eyes Blue", both written solely by Leigh and recorded by Crystal Gayle.   
In 1978, then Nashville Mayor, Richard Fulton, presented Leigh with The Key To The City. In 1988, he was honored with a space on the NARAS Starwalk. However, he received one of his greatest honors in 1994, twenty years and one month after arriving in Nashville, when his peers elected him into the Nashville Songwriter's Hall Of Fame.  
Other artists who have recorded Leigh's songs include: Anne Murray, Martina McBride, George Jones, K.T. Oslin, Ronnie Milsap, B.J. Thomas, Bill Medley, Perry Como, Connie Francis, Debbie Boone, Conway Twitty, Alabama, Shenandoah, Tammy Wynette, The Bellamy Brothers, Suzy Boguss, Guy Clark, Ricky Scaggs, Lorrie Morgan, The Nitty Gritty Dirt Band, Marie Osmond, Jerry Jeff Walker, Kitty Wells, Bobby Bare, the great Ray Charles, and many more.   
---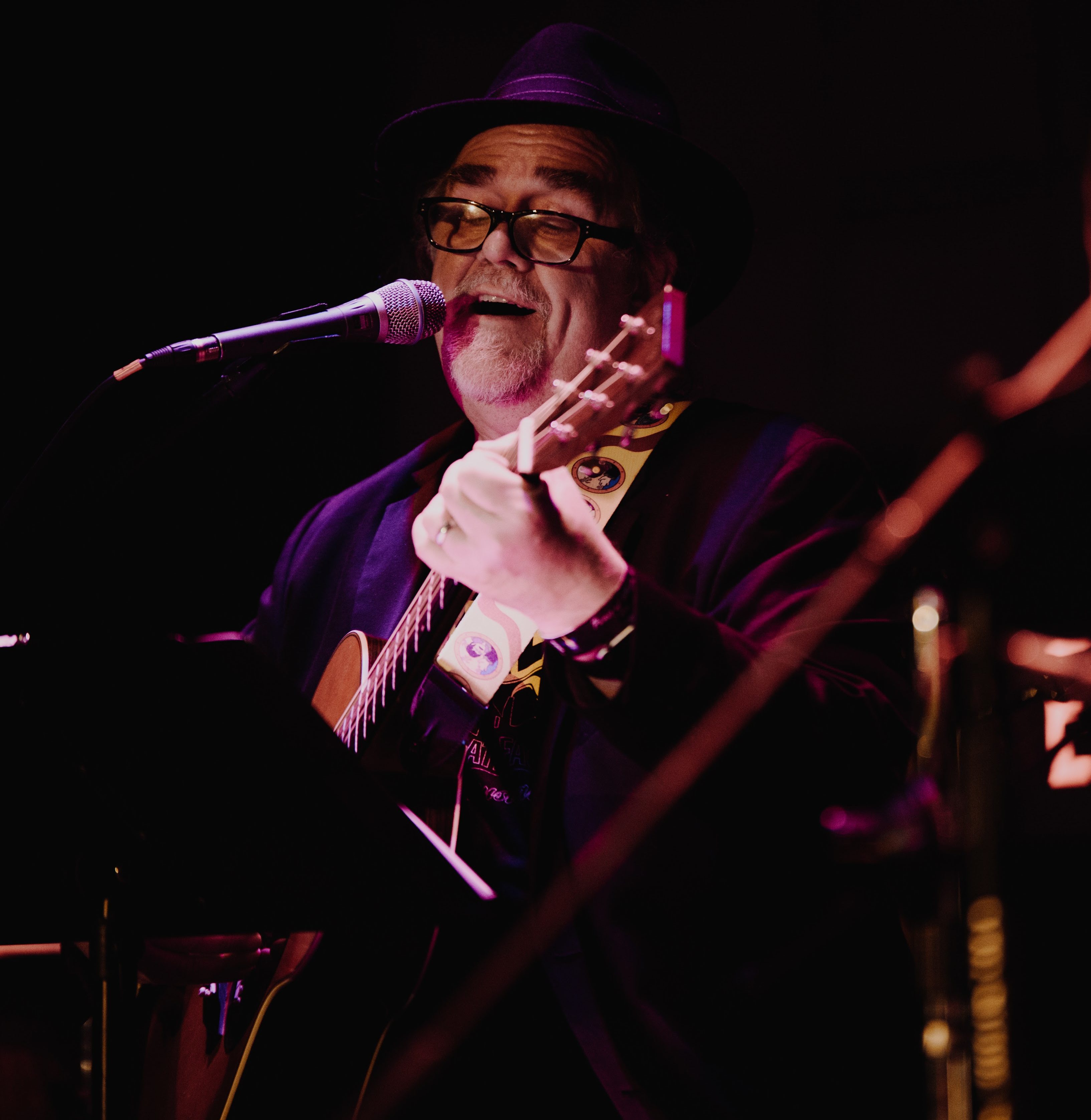 Dennis Morgan
"I Knew You Were Waiting For Me" - Aretha Franklin & George Michael
"My Heart Can't Tell You No" - Rod Stewart
"Smoky Mountain Rain" - Ronnie Milsap
"I Was Country, When Country Wasn't Cool" - Barbara Mandrell
"Nobody" - Sylvia
"I Wouldn't Have Missed It For The World" - Ronnie Milsap
"Room To Move" - Animotion
"Sensible Shoes" - David Lee Roth
Performing: April 28
Dennis was born July 30, 1952. He was raised on a farm in Tracy, Minnesota. At the age of eleven, after seeing the Beatles on Ed Sullivan, he got a guitar. Dennis started playing in bands and writing songs. He received a solo recording offer out of Chicago. He quit school and hit the road...turning 17 in the summer of '69 in old town and the windy city. The record company took him to Nashville for the first time to do some demos, and Dennis fell in love with the place. After returning to Chicago and touring the U.S., from New York City to Los Angeles over the next nine months, the record deal fell thru.

Shortly thereafter, Dennis once again lit out for Music City...this time hitchhiking and stopping in a dozen honky tonks and bars along the way to play and pass the hat. Then, he landed backstage at the Grand Ole Opry his very first night back in town. For the next five years, he worked in the bars and passed the hat...until five years later, almost to the day, Dennis finally started getting songs recorded, as well as doing session work as a background singer and guitarist. During this period, he also wrote and played on, as well as produced, dozens of national jingles for companies like Coke, Opryland, Kentucky Fried Chicken, Rubbermaid, etc. It was also during this period that Dennis signed with Charlie Pride and Tom Collins' publishing company...and the hits began.

After meeting fellow "Pride" songwriter, Kye Fleming, one afternoon, the two proceeded to write, in twenty minutes time, a song that would change their lives...along with a then unknown Barbara Mandrell. The song was "Sleeping Single In A Double Bed", and it stayed #1 on all of the national charts for a month. It won a dozen major awards, and was Dennis' first nomination for a Grammy. So, the flood gates opened and the hits began to roll in...
Dennis Morgan is the writer of over 4,000 songs with 100+ charted hits around the world. Songs include "Sleeping Single In A Double Bed", "I Was Country When Country Wasn't Cool", "Years Fooled By A Feeling", "Crackers", "In Times Like These", "Only A Lonely Heart Knows" and "He Set My Life To Music" for Barbara Mandrell. "Smokey Mountain Rain", "I Wouldn't Have Missed It For The World" and "She Keeps The Home Fires Burning" for Ronnie Milsap. "Let Me Let Go" for Faith Hill & Vince Gill. "Nobody", "Like Nothing Ever Happened", "Tumbleweed" and "Snapshot" for Sylvia. "All Roads Lead To You" and "Kansas City Lights" for Steve Wariner. "Roll On Mississippi" and "Missing You" for Charley Pride. "Don't Bother To Knock" and "Morning Comes Too Early" for Jim Ed Brown & Helen Cornelius. "Radio Heart" and "With Just One Look In Your Eyes" for Charly McClain. "Love Changes Everything" and "Rise To The Occasion" for Climie Fisher. "Healing Love" for Cliff Richard. "I Knew You Were Waiting For Me" Aretha Franklin & George Michael. "Room To Move" for Animotion. "River To Love" for George Strait. "What's Right Is Right" for Taylor Hicks. "And So I Will Wait For You" for Freddy McGreggor. "My Heart Can't Tell You No" for both Rod Stewart and Sara Evans. "Broken Down" for Eric Clapton. "Tennessee Moon" for Neil Diamond. "Just A Little Love" for Reba McEntire. "Sensible Shoes" for David Lee Roth. "She Takes My Breath Away" for Eddie Money. Other artists that have recorded Dennis' songs include Ray Charles, Delbert McClinton, Jonny Lang, Michael McDonald, Joe Cocker, Fleetwood Mac, David Alan Coe, Brad Paisley, Kenny Chesney, Alabama and many, many more. 
Dennis has received 48 BMI Writer Awards, 8 BMI Publisher Awards, The Ivor Novello Award for Song of the Year, "Love Changes Everything". Several Grammy nominations and a Grammy win as publisher of the smash hit "I Swear". Member of the Nashville Songwriters Hall of Fame. NSAI Presidents Award. BMI Songwriter of the Year multiple times. 20 Millionaire Performance Songs and Dennis owns and operates his own publishing company, Little House of Morgansongs & the Morgan Music Group, Inc.
---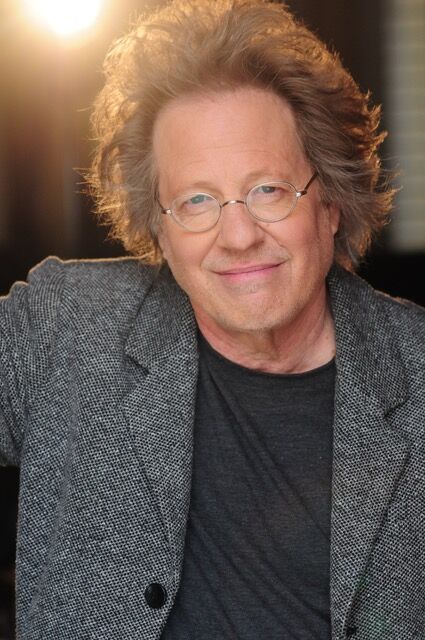 Steve Dorff
 "I Just Fall In Love Again" - Anne Murray
"Through The Years" - Kenny Rogers
Performing: April 27 & 28
3 time Grammy and 6 time Emmy nominated Steve Dorff has written songs sung by the likes of Barbra Streisand, Kenny Rogers, Celine Dion, Whitney Houston, Anne Murray, George Strait, Garth Brooks and countless others, while also establishing himself as a gifted film and television composer. He's tallied over 40 BMI awards with hits like Rogers' "Through the Years," Murray's "I Just Fall in Love Again" (Billboard's top country hit of 1979), Strait's "I Cross My Heart," Lee Greenwood's "Don't Underestimate My Love for You," and Eddie Rabbitt's "Every Which Way But Loose"—the title track from Clint Eastwood's 1978 film. His songs have charted in 5 successive decades, with #1 records across 4 decades.
Dorff has also composed TV music for Spenser: For Hire, Murphy Brown, The Singing Bee, Just the 10 of Us, Growing Pains, Murder She Wrote, Columbo and Reba; his other film contributions include songs and scores for Bronco Billy, Rocky IV, Pure Country, Tin Cup and Honky Tonk Man.
Key songs in the Dorff catalog include: * Through The Years * I Just Fall In Love Again * Heartland * Every Which Way But Loose * Hypnotize The Moon * I Cross My Heart, and countless others recorded by over 250 Artists from all genres of music.
His many TV and cable movie credits include the Emmy nominated CBS mini-series "Elvis", the Hallmark Hall of Fame "Rose Hill", the animated Christmas classic "Annabelle's Wish", "Babe Ruth", "The Quick and The Dead", "Moonshine Highway" and "The Defiant Ones". Dorff's many movie songs and scores have been featured in "Bronco Billy", "Blast From The Past", "Rocky IV", "Pure Country", "Tin Cup", "Michael", "Dudley Do-Right", "Dancer, Texas", "The Last Boy Scout", "Curly Sue" and "Honky Tonk Man".

Perhaps Dorff's most ambitious move to date has been a giant leap into his first love, musical theater. He currently has two projects making their way to the stage: "Josephine" (The Josephine Baker Story) and "Pure Country" (The Musical).
---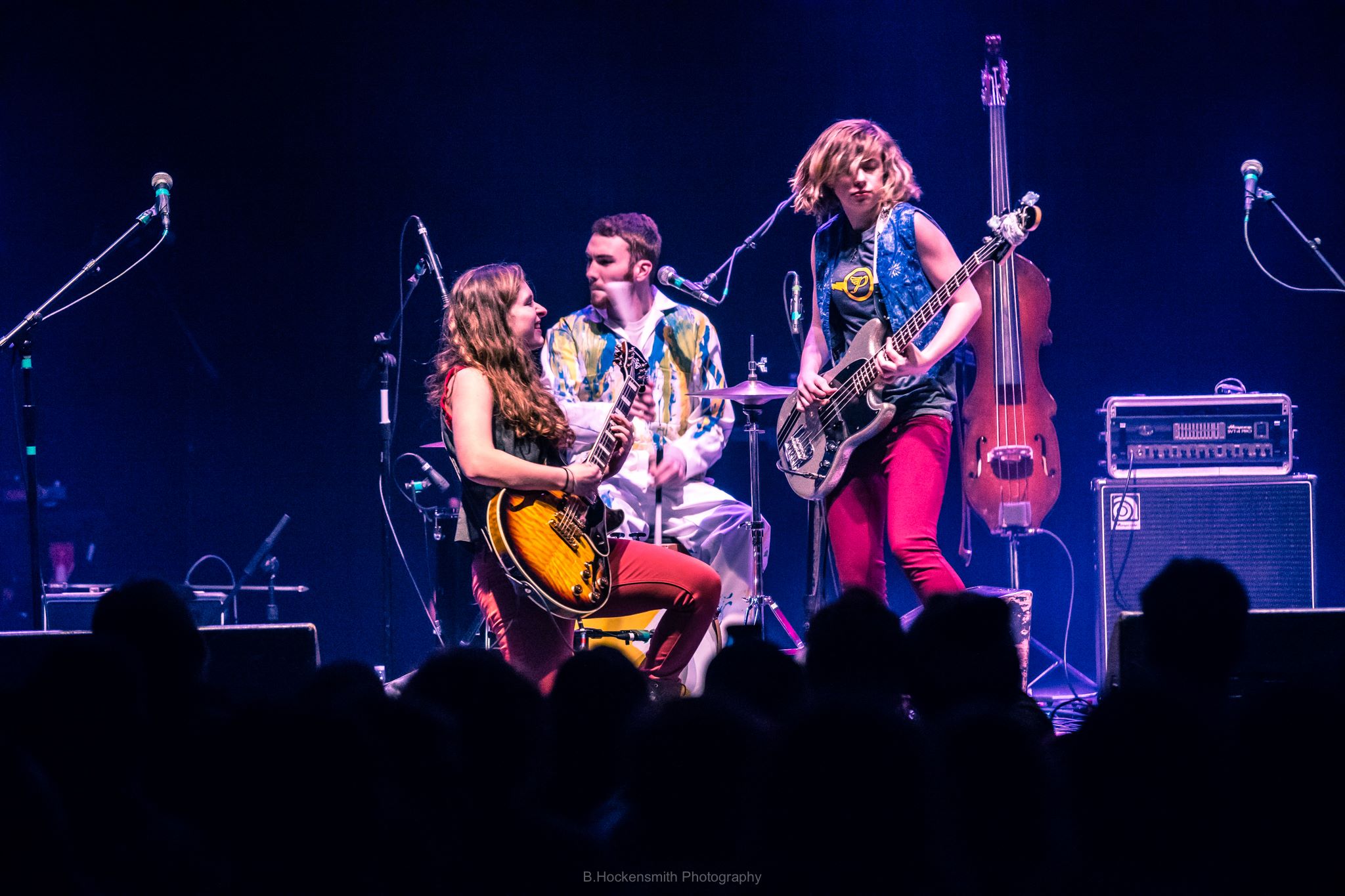 The Accidentals
 "Top 10 Bands to Watch in 2017" - Yahoo Entertainment
Performing: April 26, 27 & 28
Individual Performances: April 27
Named among Yahoo Music's "Top 10 Bands to Watch in 2017," The Accidentals' adventure began in their hometown of Traverse City, MI, when Larson, a sophomore cellist, and Buist, a junior violinist, were paired for a high school orchestra event. The gifted young musicians became fast friends and before long, bandmates. Having both grown up in musical families with professional pianists for fathers and vocalists for mothers, their shared influences bounced between classical, jazz, bluegrass, country, alt-rock, and the obscure. 
The past five years have seen The Accidentals perform over a thousand live shows, including headline dates, festival sets, and shared stages along such like-minded acts as Martin Sexton, Brandi Carlile, Andrew Bird, The Wailers, Joan Baez and others. 2015 saw the band embark on their first full-scale national tour, funded in part by an Indiegogo 'online garage sale". That year's SXSW debut saw them hailed by Billboard for "displaying a genre-hopping range of influences and some smart songwriting skills to go with their abundant musical chops."  
Now, at long last, The Accidentals unveil their most compelling and finely honed work to date. Co-produced by Buist, Larson, and Dause with engineer Jason Lehning (Mat Kearney, Guster, George Jones, Alison Krauss) at Asheville, NC's Echo Mountain Recording, ODYSSEY sees the band joined by such friends and fans as acoustic guitar maestra Kaki King, bassist – and fellow Michigander – Dominic John Davis (Jack White, Beck), Carbon Leaf guitarist Carter Gravatt, Keller Williams and The Decemberists' Jenny Conlee, who spent three days in the studio alongside the band, lending her distinctive organ to a number of the album's key tracks.
---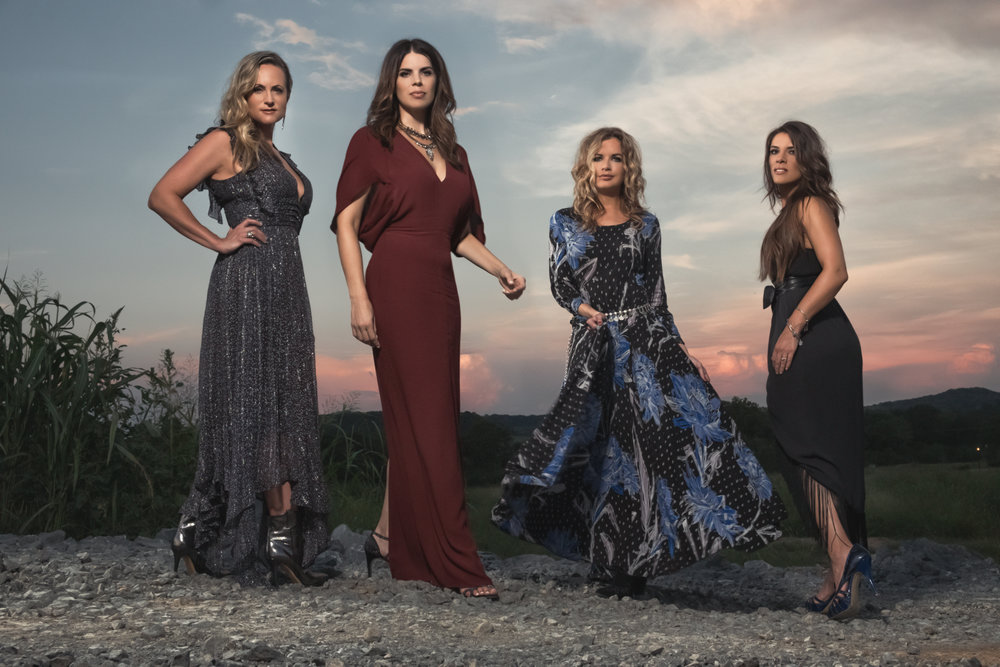 Farewell Angelina
"Superstar Act with killer songs" - Roughstack
Performing: April 27 - Sponsored by Paris Presents
Individual Performances: April 28
Named after a haunting Bob Dylan song, Farewell Angelina is an all-female country group with four powerhouse vocalists, dynamic songwriters and badass multi-instrumentalists.  Their stellar blend of heart-stopping harmonies over blazing double violins and guitars, has earned soaring praise across the board.  Roughstock calls them a "Superstar Act…with Killer Songs."  Rolling Stone says, "Wickedly smart songwriting delivered with a health dash of sass…deft playing…into one sonic knockout punch."
A band of longtime friends, Nicole Witt, Andrea Young, Lisa Torres, and Lauren Lucas all met pursuing their dreams in Nashville, TN.  Each had deeply respected and admired each other while they were building successful solo careers, touring and recording with top artists, and writing songs for some of Country Music's biggest hitmakers.  When they heard the undeniable magic of their voices together for the first time, they couldn't wait to take their show on the road.  Major opportunities soon followed including singing the National Anthem for Thursday Night Prime Time Football – Chiefs vs. Raiders game in Kansas City, the Unbridled Eve Gala for the Kentucky Derby and Taste of Country's Country Jam Festival among many others.
Farewell Angelina's chemistry lives in watching each other shine, and most of all, creating moments every night with the Country Music fans they love so much.  The relationship they share with their fans won them the fan-voted "Hot Seat: spot of the Taste of Country 2017 "RISERS" Program by over 20,000 votes.  They've also been named among Rolling Stone's "New Artists You Need To Know," and Roughstock's "Ones to Watch" with a tour schedule to prove it.   The girls have been all across the country opening shows for the likes of Kenny Chesney, Maroon 5, Old Dominion, Frankie Ballard, Jake Owen, Billy Currington, Trace Adkins and 2 legs of the Bacon Brothers summer tour. Their self-titled EP, produced by industry veteran Keith Stegall (Alan Jackson, Zac Brown, Darius Rucker) is digitally available on Itunes, Apple Music, Spotify and Amazon.  They are currently writing and working on new music.  2018 is gonna be a big year for Farewell Angelina. 
---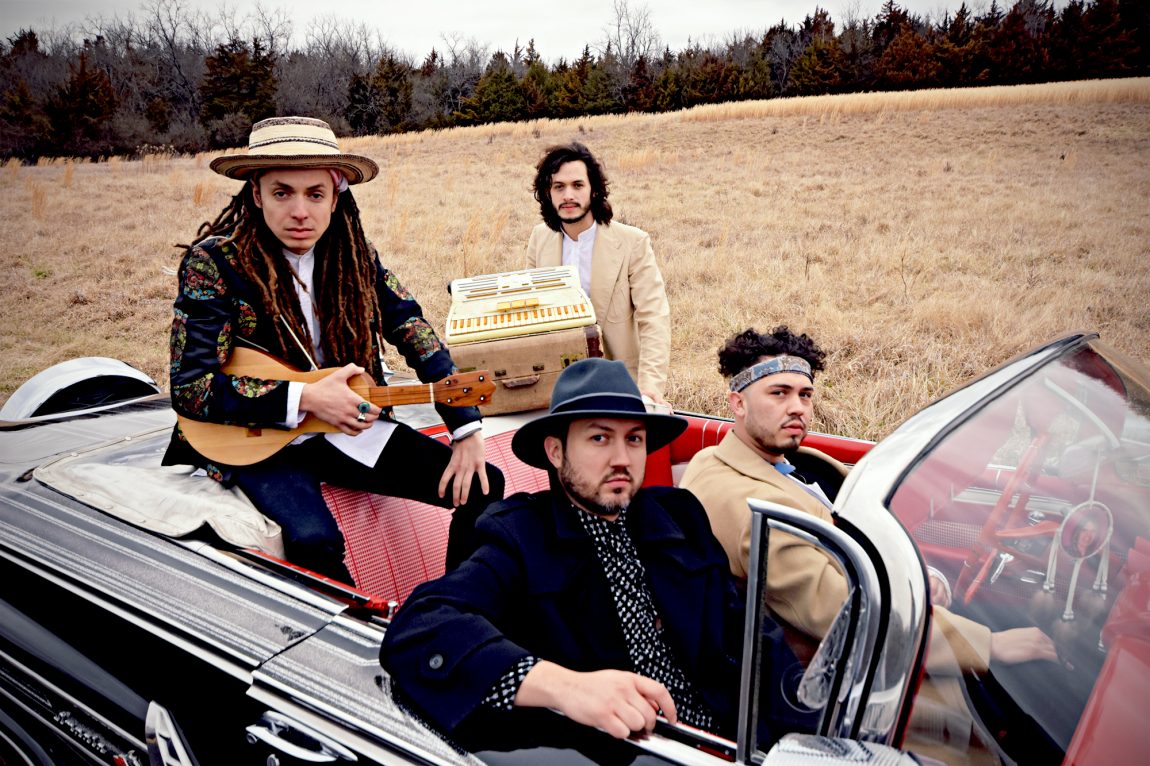 Making Movies
Featured on the cover of Rolling Stone Columbia
Performing: April 27
Making Movies blends pulsing Afro-Latino rhythms, psychedelic jams and rock 'n' roll swagger into powerful live performances, full of theatrics and cathartic climaxes. Armed with the ambitious and politically charged 2017 release I Am Another You — "lyrically and sonically one of the best albums of the year," NPR raved — and a companion EP, You Are Another Me, the Kansas City band punches out one high-energy song after another. The foursome showcases their Latin American roots, with frontman Enrique Chi incorporating traditional instruments like the Panamanian mejorana alongside electric guitar, or the Chaurand brothers swapping drums and percussion for a dueling zapateado huasteco, a traditional form of dance from Veracruz, Mexico.
The band's political idea is straightforward enough that they can express it in four words: "We are all immigrants." In supporting that cause, a portion of all proceeds from I Am Another You goes to the National Immigration Law Center. The band has shared the stage with Arcade Fire, Los Lobos, Galactic, Ozomatli, Tennis, Thievery Corporation, Rodrigo y Gabriela, and Hurray for the Riff Raff. 
---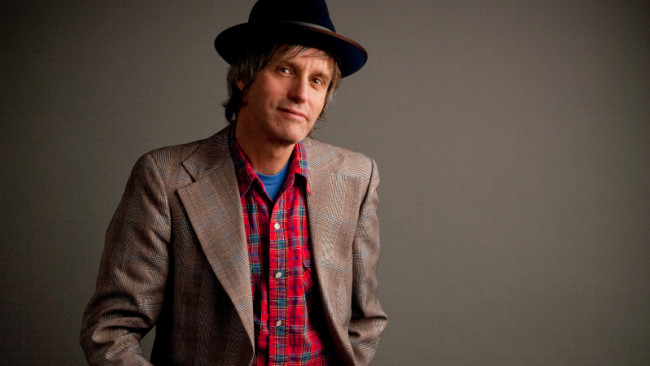 Steve Poltz
"You Were Meant For Me" - Jewel
Performing: April 26 & 27
To suggest that Steve Poltz isn't normal is about as safe a statement as one could make. You would basically require the powers of the Hubble space telescope to locate Steve Poltz from any region of normalcy.
For music fans on both sides of the equator, this is a very good thing.
Born among the hearty seafaring folk of Canada's Halifax, Nova Scotia, Poltz has lived most of his life in Southern California, where the sun treated his rocky Canadian DNA like clothes in a dryer. Naturally a spectrum of cultural and emotional tensions arose and he eventually sought refuge in the art of songwriting, where he tapped into an unforgettable and often horrifying depth of unhinged genius.
Among the music cognoscenti, Steve Poltz is regarded as one of the most talented and prolific songwriters of our time. His songs have been among the longest running ever on the Billboard Top 100 and they regularly appear in movie soundtracks, television shows, and even the odd commercial. His touring schedule is ferocious, ping ponging between continents with enough frequency to earn him manic followings in scores of different accents and languages.
Any musician who has traveled as extensively as Poltz will have their share of colorful road stories, but Poltz' adventures read like a bucket list. Starting out auspiciously, Poltz recalls meeting Elvis Presley at a small airport and beaming proudly as The King hugged his sister for an inordinately long time. Growing up in Palm Springs, California, he trick-or-treated at Liberace's house and was Bob Hope's favorite altar boy. In an alcohol-soaked haze, he infamously accosted David Cassidy, who had summoned him to Las Vegas to write a hit song for the aging Tiger Beat cover boy.
His rich and colorful legacy is the stuff of legend, but it is his distinctive style of songwriting that has caused the world to offer up its stages, clubs, and alleys. Poltz' sound is entirely unique- from his inhuman fingerstyle techniques to the inimitable melodies that roll from his guitar like cool waterfalls, you know a Poltz song as soon as you hear it. To see Steve to perform live is one of the most entertaining shows a human could ever see. Frenzied, aggressive, hilarious, and heartbreakingly sincere, his live performances have become bona fide events, with sub-cultures popping up all over the globe to entice him to come and tour. As relentless as he is in concert, he is also the guy who famously co-wrote the timeless ballad "You Were Meant For Me" with platinum-selling songwriter Jewel. Of course, because we're talking about Steve Poltz, it should surprise no one to learn that the song was written on a lazy Mexican beach, where Poltz and Jewel were soon snapped up and sequestered by Mexican Federales and required to witness and eventually assist in a large marijuana bust on the beach. Don't believe it? See for yourself in the pictures on his web site.
Poltz, an ex high school wrestler (98 pound class), is also an obsessive baseball fan, a die-hard yoga practitioner, a hopeless romantic, a smart-ass philosopher and a child-like adventurer with an absurdist's view of the planet and all of its curious life forms.
Music fans have adored him since he first fronted the hallowed punk-folk legends, The Rugburns, whose live shows earned the band a following that is best described somewhere between the terms "cult" and "crazed substance-abusing fanatics." Once touring over 300 days a year, the Rugburns occasionally reunite for wildly popular sold-out shows.
Poltz' solo body of work is an impressive collection of ballads, rockers and uniquely melodic acoustic numbers that reflect his incomparable style of alternate tunings and savage finger picking techniques. Guitar geeks fall prostrate at his feet trying vainly to learn how to play his stunningly gorgeous and deceptively complex songs. To see him play guitar is a visual feast so frenetic that close proximity to his playing exposes one to risk of seizure.
His albums reflect the depth and expanse of his influences throughout the years (One Left Shoe, Chinese Vacation, Traveling and Unraveling). He has also released a children's album (The Barn), a performance DVD (Tales From The Tavern) and a collection of other recordings that defy categorization, such as Answering Machine – a 56-track collection of 45 second "songs" culled from his answering machine's outgoing messages. Neil Young has ranked it as a favorite album.
Steve Poltz's latest recording project brought him back to Halifax, where he collaborated with Joel Plaskett, an award-winning Canadian songwriter, performer, producer and eminently kindred spirit. The two holed up in Joel's Scotland Yard studio with a 2 inch,16 track analog tape machine, a 24 hour work ethic, their comfy clothes, and all the mojo they could conjure. The result was Dreamhouse," Steve's most accomplished and focused album to date. Critically acclaimed across the globe, it has been singled out by some critics as the 2010 Album of the Year.
His live shows have captivated audiences far and wide with a mix of singing, storytelling, shredding, and the occasional spoken word rants which have been known to incite riots. He can take an audience from laughter to tears and back again in the space of the same song. Steve Poltz transcends the word "talented." He is unforgettable in all the right ways.
---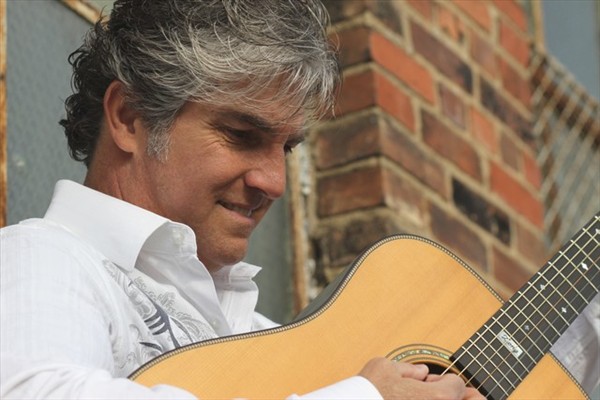 Jerry Salley
"Outlaw State Of Mind" - Chris Stapleton
Songwriter Workshop: April 26
Performing: April 26, 27, 28 & 29
Referred to by Billboard Magazine as "One of Music Row's greatest veteran tunesmiths," Jerry Salley has had an incredibly successful songwriting career. The 2003 SESAC Country Music Songwriter of the Year, Jerry has had over 450 songs recorded in his multi-award winning career. To date Jerry's songs have sold in excess of 15.5 million records worldwide and internationally he has penned no less than seven (7) #1 Country hits in Australia. Writing and singing in Nashville since 1982, he has written multiple hits in Country, Bluegrass and Gospel Music and may well be the most successful songwriter to have earned equal recognition from all three genres of music
From Sir Elton John's only chart single to appear on the Billboard Country Chart ("Where We Both Say Goodbye" – duet with Australian artist Catherine Britt) to a Gospel song so popular it has been included in Church Hymnals ("His Strength Is Perfect") Jerry's long list of accomplishments speaks for itself. Most recently, Jerry was honored to have a song on Chris Stapleton's Traveller album ("Outlaw State Of Mind") which is certified double platinum. From songs recorded by some of today's biggest country stars like Chris Stapleton, Reba McEntire and Brad Paisley, to country music legends Loretta Lynn and The Oak Ridge Boys , Jerry is honored each and every time a song of his is recorded.
Born in the small southern Ohio town of Chillicothe, he signed with Performing Rights Organization SESAC at eighteen years old. Some of his country hits include the Reba McEntire smash "I'm Gonna Take That Mountain", "Breakin' New Ground" (Wild Rose/Universal Records), "I Fell In The Water" (John Anderson/BNA Records), "How Do You Sleep At Night" (Wade Hayes/DCK/Columbia Records), and four other Billboard chart records. He has written eight (8) #1 Gospel hits, several #2 Gospel hits and over a dozen other top ten/top twenty gospel songs. In addition to songs recorded by the previously mentioned artists, he has had songs recorded by Sara Evans, Patty Loveless, Joe Nichols, Darryl Worley, Travis Tritt, Tracy Lawrence, Neal McCoy, Mark Chesnutt, Cece Winans, The Whites, and many others. He is a seven-time Dove Award nominee, having won a prestigious Dove for the 1990 Inspirational Song of the Year "His Strength Is Perfect", recorded by and co-written with Steven Curtis Chapman.  In addition to his Dove recognition from the Gospel Music Association, Jerry has received numerous awards from different associations for his songwriting accomplishments (IBMA, NSAI, SESAC, GOSPEL VOICE MAGAZINE, etc.). In 2006, Jerry received his second IBMA Award for his contribution (as an artist) to the 2006 IBMA "Album of the Year" – "Celebration of Life" (Skaggs Family Records).
Along with friends Carl Jackson and larry Cordle, the trio (Cordle, Jackson & Salley) recorded the song "You're Running Wild" on the Louvin Brothers Tribute on Universal South Records, which features numerous country music stars singing songs made famous by the legendary duo. Entitled "Livin', Lovin', Losin' – Songs Of the Louvin Brothers", this project won the 2003 Grammy for Country Album Of The Year.
AS AN ARTIST, Jerry has performed on numerous stage shows, including the honor of performing as a soloist many times on the world famous Grand Ole Opry. His television appearances include Late Night With David Letterman, Regis And Kathy Lee, NBC'S Today Show and several different TNN (The Nashville Network) shows.
In 2007, Jerry released his first solo project, New Songs, Old Friends on the Mountain Home Records Label. A Bluegrass CD which includes all new songs written by Jerry and performed by him along with some of his favorite singers – all of whom have recorded his songs. Guests like The Oak Ridge Boys, Rhonda Vincent, Vince Gill, Ricky Skaggs & Sharon White, Darryl Worley, Del McCoury, Doyle Lawson, Sonya Isaacs, Alecia Nugent, Jamie Johnson, Lisa Shaffer and buddies Carl Jackson and Larry Cordle. The project was one of the final nominees for the 2007 IBMA "Recorded Event of the Year".
Jerry Salley, followed up his debut, New Songs, Old Friends , with yet another outstanding lineup of original tunes, entitled Showing My Age. This project was released late summer of 2012, with tracks that appeal to lovers of Americana, gospel, bluegrass, and country. It contains never before recorded songs and others with his own take on hits he has penned for chart-topping artists such as Reba, Brad Paisley, The Isaacs, The Lonesome River Band, and more!
Showing his bluegrass roots, and with his five-year-old granddaughter gracing the cover, Gospel From My Grassroots (released in October 2015) is Jerry's first all bluegrass gospel album. It shines with 13 original, heartfelt tunes that range from the energetic, up-tempo song "How High Is That Mountain," to the finger-snapping a cappella song, "Just Drink The Water." Jerry breathes new life into these self-penned songs, most of which were previously recorded by bluegrass and gospel greats. Guest vocalist Steven Curtis Chapman sings with Jerry on an acoustic, stripped-down translation of their co-written gospel classic, "His Strength Is Perfect," and IBMA Female Vocalist Of The Year, Dale Ann Bradley, lends her warm angelic voice to "Send The Angels Down," a song that she previously recorded. The project also includes Jerry's original versions of "It's Not What You Know" and "You Don't Have To Go Home," which have been recorded multiple times in the bluegrass and gospel worlds; and "I Want To Thank You," a #1 song for Karen Peck and New River
Multi-Grammy winning producer, musician and songwriter, Carl Jackson says: "Jerry is not only a friend, in the truest sense of the word, he is also a songwriter's songwriter… an artist that completely understands the idea of "painting a picture" using the marriage of lyric and rhyme; someone that fully grasps the art of crafting a song, rather than throwing words against the page. His paintbrush is a pen, his canvas a legal pad and his goal always another masterpiece."
---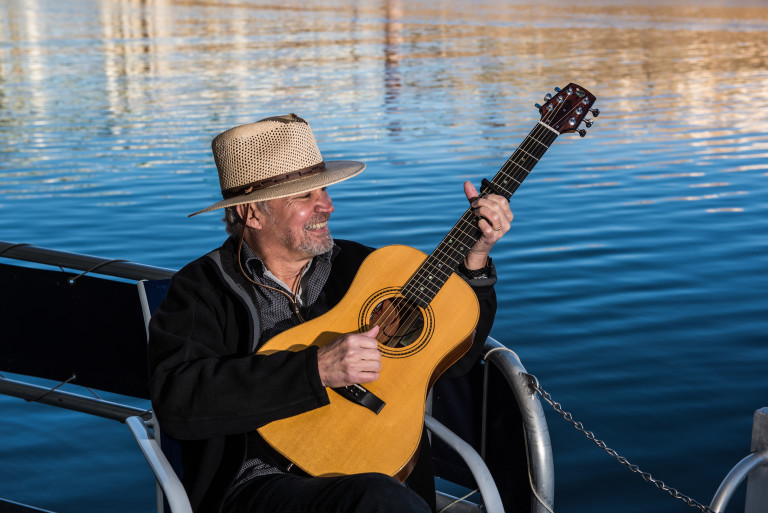 Keith Sykes
"Volcano" - Jimmy Buffett
Performing: April 27 & 28
Once upon a time in the summer of 1967, Keith Sykes hitchhiked to the Newport Folk Festival and saw Arlo Guthrie perform "Alice's Restaurant." In the fall of that year he got a copy of the album, learned the whole song and sang it at a Holiday Inn in Charleston, South Carolina. They hired him on the spot for a regular gig playing music in the hotel.
It's pretty perfect that such a rambling tale should be at the start of Keith's own rambling tale – in the more than 40 years that followed, he would become a troubadour and storyteller, a massively successful songwriter with more than 100 songs recorded by artists as diverse as Rosanne Cash and George Thorogood. He would tour every corner of America and play in just about every conceivable kind of venue, appear on Saturday Night Live and Austin City Limits, and host songwriter nights on Memphis' legendary Beale Street with many of music's most talented songwriters. He would join Jimmy Buffett's Coral Reefer Band, tour the country and record the Volcano album – the title track for which he co-wrote with Jimmy.
To date, recordings of Keith's songs have sold more than 25 million copies worldwide. With 13 full-length albums released – and great success with his own publishing company, credited with signing John Kilzer to Geffen Records and the discovery of Todd Snider – Keith Sykes has proven to be nothing short of prolific.
And of course, he's not done just yet. Keith continues to tour relentlessly, and will release Songs From A Little Beach Town in 2016.
---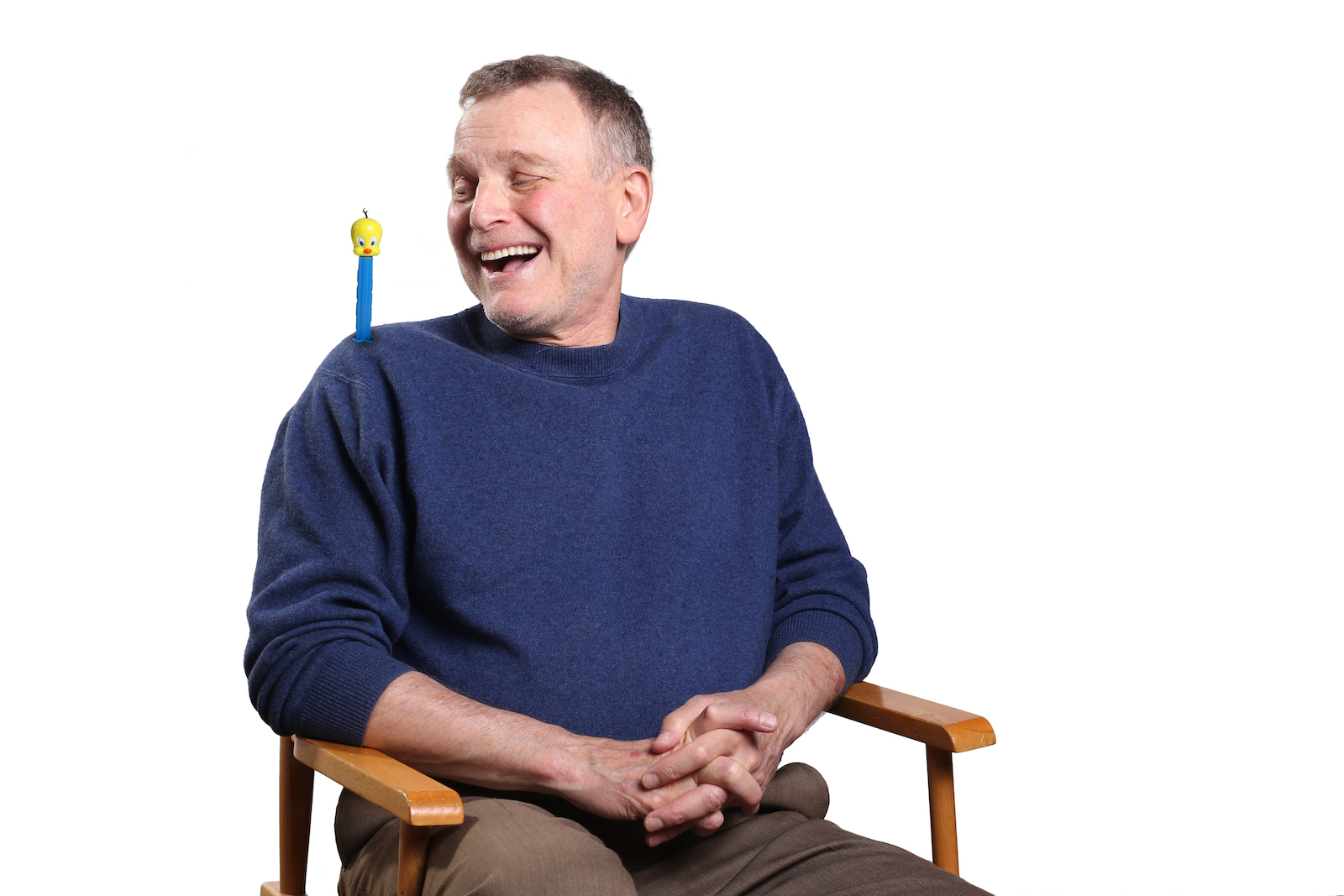 Jonathan Wolff
"Seinfeld" TV Theme Song
Performing: April 27
---
Acclaimed musician Jonathan Wolff created the music for 75 primetime network series and is best known for his iconic Seinfeld theme. A masterful pianist (think Will & Grace), Jonathan Wolff gives a Concert Talk that is both entertaining and informative, with insider Hollywood stories, Q&A and commentary about favorite Seinfeld scenes. Hear how a young artist from Kentucky became a Hollywood legend and composer for some of TV's hottest shows!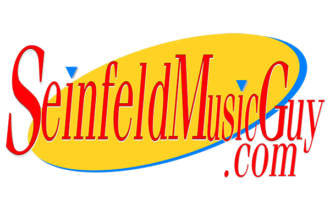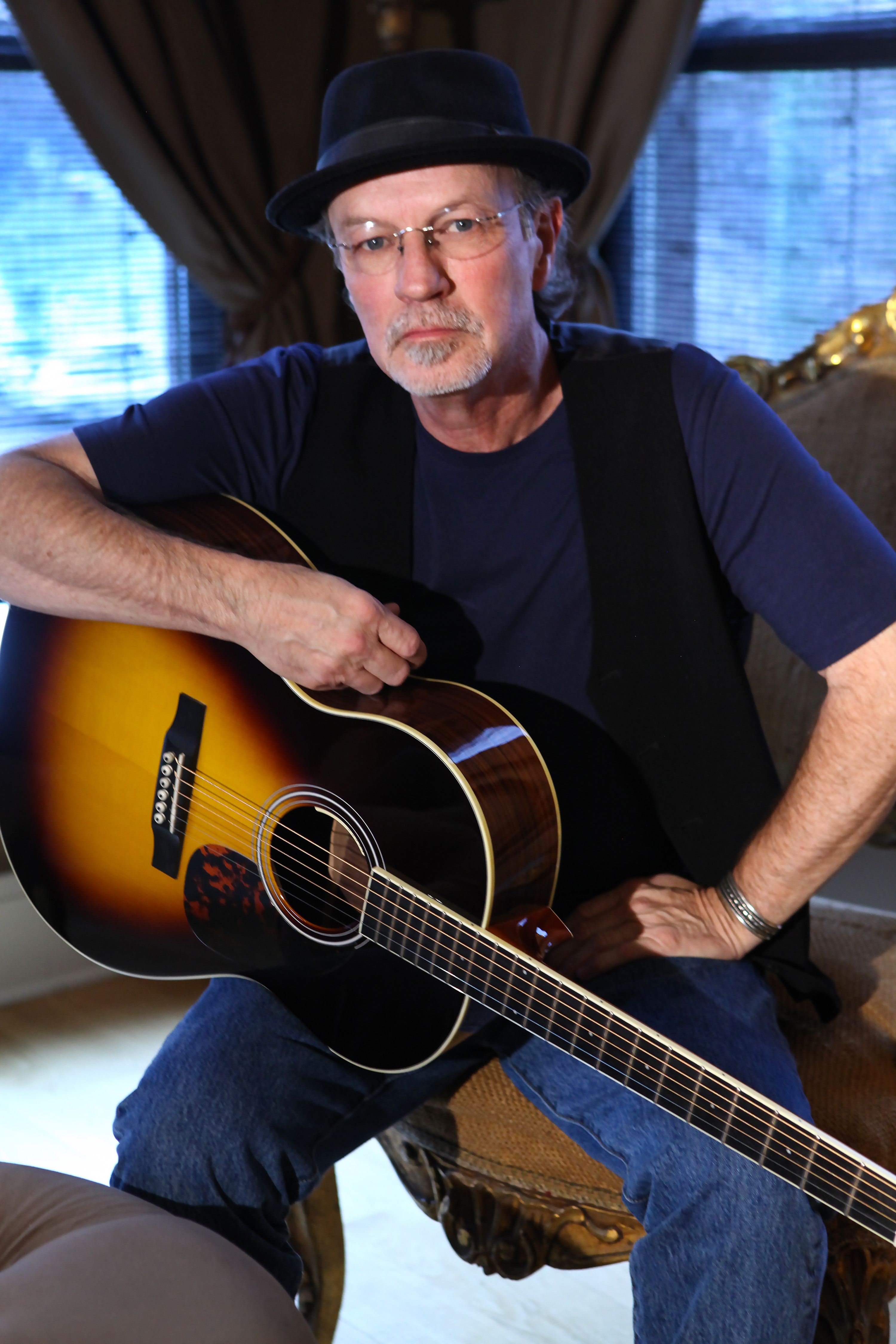 David Starr
"David Starr has a voice you will never forget. His music is authentic, his songs are honest, full of emotion and truth. The Head and Heart is a showcase for his classic songwriting style and wonderful guitar playing."
– John Oates  
Performing: April 26, 27, 28 & 29
David Starr owns a thriving guitar store in the heart of Cedaredge, Colorado, yet he believes his most compelling instrument is his voice – a strong, beautiful baritone that is the cornerstone of his EP, The Head and Heart.
Starr wrote or co-wrote five of the six songs on The Head and Heart, which was produced and arranged by John Oates and recorded in Nashville. The longtime friends decided to let the recordings have some breathing room, while still giving the city's brilliant session players an opportunity to shine. 
"I've always done my own producing and it was liberating to let someone else take the reins,"  Starr says. "I told John, 'I really want you to push me to sing better.' I have a tendency when I get in the studio to say, 'Yeah, that's in key and I got all the words right. Let's move on.' On a number of songs, he said, 'That's great. Get back in there and do it one more time.' I can hear where he pushed me a little bit." 
The Head and Heart begins elegantly with "Edge of the World," which began as a story about the complexity of women, but also applies to the mysteries of music. The thoughtful title track conveys that dramatic distance between what you think and what you feel.  
It was Oates' suggestion to include The Mamas & The Papas' classic "California Dreamin'." Without the familiar four-part harmonies of the original recording, Oates' atmospheric production draws attention to Starr's soulful singing. 
"I like John's energy and his work ethic," Starr says. "He's willing to take a song and reimagine it in any number of ways. In other words, just because you're locked into hearing it a certain way doesn't mean that's the only way." 
Starr's intriguing melodies elevate songs like "Waiting in the Dark," which alludes to the drug addictions that haunted a number of his friends in the 1980s. Meanwhile, "I've Come for You" hints at timeless late-night temptations. "Dancing With My Pride," co-written with his friend Bob Liepman at a songwriting workshop in California, is inspired by a character in a book written by his grandfather Fred Starr. 
David Starr grew up in Northwest Arkansas and started playing drums at 10, then picked up guitar at 13. He has released eight albums (including The Head and Heart) and opened shows for Survivor, Clint Black, Restless Heart, The Marshall Tucker Band and The Guess Who. 
He launched Starr's Guitars in Little Rock in 1998, then relocated to Cedaredge in 2001. Today, the store is such an institution that Cedaredge proclaimed the musician's birthday as David Starr Day in 2016. The year before, Starr released the album Love and Sabotage with special guests like John Oates, Richie Furay, Dana Cooper and Steve Cropper. 
As with previous albums, Starr is planning to divide his time between operating his guitar store and touring internationally to attentive, appreciative audiences. 
"In a perfect world, I would be playing in a room where everybody's listening," he says. "That's why I like a situation like a house concert or listening room because I like to tell a story. I like to talk about the inspiration behind the song. I just like connecting and that's what I hope to do with this new music."  
---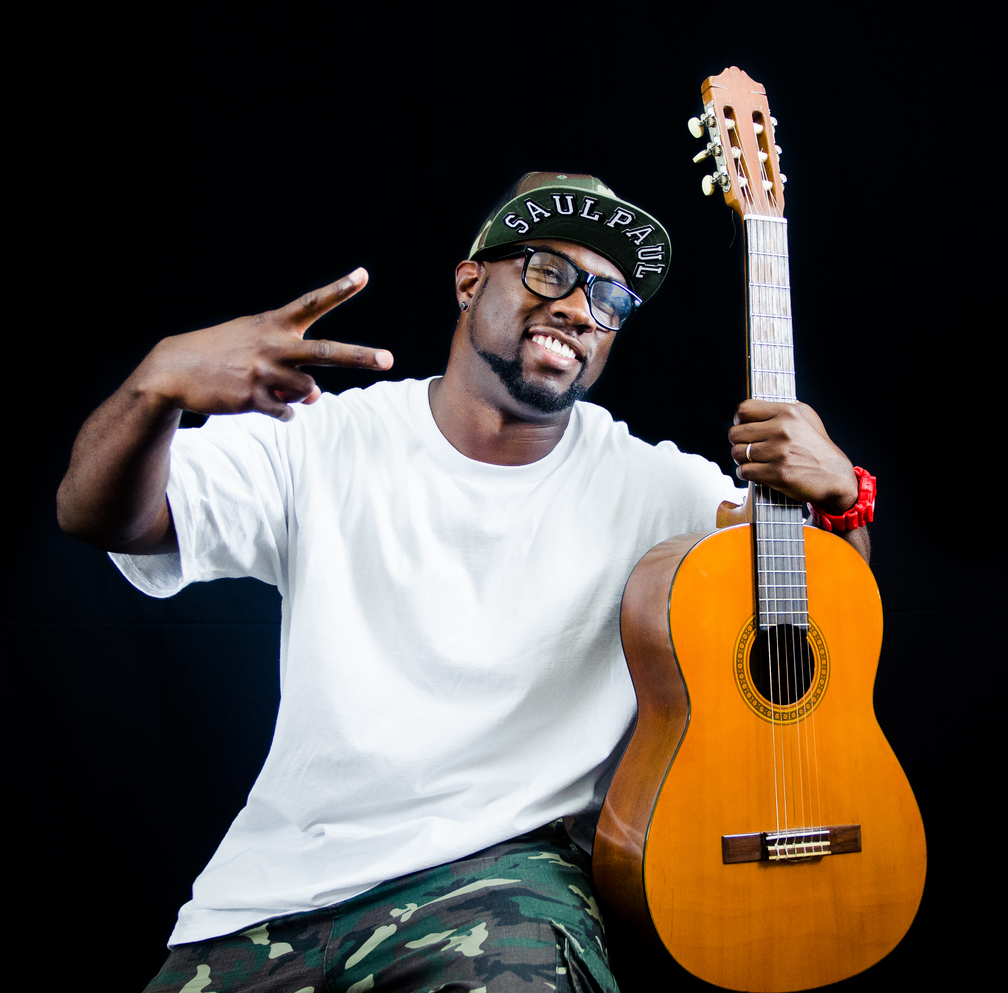 SaulPaul
Grammy Ambassador
Featured on America's Got Talent, MTV and in the LA Times.
Performing: April 27 & 28
SaulPaul is a Musician with a Message. After being named 2017 Austinite of the Year, SaulPaul began 2018 with his song Rise (Remix) topping the charts and becoming one of the #1 songs on Sirius XM radio.

Part rapper/part singer songwriter, SaulPaul travels the world entertaining and inspiring audiences as he blends his voice, his guitar and his loop pedal to create a live show that is nothing less than an EXPERIENCE.

In addition to writing songs, he writes books. He is the author of Dream in 3D and Rise. SaulPaul is the lead character in the mobile gaming app SaulPaul: Dream in 3D (available on iTunes and GooglePlay). He is also a nationally renowned motivational speaker as well as the subject of the critically acclaimed autobiographical documentary Tower to Tower. SaulPaul has impacted nearly a million students and student leaders across the world through ReRoute, a non-profit organization he founded. "SP" has been featured on America's Got Talent, MTV and the LA Times.

SaulPaul annually produces his own #DreamIn3D Music and Arts Festival, where he exclusively visits middle schools and high schools and entertains students as well as introduces them to careers and opportunities in all fields of the arts. Since he began his career, SaulPaul has impacted more than 500,000 students and student leaders across the globe.

In addition to being a live performer, SaulPaul has established himself as a go-to guy when it comes to writing, producing and delivering original music for film, television, interactive media, and advertising. Previous and current clients include ESPN Radio, the NFL, the NBA, SXSW, Johnson & Johnson, Honey Bunches of Oats and numerous others. He is a thought leader who has shared his ideas at multiple TEDx Talks and is one of a few select individuals who has been invited to share his/her heart, art and thoughts at Google HQ. SaulPaul is also GRAMMY Governor on the Board of Governors at the Texas Chapter of the Recording Academy where he serves on the Education Committee.

SaulPaul proudly serves as an official Creative Ambassador for the City of Austin. And each year he celebrates June 12th because it's the day that the City of Austin officially proclaimed SaulPaul Day. Visit SaulPaul.com for more music, movies and motivation or download his new app which is now available on iTunes and Google Play.
---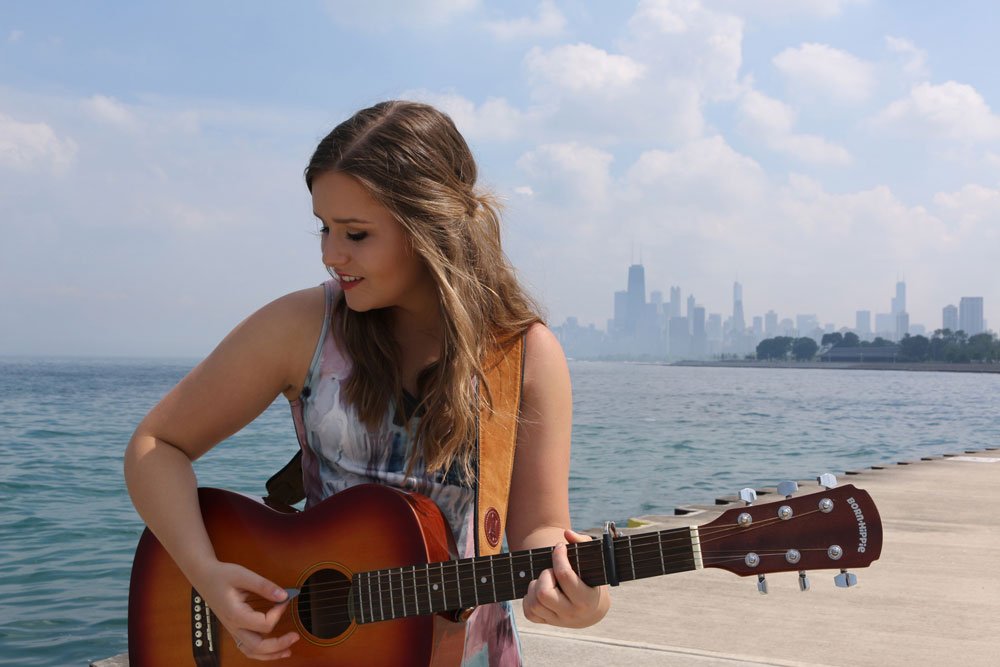 Gracie Schram
"Gracie is a winsome young artist with the professionalism of a seasoned writer and performer. The only thing greater than her talent is the humility with which she maximizes it." – Charlie Peacock
Performing: April 26, 27 & 28
Singer/songwriter Gracie Schram is already a veteran of the music industry. Since releasing her debut album at the age of 10, Gracie has continued to create and record music while developing her signature indie-pop sound that combines soulful vocals with subtle but powerful acoustics and soaring harmonies.
Her latest EP, entitled Dear Fall released September 2016 and features collaborations with producers Rick Seibold and Brad Corrigan (Dispatch). With wistful, achingly beautiful melodies, Gracie explores a new vulnerability as she sings of "stepping out from behind my shadow" in Walls and discovers the freedom of love and partnership in Anywhere You Go.
Dear Fall is just the latest in Gracie's illustrious music career which includes opening on tour for David Archuleta, as well as performing other opening acts for Ingrid Michaelson, Lauren Alaina and Crystal Bowersox. In addition to playing at numerous music festivals including SXSW, CMA Fest, Middle of the Map Fest, and Summerfest, Gracie was also a Featured Fridays Artist-In-Residence at the historic Hotel Phillips in her hometown of Kansas City. She has performed the national anthem at NFL, MLB, NASCAR and MLS games including all of her favorite KC teams. Always ready with her guitar, Gracie has even performed on Southwest Airlines flights. Her original CD, I Am Me was produced by Grammy-award winner Charlie Peacock (The Civil Wars, Kris Allen, Lone Bellow, Switchfoot) and released in 2015 while Gracie was still in high school.
But what sets Gracie apart isn't just her youth, talent, and style – it's her incredible sense of purpose. Ever since her debut album, Showers from God, a portion of the proceeds from Gracie's music is given to humanitarian causes amounting to more than $40,000 to date. It is her hope that her songs and her story will empower people to make a positive change in the world around them.
"I want people who hear my music to know that when you are your own true self, you can make a difference." 
---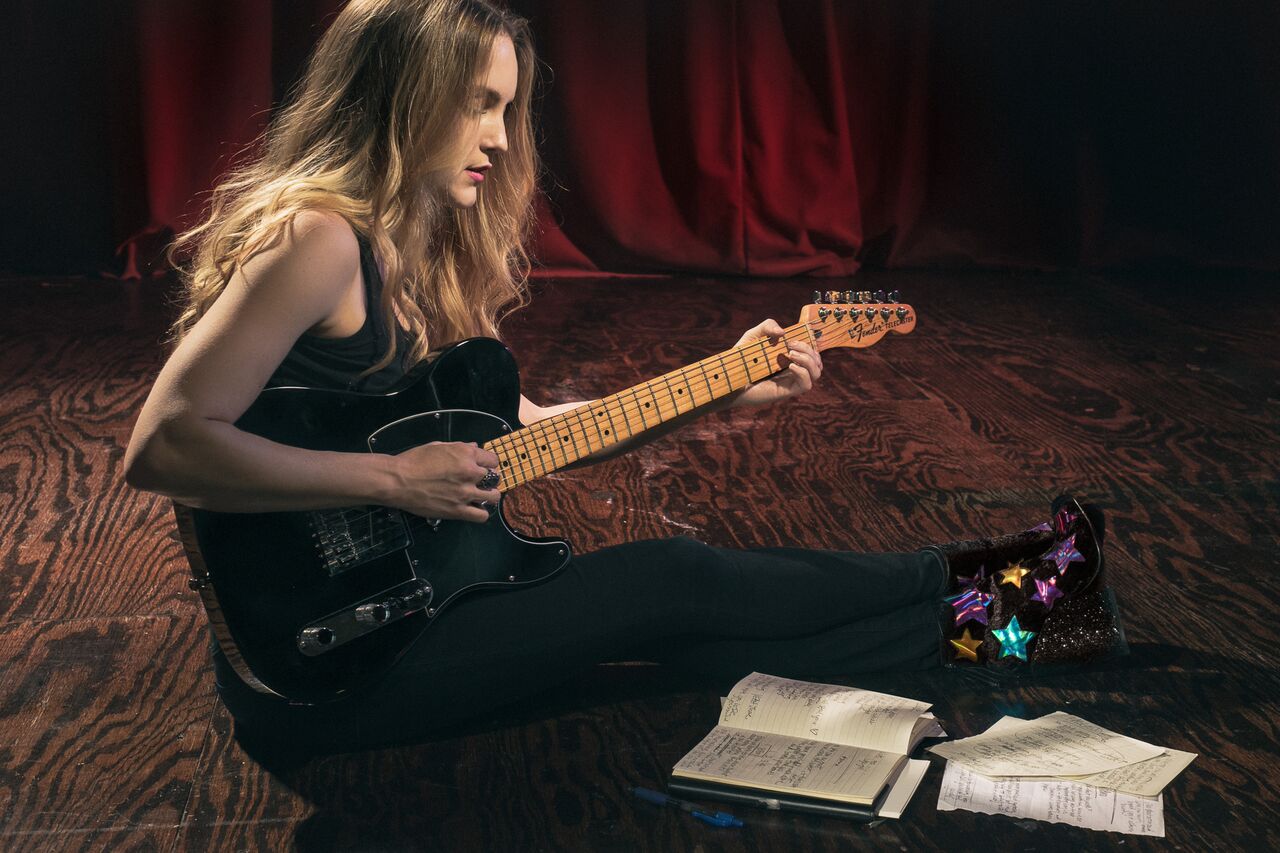 CeCe Hetrick
Performing: April 26 & 28
Band Show: April 27
Some artists have to work hard to find their way creatively, and other artists inherently know how to forge their own identity from the very moment they start making music. One artist who's very much in the latter category is Nashville-based singer/songwriter CeCe Hetrick.
"I remember always knowing music was part of me," Hetrick says. "It was never something I just decided one day and thought I might be good at. As soon as I got my first guitar, I knew that this was my thing." Hetrick is also able to translate that level of self-confidence to the live stage. "I love playing shows," she admits. "And I love watching people in the audience come together, whether I'm performing myself or attending someone else's show and seeing people who don't know each other at all singing the same lyrics. I think that's so cool. At the end of the day, we all want the same things — we want people to love us, and we want to be happy. I'm just really into the idea of writing music that can get everyone on the same page."
Hetrick's infectious, come-together energy can be found well within the grooves of her recent indie release, Find Your Way, an album that shows the 25-year-old Georgia native to be a master of many styles and moods. From the insistent pleading of "Don't Give Up" to the Dylanesque desires of "Close to You" to the acoustic/electric gut-check blend on "Ragged" to the sinewy, gospel-slide Allman Brothers vibe of the hopeful title track ("it's got that take-you-to-church feel I really love"), Hetrick finds a way to display a rare kind of songwriting thread that connects listeners across multiple genres and appeals to multiple generations to boot.
Right from the outset, Hetrick knew exactly how she wanted Find Your Way to sound. "In my mind, I wanted to put aside the idea that it should sound like a country record or that it should sound like a pop record," she explains. "I just wanted to take each song and look at it individually and decide what the song needed. It feels like it all came together as one piece."
Part of her gift is the ability to tell stories listeners can instantly identify with. "Real life is what everyone can relate to," Hetrick believes. "And I love telling stories, whether they're my own or those of friends or family members. Sometimes I'll write something that may not necessarily be true as far as the storyline goes, but the emotions are still real, which is how people can still connect with all of it. No matter how old you are, we're still trying to figure it all out. Whether or not you have a great career or a great family, everyone still has things they want or are still learning about. So I wanted to make something that people my age can relate to, as well as those listeners who are older than me."
As noted above, Hetrick began playing music at an early age. "The first song I learned to play on guitar was actually a three-chord church hymn," she recounts. "When I was 12, I taught myself the chords on the guitar while I was in my family room." At the beginning of her career, Hetrick absorbed whatever music she heard as inspiration. "My parents weren't very musical, so whenever I got in the car to go to school, they'd just turn on the radio, and whatever was popular then was how I got my exposure to music," Hetrick observes. "I was really into the pop-country culture at that point. But then I started writing my own songs, and it wasn't until my first year of college that I got into vinyl, classic rock, and the blues — all the things that influenced the other people I was now listening to, like the Eagles, Led Zeppelin, The Rolling Stones, and Elton John. It's kind of all over the map, but I love being open to listening to anything and everything. It only makes me a better artist to be exposed to things like that."
The aforementioned "Don't Give Up" demonstrates exactly how rhythm and melody are embedded in Hetrick's songwriting DNA. "I really wanted it to be an anthem song," she explains. "I like the idea of everyone joining in, singing along, and really feeling it in their souls. I had this vision of how we all have those days where everything is going wrong, and we're just failing miserably. That song is like, 'OK, we're all screwing up here, so let's just all have each other's backs.' And I love the way that track ends too — it's all just one voice, which I think helps get that message across."
And then there's "Killer Queen" — not a cover version of the classic Queen song, but very much a Hetrick original that features, well, a killer effect on her lead vocal. "I love the rawness of live-sounding music, so I was very hesitant to put many effects on my voice at first," she acknowledges. "But sonically, I think doing that fit really well with this song, which is about someone who grew up very sheltered from society who then had to hit the ground running in the harsh real world. It's basically about loving someone who's kind of a badass. It was interesting to figure out why they're like that, so I wanted the vocal effects to be a little rough around the edges."
What will Hetrick do next? "My next step is to do some co-writing, which I'm doing now," she reveals. "I basically wrote Find Your Wayall by myself, and it's so awesome and interesting to come together with another artist to create something together. It's a concept that's somewhat foreign to me, but it's something I want to be a part of. It's good for me. It's been a challenge, so I've been diving more into that."
Hetrick is steadfast in pursuing her own path creatively. "In the future, I want to be telling stories, writing good music, and reaching out to people, which is the same thing I've always been doing," she says. "Trying to create a name for yourself is always a challenge. It's so easy to say, 'I should be looking like this, or sounding like that.' But when you go to sleep at night, you have to tell yourself, 'This is my one shot. How would I do it, and how would I do it as me?' There's always that moment of thinking, 'OK, do I really want this for myself, or am I really just trying to prove a point?' It's tough."
No matter what, this determined singer/songwriter feels her future is quite bright. "For me, it's just a matter of when it will happen, not necessarily if it will happen," Hetrick notes. "Some people give up for whatever reason, but for me, I just know it's gonna happen. It's hard, though; it really is. Everyone gives off this illusion of being perfect in how they come across, and how they sound. You have to get through all of that and figure out what the thing is you want to leave behind. It's really all about finding your way."
Whatever destination Hetrick arrives at as an artist, one thing is clear: This is one badass singer/songwriter who knows how to share the joys of common musical ground and show everyone that there's a light in this darkness after all.
---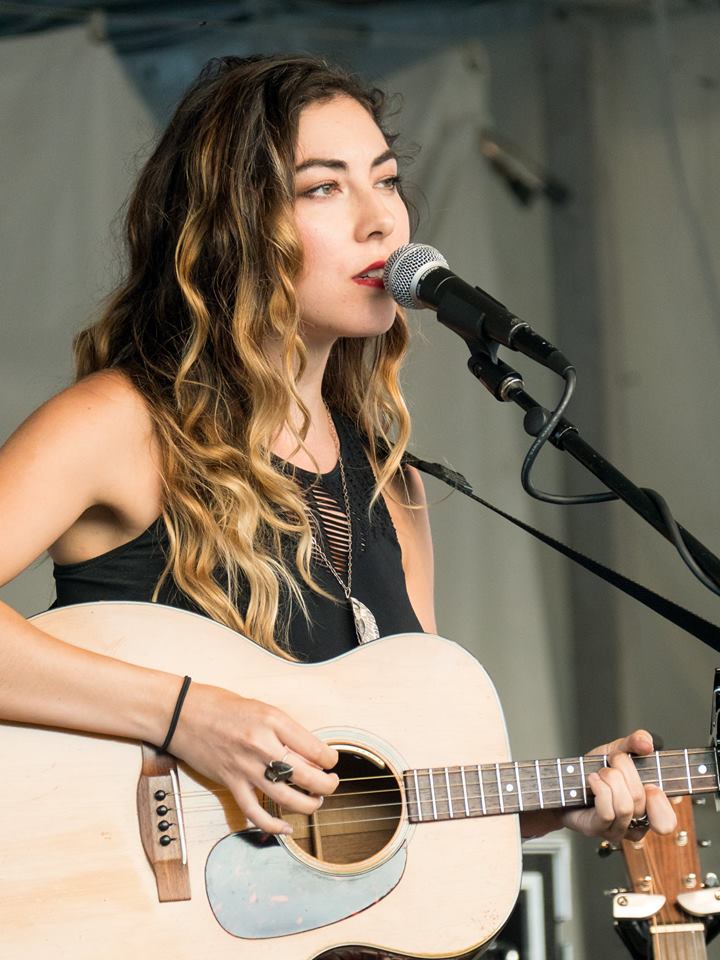 Heather Maloney
"Lyrics that cut to the chase" - Huffington Post
"Delicious...Really Excellent" - Graham Nash (Crosby, Stills, Nash & Young)
"Utterly Gorgeous - Visceral" Val Haller, New York Times
Performing: April 26, 27 & 28
Massachusetts writer and song-singer Heather Maloney celebrates the release her 2018 EP, Just Enough Sun. The six songs (five new originals and a cover of Dylan's "A Hard Rain's A-Gonna Fall") were recorded as mostly single-take, live performances in a room where instruments bled into vocal mics and vocals into instruments. The result is a raw and deeply vulnerable collection songs that follow Maloney's literate and often heartbreaking exploration of family history, childhood dreams and the adulthood realities that butt-up against them; loss, misogyny, unrequited love, poverty, and even the moral dilemma of sending monkeys into space for the sake of science. The daughter of a psychotherapist and a carpenter, Heather's songwriting is equal parts introspective and relatable.
JUST ENOUGH SUN is released by the celebrated indie record label, Signature Sounds and co-produced by accompanist Ryan Hommel. The recording effortlessly captures Hommel and Maloney's dynamic live performances as a duo, with subtle instrumentation that lifts the songs up to new places without ever shifting the focus too far from Maloney's stunningly visceral voice and thought-provoking lyrics.
Maloney's 2015 record Making Me Break was produced by Bill Reynolds (Band of Horses, Avett Brothers, Lissie) and features an all-star backing band including members of Band of Horses (Bill Reynolds, Tyler Ramsey), The Wallflowers, My Morning Jacket, and Darlingside.
Upon the release of Making Me Break, Maloney landed on SPIN Magazine's "Artist to Watch", with enthusiastic reviews from The Huffington Post, Consequence of Sound, and No Depression. The last song on the record, "Nightstand Drawer", became Maloney's first major television song placement on the CBS series "Elementary".
As a Signature Sounds artist, Maloney has toured nationally as a headliner as well as in support of acts like Lake Street Dive, Rodrigo y Gabriela, Gary Clark Jr., Colin Hay, Mary Chapin Carpenter, and many more. In 2014 she collaborated with the rising Boston quartet Darlingside on the Woodstock EP, a tribute to the Joni Mitchell-written / Crosby, Stills, Nash & Young-covered 60's anthem. The cover was featured on the New York Times and garnered attention from Graham Nash himself, who called the performance, "Delicious, really excellent."
Raised on a record player instead of a TV, Maloney dug deep into per parents' record collections for entertainment, obsessing over the Beatles Joni Mitchell, Fleetwood Mac, C.S.N.Y., Bob Dylan, and more. So it's no surprise that the folk, pop, and rock greats of the 60's and 70's found their way into her own music. With those influences as a foundation, and a strong dose of 90's radio hits (from women like Fiona Apple, Alanis Morisette, Bonnie Raitt, Sheryl Crow, and of course, Mariah Carey), Maloney was forming her sound long before she even wrote a single lyric.  
According to her mother, her singing career began in the aisles of a Northern New Jersey grocery store, where she developed a reputation for serenading shoppers. The writing would come much later, after spending the first few years of her early 20's in a state of self-proclaimed "Musical A.D.D.". After training her voice in classical operatic, improvisational jazz and classical Indian vocal techniques, Maloney was suddenly and overwhelmingly compelled to drop all things musical. Actually, to quit making sounds or noise, altogether.
She found herself living at a silent meditation retreat center in Central Massachusetts, where she would practice for almost 3 years, studying and Vipassana Meditation, pouring over Rumi and Rilke, and keeping a journal documenting daily life at her cottage in the woods. It was in this place of quiet that, ironically, she began writing her first songs. Songs largely inspired by her experiences in meditation, including equal parts of the dark / uncomfortable / twisted parts of the human mind, as well as the sparkling and brief moments of that longed-for, ever elusive thing called insight. Maloney said that if she hadn't started writing songs at the meditation center, she would be "completely covered in tattoos, because each song is about something I really, really want to remember badly … so I wouldn't have to go through it again."
And with the same sudden and overwhelming resolve that led her to the meditation center in the first place, she re-emerged into the music space with a guitar and a few songs that meant something to her. In the years since Maloney has left her life of silence and reflection, she has toured almost constantly, written hundreds of songs, and slept on over a thousand different pillows. 
---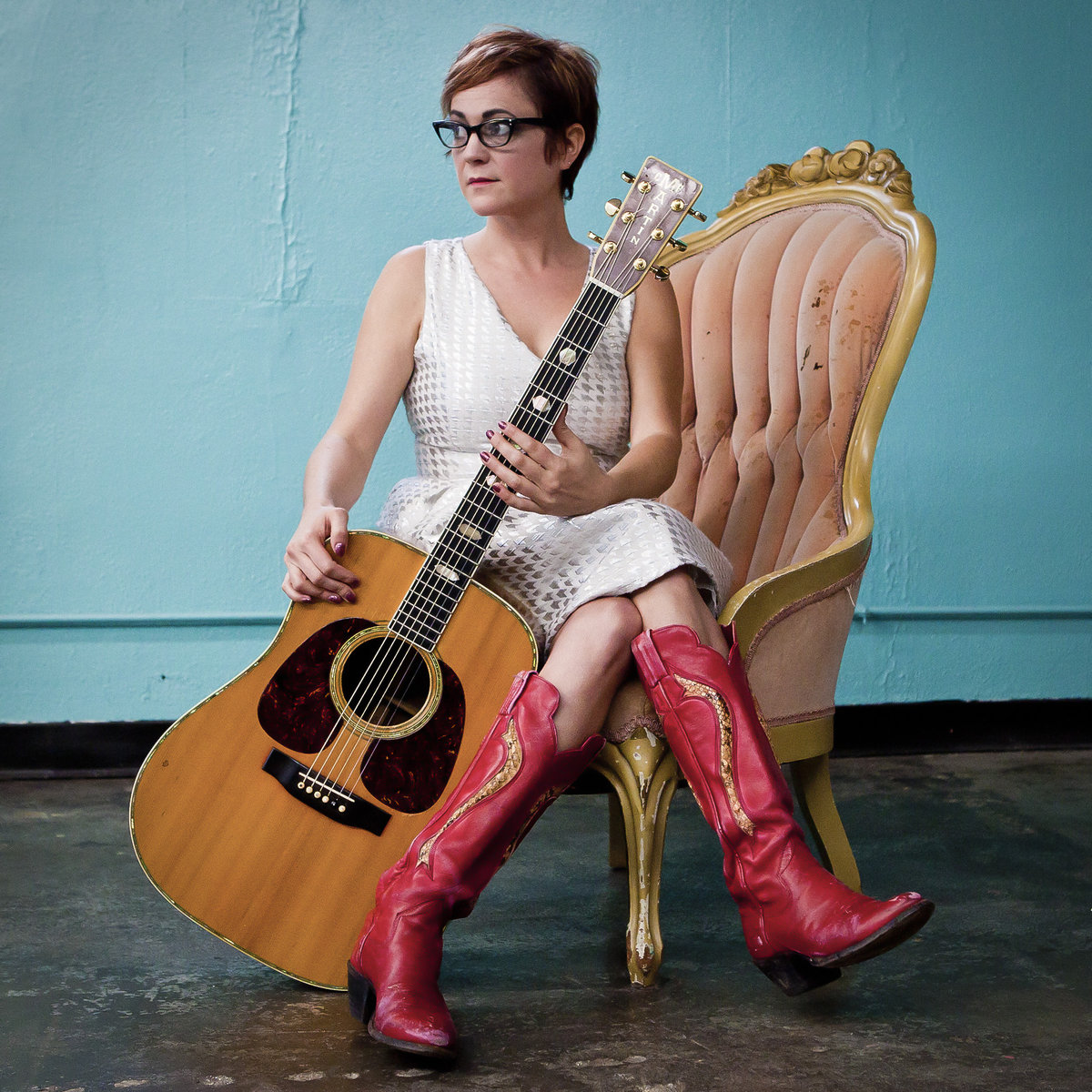 Carter Sampson
Performing: April 27 & 28
Carter Sampson is an Okie-born singer/songwriter with a big voice. 
The Oklahoma City-based artist is blessed by a musical family legacy that includes talents like Roy Orbison. 
Her journey as a naturally independent, free-spirited musician has seemed almost predestined at times. At age 15 she began experimenting with sound as a way to pass the time; now her creativity has matured into the dedicated and passionate performance that makes her a favorite female vocalist.
"I'm pretty much the same me working on the same goals … maybe a little more grown up. I think I am more confident than I was when I first started playing. I've always been brave, but I'm more sure of myself now," Sampson exuded.
As a relatable artist, her empowering music appeals to a wide range of folks, who are incredibly and admirably loyal to her and her work. She's the founder and director of Oklahoma City's Rock 'n' Roll Camp for Girls, which always partners with nonprofit organizations that empower girls and women through music education.
The inspiring artist also averages about 220 shows annually – in areas like Oklahoma and Arkansas, as well as Colorado, New Mexico and Texas. But as the self-penned 'Queen of Oklahoma,' Sampson's red boots are happiest when they're on her home turf.
"I am proud to be from Oklahoma and really proud of the music that is coming out of the state right now. I wish we were more progressive in a lot of areas, but it feels like slowly change is happening."
Though she travels for the love of making music, she's no stranger to awards. She was named a Top 12 Finalist in the 2012 Mountain Stage NewSong Contest and performed at Lincoln Center in New York. This year, she won first place in the general category of the Chris Austin Songwriting Contest at Merlefest in Wilkesboro, N.C. – with her song "Wild Bird", which was additionally released by Pinecastle Records.  
She also won fourth place in the Colorado-based Telluride Troubadour Contest at the Telluride Bluegrass Festival and was a Top 10 Finalist in the Rocky Mountain Folks Festival's Songwriters Showcase in Lyons, Colo.
Her third album, Good for the Meantime, was released in 2008. Then in 2011, she launched a Kickstarter project for Mockingbird Sing, in which she gave supporters rewards to help secure adequate funds within 30 days. After that huge success, she recorded a five-track acoustic EP, Thirty Three, at Treelady Studios in Pittsburgh/Turtle Creek, Penn.
"I feel like I am right where I am supposed to be doing exactly what I am supposed to be doing," Sampson said, reflecting on the long road that led to right now.
Her fourth full-length studio album, Wilder Side, was released on Tuesday, Jan. 12, 2016. Like Good for the Meantime it features the heady handywork of producer/multi-instrumentalist Travis Linville, who, like Sampson, has a unique sound all his own.
 "I loved working with Linville on Good for the Meantime; he was so laid back, encouraging and fun to be around. I'd been thinking about asking him to engineer my new project, and when I heard his last EP (Sun and Moon) I knew I wanted him to help me with it (Wilder Side). I love the dreamy feel that EP has and there's a lot of that on Wilder Side," Sampson said.
---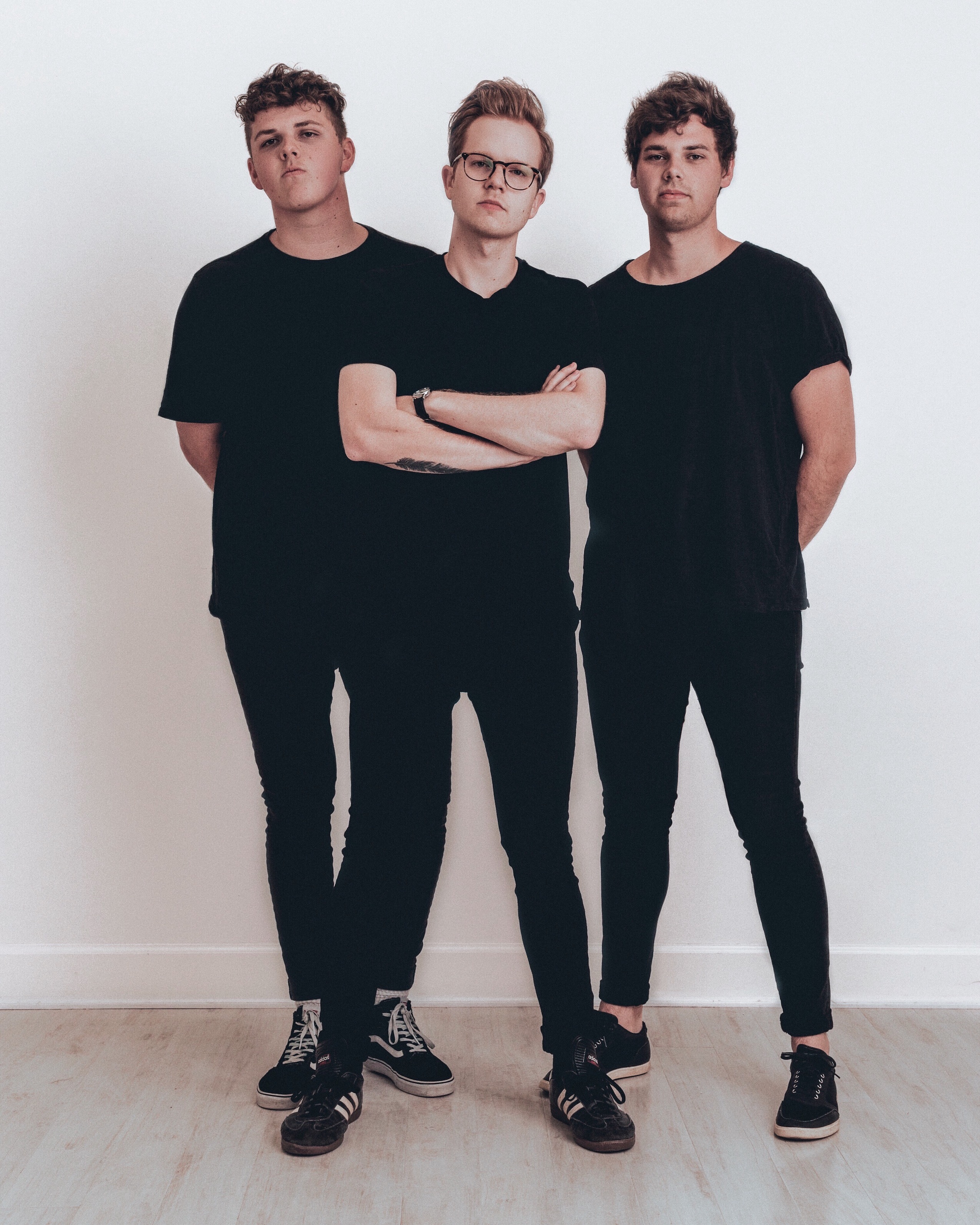 VILLE
Performing: April 27 
---
"Nashville based trio Ville was formed in Bentonville Arkansas by Hayden Renfrow, Reagan Renfrow and Garrison Burgess. The band is heavily influenced by many groups of the new wave era. Combining 80s pop anthems with 90s rock and roll, Ville has cultivated their alternative pop sound. After the release of their first single "Bad Love" in October of 2017, the band went to work creating new songs and crafting a captivating live set to take on the road."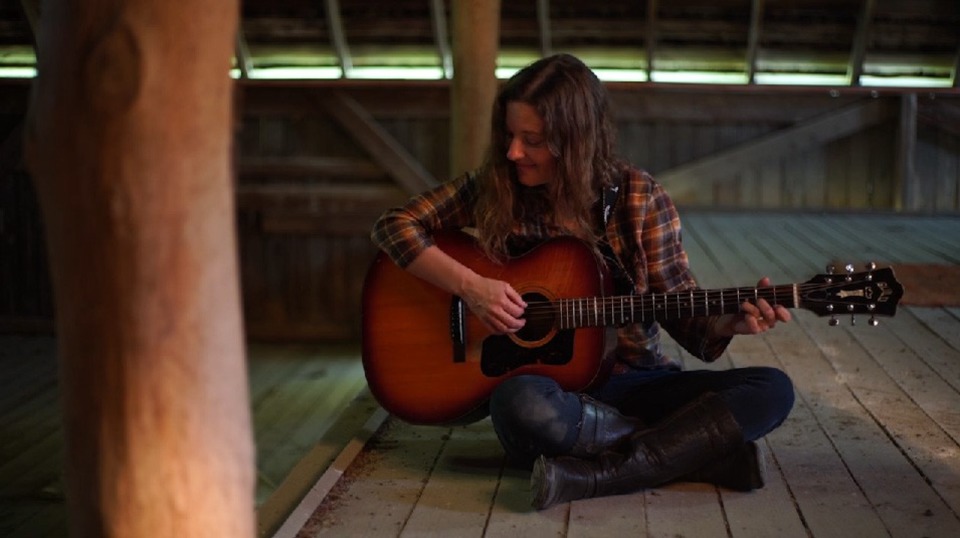 Kasey Rausch
Performing: April 28
Kasey Rausch is a 5th generation songwriter & musician, co-producer/host of roots music radio show River Trade Radio on KKFI 90.1FM Kansas City Community Radio and former host of Campfire on DittyTV (Memphis, TN). Her family and musical roots can be found in Parkville, Kansas City, the Missouri Ozarks, Winfield, Kansas (home of the legendary Walnut Valley Festival) and deep Southeast Texas. She tours nationally with pedal steel and guitar master Marco Pascolini as The Country Duo and plays locally with classic country honky tonkers The Naughty Pines and songwriter Scott Stanton. Rausch's third album, Guitar in Hand (originally released on MudStomp Records 2014), debuted at #3 on the Roots Music Reporting charts and was voted one of the top three albums of the year by readers of The Pitch, KC's weekly entertainment guide. She was named 2016 Best of the Northland Artist, 2013's Female Performer of the Year by The Farmer's Turnpike on KMXN 92.9 FM and is a four-time Pitch Music Award Nominee.  She has shared the stage with Joe Ely, Dale Watson, Peter Rowan, Roland White, Kris Delmhorst, Jack Williams and many more.
"My music comes from five-generations of artists, farmers, homesteaders, prairie dwellers and Missouri hill folk. With a guitar in hand, I share stories as songs. I'm drawn to writing about family, home & human experience with a focus on simple delivery colored by a touch of fiddle, mandolin or the classic sound of a country-picker's pedal steel. I aim to capture moments of the present, relate them to the past and archive them for the future." — Kasey Rausch
---
Joe Mack
Performing: April 26, 27 & 28
Oklahoma native Joe Mack has been performing and writing music for an overwhelming majority of his life, blending all his favorite genres of music into a style that is undeniably his own. When performing solo, he's oft compared to Leo Kottke and Keller Williams for his orchestral approach to the six-string; when paired with other singer/songwriters in the round, the tones of David Rawlings and Jerry Garcia seemingly appear both instrumentally and vocally.

To date, Joe has been fortunate enough to fill concert halls, clubs, festivals and co-bills with the likes of Tim Reynolds, George Clinton & Parliament Funkadelic, Drew Emmitt & Vince Herman (of Leftover Salmon,) Hosty Duo, Travis Linville, Randy Crouch, Split Lip Rayfield, Umphrey's McGee, Carter Sampson, Elephant Revival, My-Tea Kind, Thomas Trapp, Sky Smeed, Turnpike Troubadours, and the Jacob Fred Jazz Odyssey. 

Mack also serves the arts and entertainment community via print and online media, most recently serving as Editor-in-Chief for The CurrentBUZZ Magazine. "It's the best way to stay connected to this (music) community that you could ever imagine," Mack commented, "And it's great to have another avenue to bring good news and great artists into other peoples' lives."

In addition to his busy full time journalism career, Mack is also a sought after collaborator, joining forces with fellow Okie musicians like Carter Sampson, Sky Smeed, Bill Erickson, Meandering Orange(alongside three of the four members formerly of My-Tea Kind; guitarist James Townsend, bassist Anna Paine and drummer Sarah Garde), The Macktet (a mashing of Tulsa instrumental jazz wizards The Movetet and Mack's zany catalog of creations, yielding heady results), The Skillbillies (a guitar-driven, progressive bluegrass band), and whoever else heeds the beckoned call.

Mack's 2008 release, This Crazy World, features several songs which have received rotation on local NPR and college radio stations, including the swinging roots stomp "Thrift Store Shoes," the mystic "Fortune Teller" (co-written with Dango Rose of Elephant Revival) and "Hillbilly Reggae Girl."
The 2012 follow-up, Pieces, was initially tracked back in 2003-2004 and offers a stripped-down session of a young, firebrand rhythm guitarist/songwriter in the prime of his creative youth with the melody-centered grooves of "Running Back", "Pieces", "Ain't Nunna Her I'm Gonna Miss", "Planets" and more.
In 2016, Mack continues to record and write a new album, releasing the digital exclusive EDM version of "Ever Any Nothing", which also donned a debut official music video shot, directed and edited by Corey Johnson. You can find all of Joe's music at www.cdbaby.com and your favorite digital retailers.
---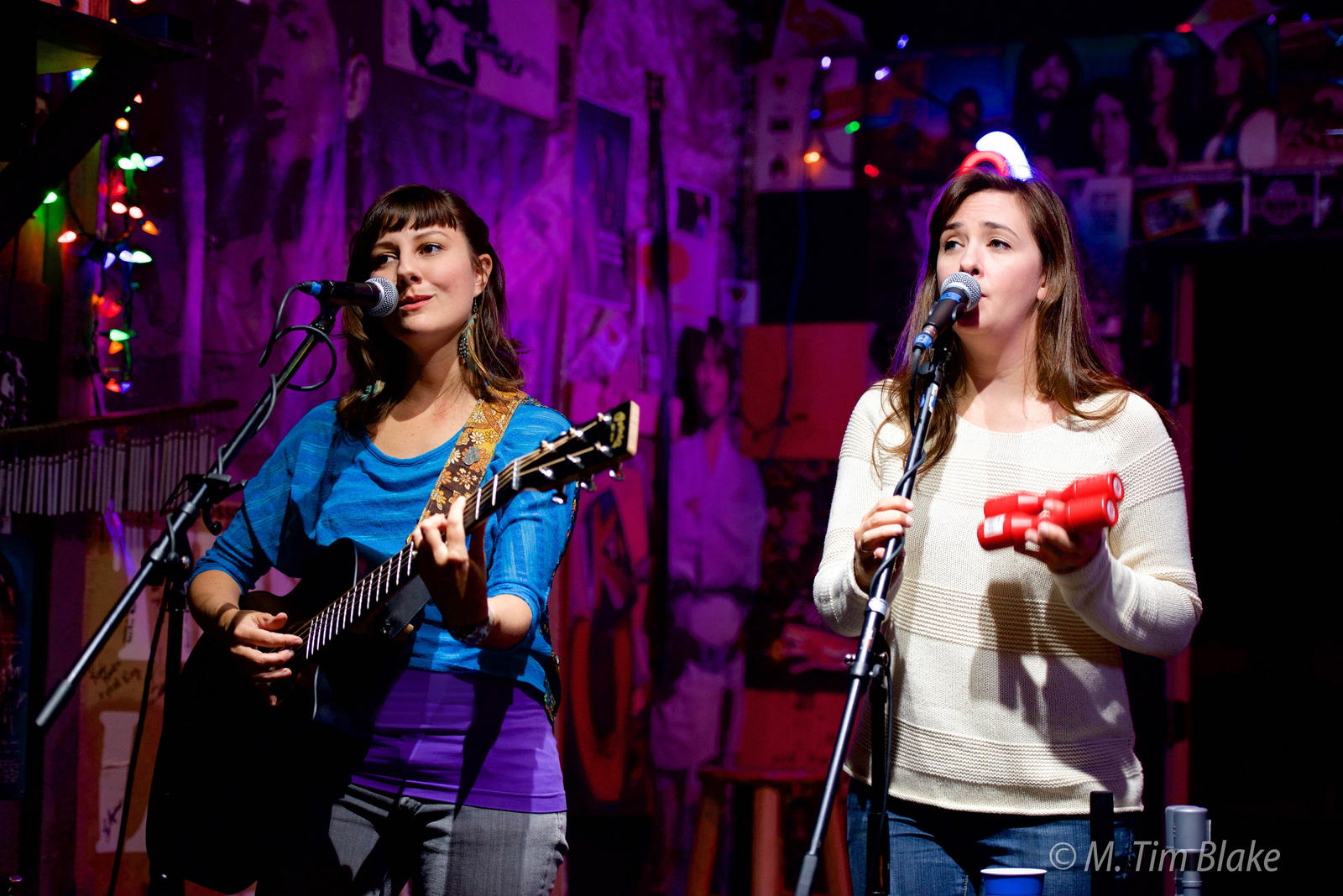 Melody Pond
Performing: April 26
---
Melody Pond is the song that dances on the water, echoes on the wind, and enchants your ear drums. It is a duo made up of singer/songwriters, Candy Lee and Emily Rowland, who take turns backing each other up on their songs, both vocally and instrumentally. Though Candy and Emily are each talented performers in their own right, magic happens when they perform together. The pair have a been singing together in various band formations for almost a decade, perfecting their tight, seamless harmonies. Their sound ranges from fun and powerful to honest and tender. Rooted in the earthiness of folk, Melody Pond keeps it fresh by merging modern indie influences with throwback moods of funk and blues, with jazz. The duo has been compared to modern artists Rising Appalachia, First Aid Kit, and The Ditty Bops.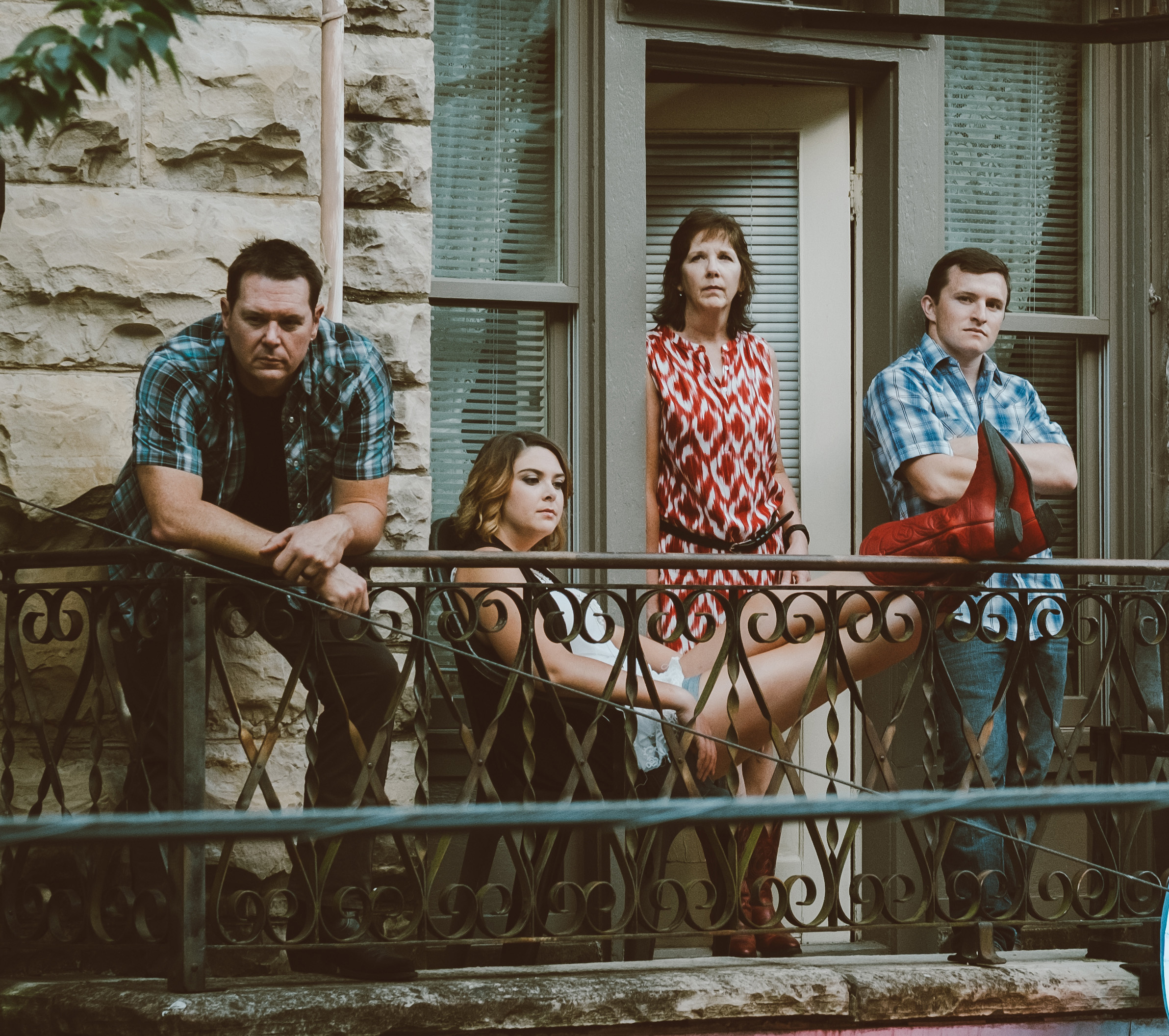 Route 358
Performing: April 26
---
Route 358 "bends and blends" influences from bluegrass, country, folk, pop and rock into a unique form of acoustic music. Their live performances highlight the band's dual vocalists and include melodic combinations of acoustic instruments such as guitar, banjo and mandolin. Songs from their first two albums have been receiving airplay on both national and international radio stations. In 2017 they were selected to be a showcase artist at the Folk Alliance Mid-West Conference, opened for CMA award winning artist Deanna Carter, and were selected to play the Power of Music Festival, which featured multiple members of the Nashville Songwriters Hall of Fame.  In addition, Route 358 is set to play on the main-stage at the longest running folk festival in America, The Original Ozark Folk Festival, in Eureka Springs, AR. They have been playing music festivals and venues throughout the mid-west and are known for their ability to scale down for an intimate evening of acoustic music or scale up for larger stages that makes them adaptable to any venue.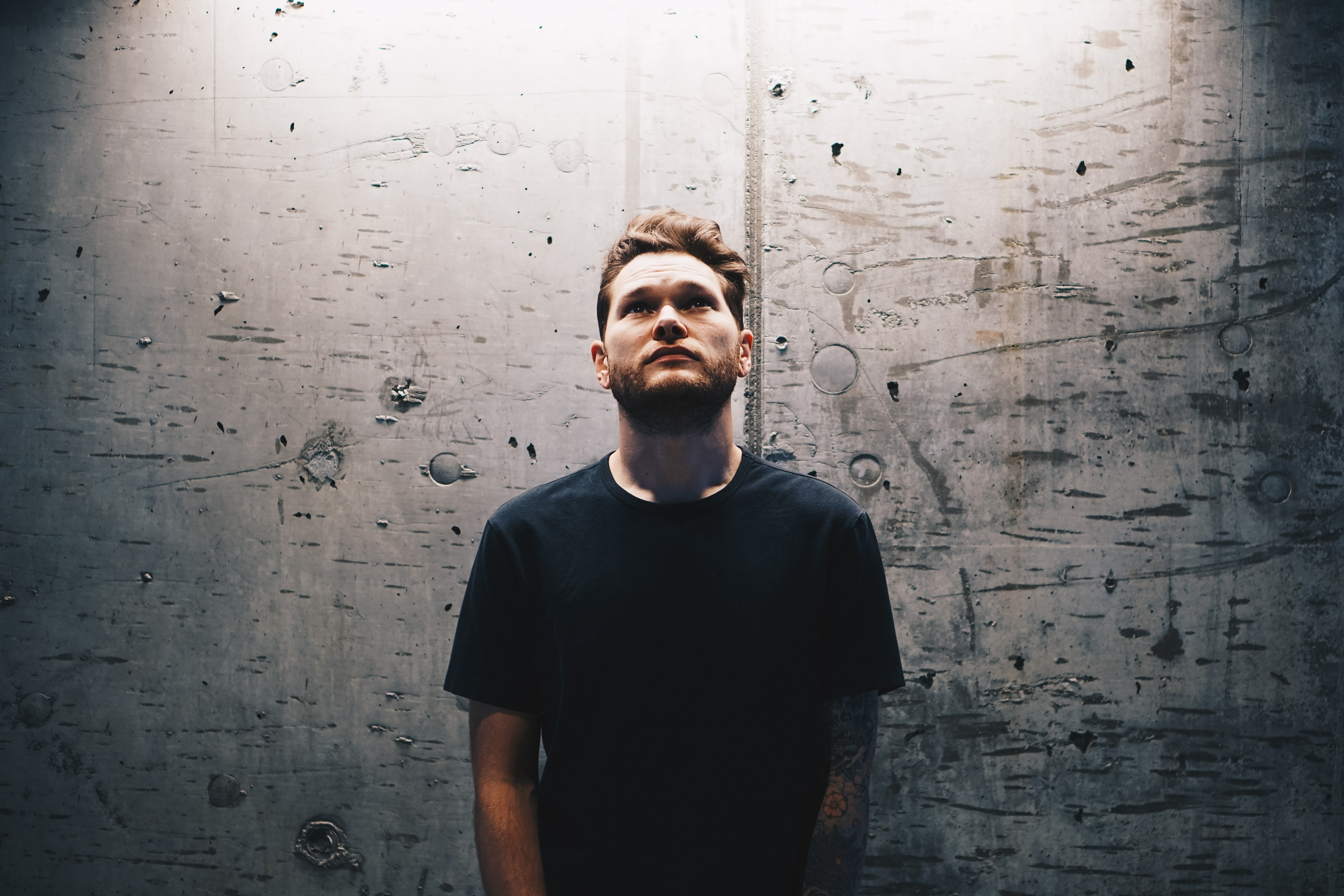 Kevin Kiehn
Ozark Regional Songwriter Association November Showcase Winner
Performing: April 27 & 28
---
Kevin Kiehn (pronounced keen) is passionate about inspiring change through music.  He infuses the listener with pop-rock melodies on a bedrock of high intensity rock n' roll.  He first got his feet wet in the music industry as the vocalist for the band "The Wedding".  He was a part of the group during their debuted self titled album as well as their sophomore follow up "Polarity".  He currently resides in Bentonville, Arkansas with his wife Jessica and three daughters.  Follow the process of Kevin launching back into the music community after a 10 year hiatus while simultaneously rediscovering his sound as a solo artist.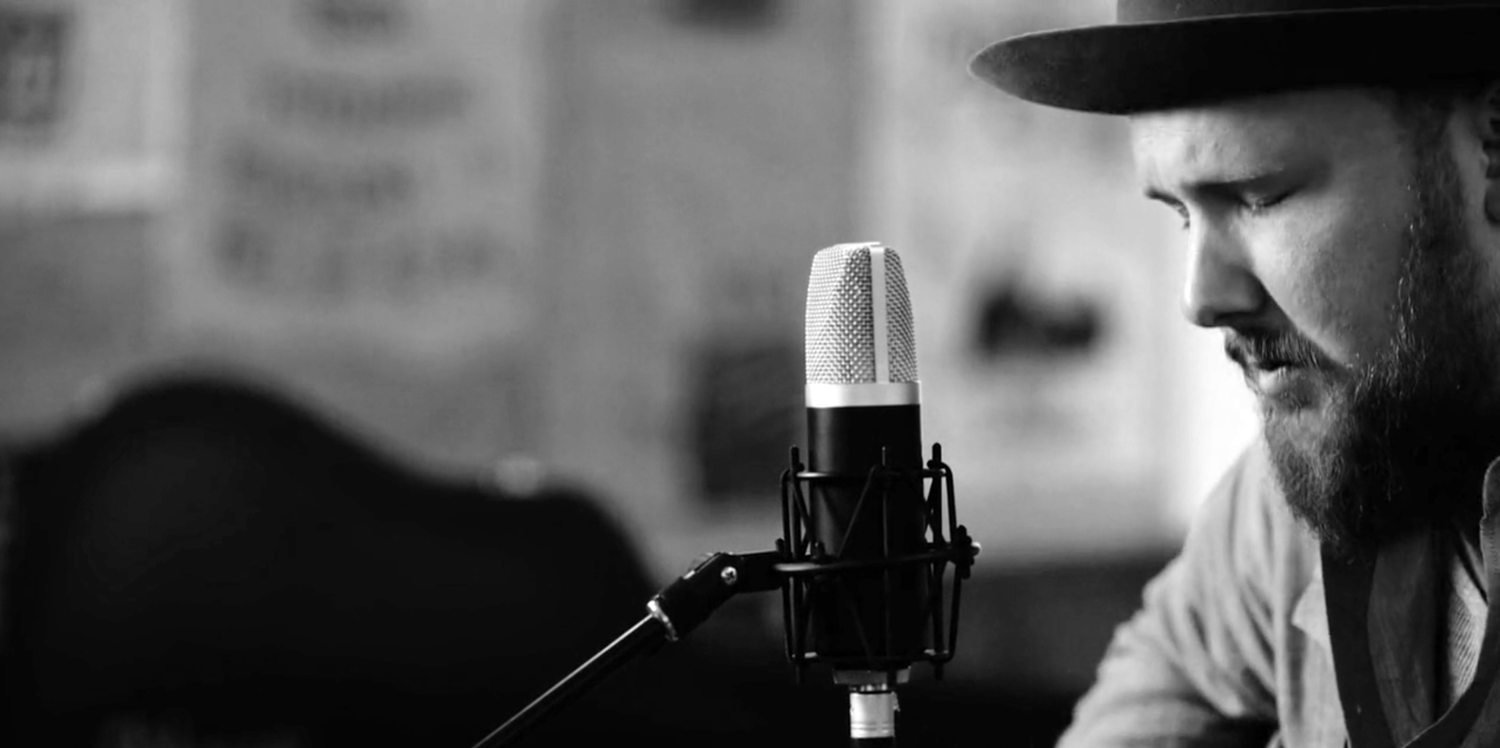 Cameron Johnson
Performing: April 28
After the success of his single, Crooked Bangs, Ten 'til Two Music artist, Cameron Johnson, went back to Nashville to record his debut EP.  Stack Your Stones features five new songs and a re-mastered version of Crooked Bangs.  All six songs were written by Cameron and his father, veteran songwriter, Bruce Johnson.  The songwriting on Stack Your Stones is a true collaboration and a testament of what can be created when the bond of blood and a mutual love of music are combined.
They are currently writing new material for Cameron's next project.  Three new songs were recently debuted to a sold-out crowd at The Arts Center of the Ozarks.  I Don't, Somebody's Son and Damn That Lazy Wind were received with great enthusiasm and instantly became new favorites for those in attendance.  
Cameron's soulful vocals and guitar combine a blend of roots, rock and blues to take the audience on an eclectic musical journey.  His live performance not only showcases Cameron's original material but also his twist on songs by Jason Isbell, Imagine Dragons, Boy and Bear, Oscar Isaac, and others.
---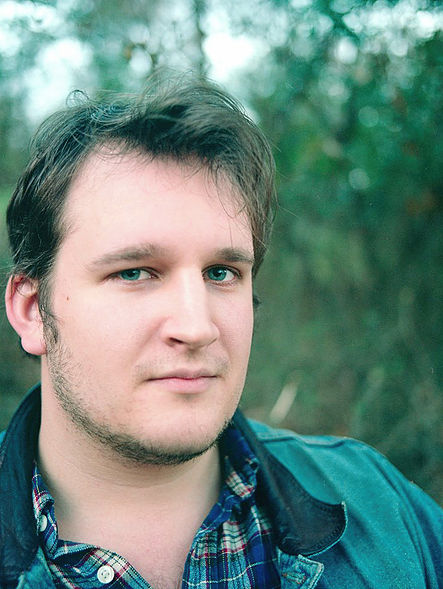 Willi Carlisle
Performing: April 28
Willi Carlisle is, according to The Washington Post, "powerful...both down-home and brainy." With years of collecting folklore, playing or calling square dances, and working in the avant-garde, Willi Carlisle Goehring is a multi-faceted writer, performer, and instrumentalist.
With a style forged in the fire of Ozark oldtime music and his ever-growing collection of antique music, Carlisle's musical stories hoot, stomp, and saunter through joys and troubles uniquely southern and timelessly true. Equally comfortable on banjo, fiddle, and guitar, Carlisle has earned accolades for his versatility with performances at the Ozark Folk Center, the Fayetteville Roots Festival, Thacker Mountain Radio, and Fringe Festivals across the country, where he has been lauded with awards like "Best Show" (Orlando Fringe) and the "Meryl Streep Acting Award" (Portfringe).
While his big frame and expressive voice draw comparison to old balladeers and bluesmen, Willi sings new songs for the oldest reasons: love, heartache, and joy. People who watch and listen will find that he laughs and sheds a tear onstage almost as often as his audiences do, fire- and-brimstone proof of larger-than-life songs and stories.
​His debut EP, "Too Nice to Mean Much" is available now! 
---
Robb McCormick
Performing: April 27
Some Guy Named Robb a.k.a. Robb McCormick is an award-winning Singer-Songwriter, multi-instrumental, Author, Blogger, Poet, Guest Speaker, and DJ who is native to Arkansas.​ He grew up spending his summers playing music in Colorado and has since traveled the world continuing to write record and play his own particular style of music. 
Husband to one, father to two, friend to many, Robb has recently been on tour across the ocean in the United Kingdom, in England and France, as well as touring from New Mexico, through Colorado, Oklahoma, Texas, Nashville, Tennessee, all the way through Mississippi to Alabama. Taking a moment to stop in Memphis and recording at the world famous Sun Studios with Grammy winning producer Matt Ross-Spang. (Jason Isbell)
Robb has toured both nationally and internationally to critical acclaim, playing his original, Indie Folk-Rock music and unique blend of often eclectic covers.   
Robb has written over a thousand songs, played almost 6000 shows, released and sold 7 original albums and played to hundreds of thousands of people. He is currently in the studio recording his newest release "The Folkster" which has already garnered an astonishing $15,000 in pre-orders in only 27 days!
You can find his music all over the Internet on Spotify, Amazon and Apple Music and available to purchase on his own website, www.sgnrobb.com!
Robb is the winner of the Beaux Arts Academy, Performer of the Year award as well as numerous nominations and accolades from many platforms.
---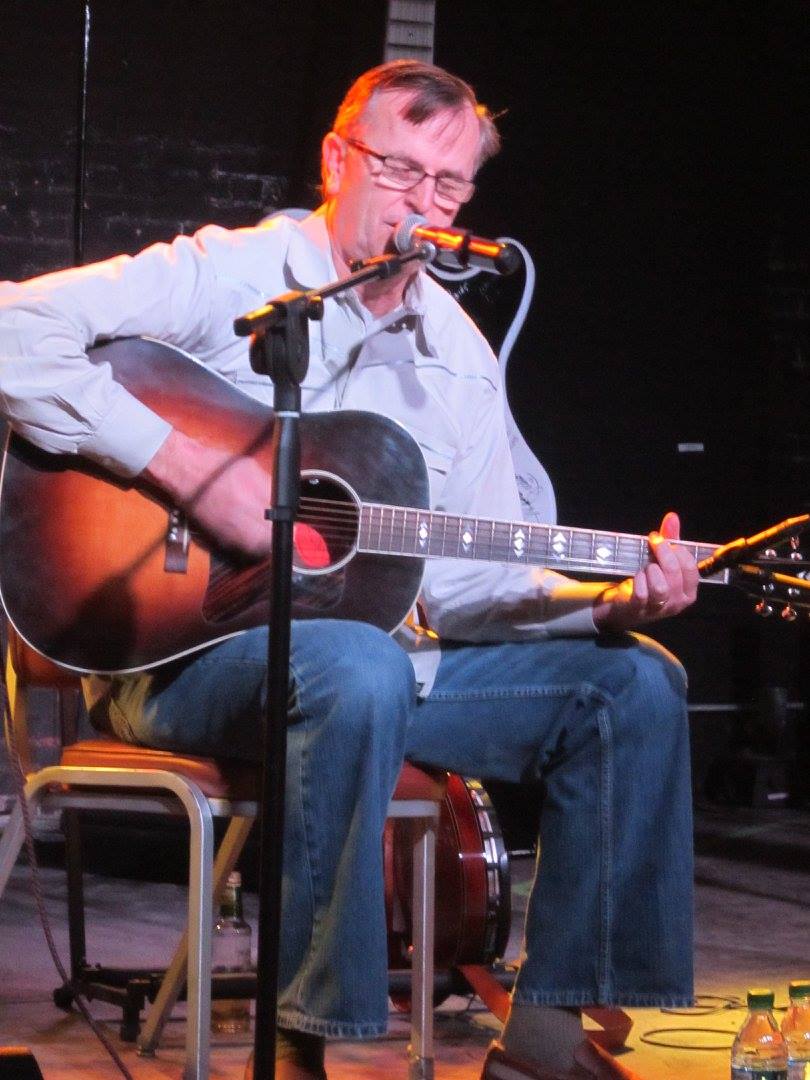 Jim Paul Blair
Performing: April 27 & 28
Born in Odessa, Texas, Jim Paul Blair spent most of his years growing up in Clayton, Oklahoma. Being the son of former Texas Playboys member Ramona Reed, he was exposed to the music of Bob Wills at an early age. After ten years of playing in bands around Stillwater and Oklahoma City (The Red Valley Barnstormers, Garth Brooks, Jim Alexander, Hickory Wind), Jim moved to Nashville in 1989 where he became an original member of The Neverly Brothers and The Neverly Hillbillies.
After moving back to Oklahoma in 1998, Jim plays more music now than ever.  He can be seen performing live in various bands, each focusing on a different style of music including Rock, Country, and Bluegrass.  He has toured Europe with country band City Moon, which is now focusing on their Hank Williams tribute, "Hankerin' 4 Hank".  Jim also performs periodically with bluegrass bands The Bonham Revue and The Bluegrass Bullies.  You will also see Jim periodically performing with rock bands The Neverly Brothers and The Grease Monkeys and in the unique acoustic funk duet with Harley Hamm called the "Harley Hamm Jimmy Jamm".  Most recently, Jim portrayed Buddy Holly in Muskogee Little Theatre's production of "The Buddy Holly Story".
In early 2009, Jim began performing in "Hankerin' 4 Hank", a Hank Williams tribute band.  In August 2009, Jim portrayed Hank in Muskogee Little Theatre's production of "Lost Highway" in nine consecutive sold out shows.  Hankerin' 4 Hank continues to draw standing room only crowds in theaters, fairs, and festivals throughout the United States.  In 2013, "The Buddy Holly Story" again sold out nine shows during production.
"Fresh Off The Strings" was Jim Paul Blair's first solo release in 2003 and is currently available at CDBaby.com or on iTunes.  City Moon's "Down Our Road" was released in 2007 and features a number of original and classic country tunes.  "Down Our Road" is available at CDBaby.com.    Other collaborations were issued with The Neverly Hillbillies and The Bonham Revue along with guest appearances on recent recordings of Don Morris, Randy Pease, Greg Jacobs, Eddie Glen, and Jana Jae.
Jim now resides in Muskogee and currently serves as Executive Director/Host of Oklahoma Music Shop, a weekly TV show that features local and national talent.  Jim also serves on the Board of Directors of the Oklahoma International Bluegrass Festival.
---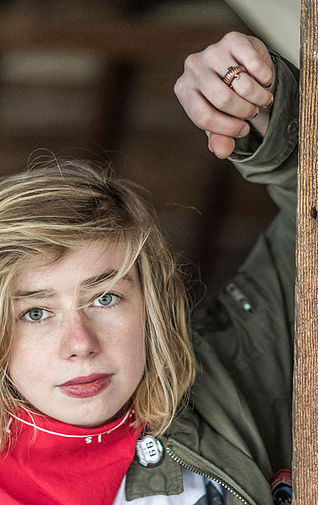 Sav Buist
(The Accidentals)
Performing: April 27 
---
Savannah Buist (Sav) was ​born in Nashville TN, her birth announcement came by way of Whispering Bill Anderson on the Grand Ole Opry stage where her father played piano.   Sav's love of music began on a tour bus when she was three months old. Surrounded by musicians, and mesmerized by anything with strings, ​it really wasn't a question of "would she play" but "what" would she play.  Now the question is "what doesn't she play?"  Sav writes most of her songs on her Takamine guitar or Liquid Violin and colors them with a bit of viola, banjo, mandolin and upright bass/Fender electric bass.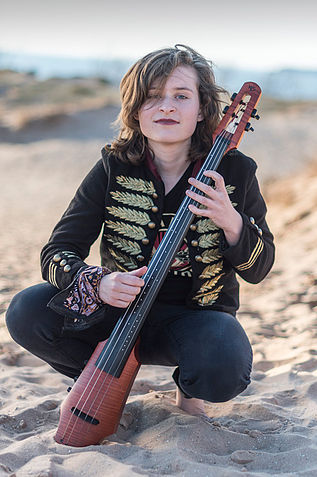 Katie Larson
(The Accidentals)
Performing: April 27 
---
Katie Larson is a 21 year old singer-songwriter and multi-instrumentalist. In elementary school she began studying classical cello, and in high school she joined her school's jazz band on electric guitar. She grew up in a musical family, where the living room speakers often blared music ranging from The Red Hot Chili Peppers to broadway soundtracks, to jazz singers like Blossom Dearie. Her mother studied voice in college, and her father is a collaborative pianist at Interlochen Center for the Arts. In 2014 Katie graduated from Interlochen Arts Academy after studying songwriting and music technology, cello with Crispin Campbell, voice with Scott Skiba, and jazz improv with Bill Sears. During her time there she collaborated on projects with filmmakers and orchestra's.  She continues to collaborate across film, music and art projects.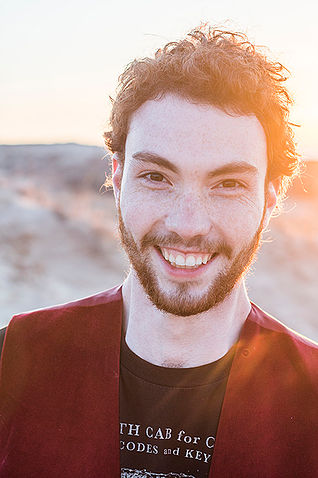 Michael Dause
(The Accidentals)
Performing: April 27 
Hailing from the suburb of Northville, in Detroit, Michael Dause banged on pots and pans at the early age of one…and never really stopped. The first "real" instrument he learned to "destroy" was those mini kid drum sets, at the age of two. Two years later, at the age of four, Dause's grandfather got him a full-sized drum set for Christmas. At seven, he began his first lessons. In middle school, Dause taught himself how to play the guitar, and began writing his own songs in ninth grade.
Dause has released a couple of solo albums in 2014 and 2017 that can be found HERE.

Dause joined the Accidentals in 2014 after they met at a music festival.  When he plays with Katie and Savannah, their styles allow him to get back to his drumming roots and focus on the parts as pieces, not as a whole. "They're fantastic musicians, and I love being able to lock in with them on stage."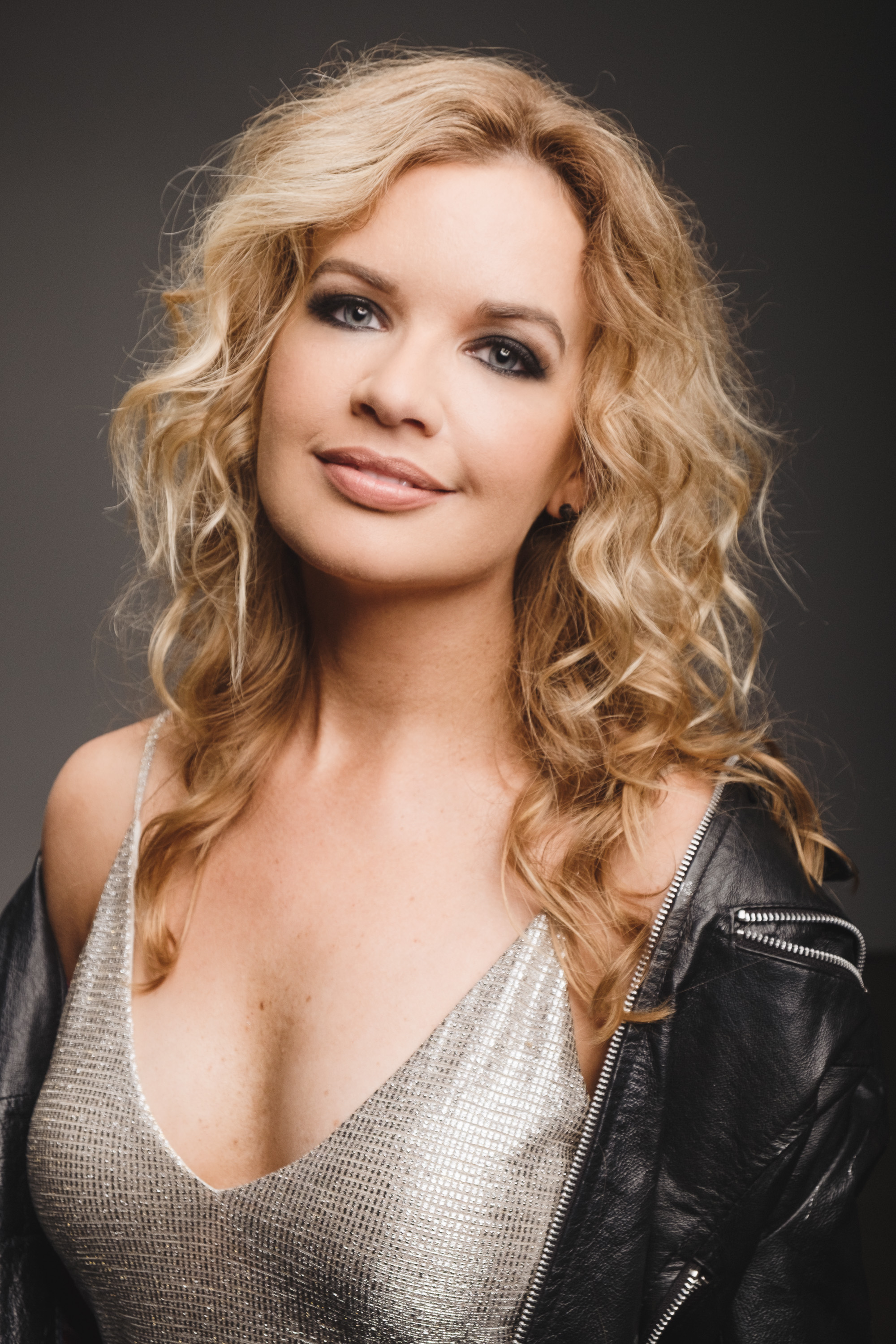 Andrea Young
(Farewell Angelina)
Performing: April 28
---
Andrea Young is a Nashville-based singer, songwriter and multi- instrumentalist. Trained classically since the age of two for a symphonic career, her natural passion for improvisation and country music eventually led her to Nashville....and an entirely different set of dreams.
She has toured and played on sessions throughout the US and Europe enjoying almost every genre under the sun. She has backed up artists such as: Marcus and Levi Hummon, Halfway to Hazard (On Tim McGraw's "Live Your Voice" Tours), Craig Wayne Boyd of "The Voice," "One Tree Hill" actress Jana Kramer, American Idol's Bo Bice, guitar slinger Kenny Olson (of Kid Rock), George McCorkle (of the Marshall Tucker Band), Ruston Kelly, Weston Burt, Sarah Davidson, Jerrod Niemann, Lady Antebellum, Pavlov's Dog, among many others. Andrea has also been joined heavy-hitting house bands including Sixwire on CMT's hit show "Can You Duet" and The Coral Reefers on the American Legacy Tour.
She has opened up shows for the likes of Darius Rucker, Brooks and Dunn, Rascal Flatts, Jason Aldean, and Charlie Daniels, etc. Highlight performances include the National Anthem for the Breeders' Cup World Championship on violin (ESPN), an anthem performance for Houston Astros, as well as an appearance on GAC's Headline Country. Her self- titled EP was released in January 2015.
With her band Farewell Angelina, she is part of the 2017 Taste of Country Risers Program, which highlights the best up and coming acts on the country music scene. They have been touring for the greater part of 2017 opening up for: Kenny Chesney, Jake Owen, Billy Currington, Old Dominion, Chase Bryant, and most recently finished up a tour with the Bacon Brothers.
She continues to write with Nashville's hit-makers, perform on sessions and tours out of Nashville, and teach violin across the country. Regardless of the music she is making, her sound is truly unique and her work ethic is always inspiring. She has been fortunate to have learned from some of the very best.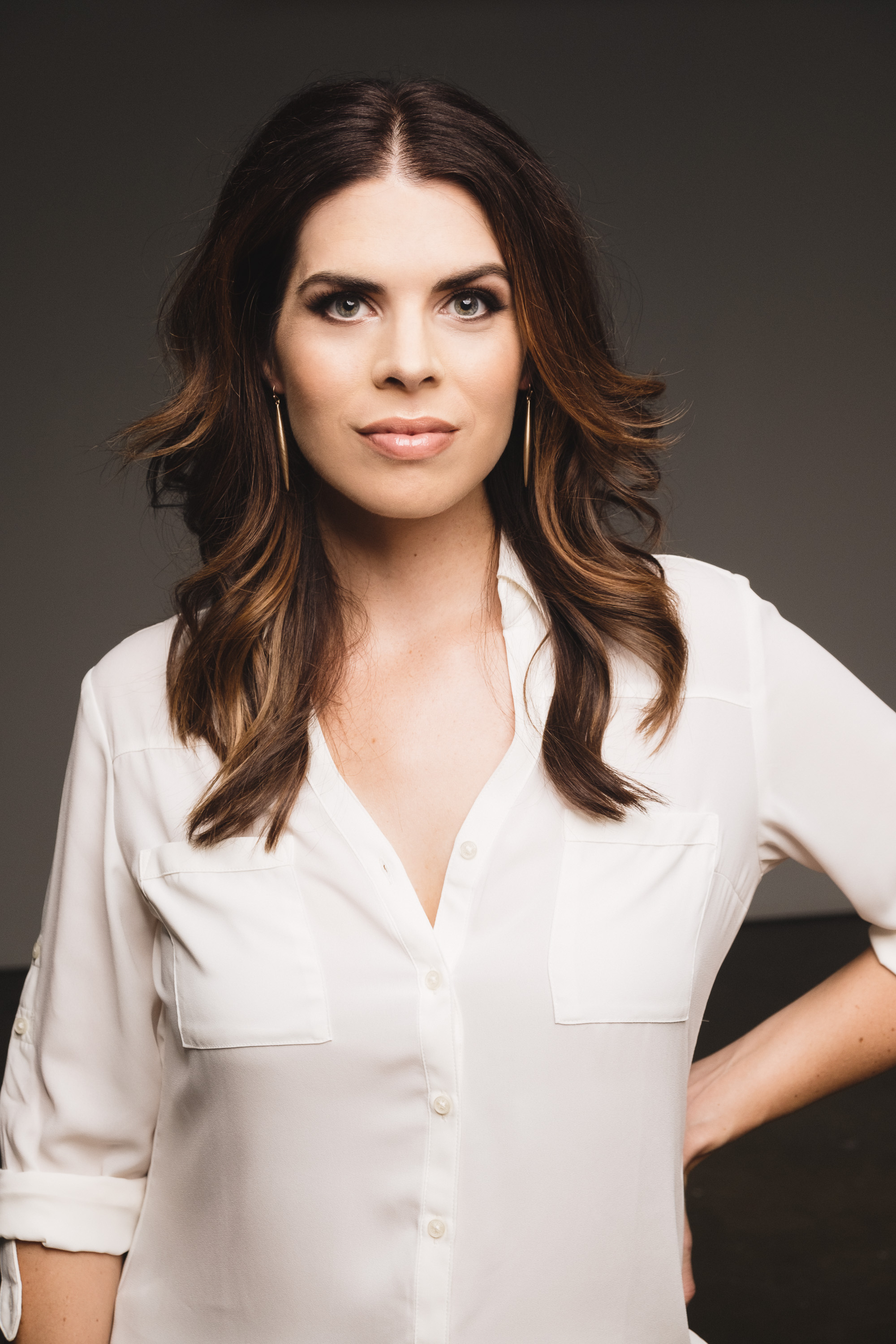 Lauren Lucas
(Farewell Angelina)
Performing: April 28
---
Lauren Lucas is a Tony Award and ACM-nominated singer/songwriter. A native to West Columbia, SC, Lauren moved to Nashville to attend Belmont University. Upon graduation, Lauren signed a record deal with Warner Bros. Records by veteran producer and label executive, Paul Worley (Dixie Chicks, Lady Antebellum, The Band Perry). Lauren later joined forces with Grammy-winning engineer, Chad Carlson, and recorded an independent EP, If I Was Your Girl, which garnered critical praise. The EP landed Lauren a spot on Nashville Scene's list of, "Top 5 Women Giving Mainstream Music A Good Name," along with Miranda Lambert, Carrie Underwood, Lori McKenna, and Sarah Buxton. She's had songs featured on ABC's hit reality show, Shark Tank, and the featured film, Chloe & Theo, starring Dakota Johnson and Mira Sorvino.
In August of 2016, Lauren joined, Farewell Angelina, an all-female harmony band featuring dual guitars and fiddles. Rolling Stone Country named Farewell Angelina one of the top 10 new acts you should know, and the NFL asked the band to sing the National Anthem in front of 60,000 screaming fans at the Chiefs/Raiders game for Thursday Night Football last December. Most recently, Farewell Angelina won the coveted, and purely fan-voted, "Hot Seat," in Taste of Country's RISERS program. This is a program that identifies the next generation of country super stars and the band won by over 20,000 fan votes! Most recently, the band has opening sold-out shows for Kenny Chesney, Old Dominion, Jake Owen, Trace Adkins, The Bacon Brothers, among others.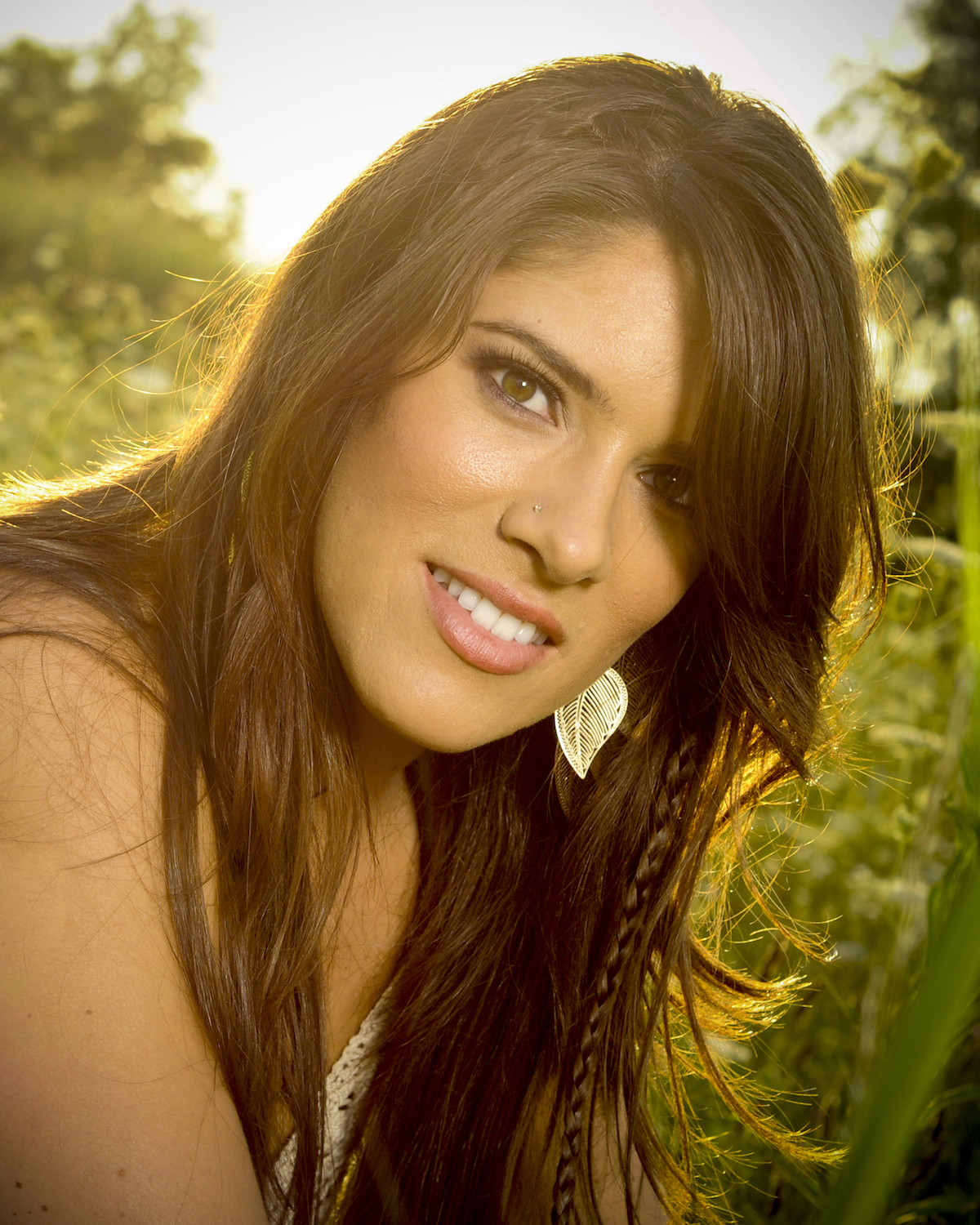 Lisa Torres
(Farewell Angelina)
Performing: April 28
---
Lisa Torres describes her music as country with a little soul. Her fans describe her as charming, energetic and passionate.
During her time in Nashville, Lisa has become a sought-after demo singer and performer. Her vocals have been included on major artists' projects including Trace Adkins, Jason Aldean, Josh Thompson and Frankie Ballard. Lisa is an integral part of the Nashville songwriting scene, collaborating with some of the most talented people Nashville has to offer, winning awards in four major songwriting competitions and getting songs cut by country and pop artists in Nashville, Switzerland and Australia.
As a part of the all-female band Farewell Angelina, Lisa has been touring, opening up for acts like Kenny Chesney, Jake Owen, Billy Currington, Old Dominion, Chase Bryant and most recently wrapped up a tour with the Bacon Brothers. Farewell Angelina was also part of the 2017 Taste of Country Risers Program, which highlights the best up and coming acts on the country music scene. Watch for them to be at a venue near you at www.FarewellAngelinaMusic.com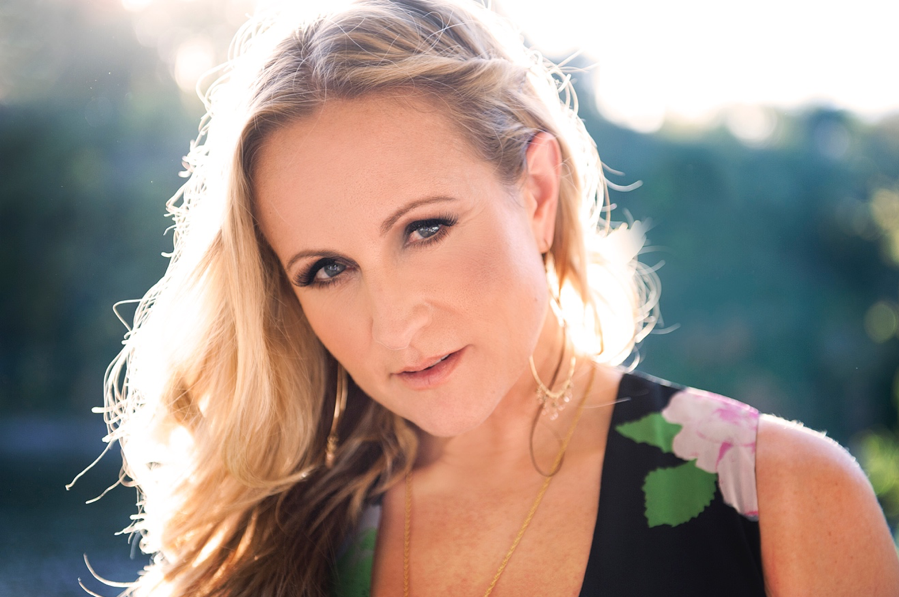 Nicole Witt
(Farewell Angelina)
Performing: April 28
Nicole Witt is a nationally-touring, award-winning songwriter and multi-instrumentalist known for her soaring melodies and clever turns of phrase.
The songs she has written for artists such as George Strait, Lee Brice, Rodney Atkins, Kenny Rogers, Terri Clark, Lauren Alaina, Balsam Range, Mandisa and Ellie Holcomb have brought her national acclaim in country, bluegrass and Christian music. In 2011, Witt received the International Bluegrass Song of the Year Award for Balsam Range's "Trains I Missed".  In 2014, she was nominated for a Dove/GMA award for Country Song of the Year. 
In 2017, Witt cowrote two songs on Ellie Holcomb's new album "Red Sea Road", a brand new song on Terri Clark's upcoming spring, 2018 release and composed and coproduced a score for a short film called "Black Mountain".     
Witt is one of 4 members in the hot new all-female country band called Farewell Angelina.  Their single "If It Ain't With You" that released fall of 2016 became the top 10 most added to country radio.   Rolling Stone Country included Farewell Angelina in their "10 New Country Artists You Need To Know" and in 2017 the girls were chosen as the fan voted "Hot Seat" in the Taste of Country RISERS class. 
They have toured extensively opening for Kenney Chesney, Old Dominion, Trace Adkins, Jake Owen, Maroon 5, the Bacon Brothers and many more.  In 2018 they are coming to a city near you!
---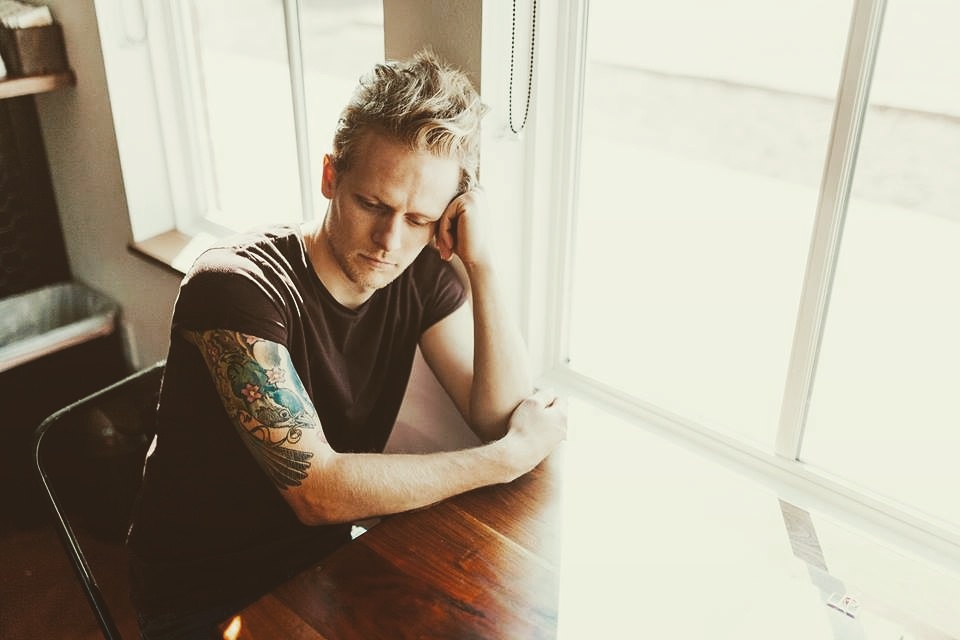 Josh Noren
Performing: April 28
---
Born in Northern California and raised in Northwest Arkansas, Josh Noren grew up with a heart of music. Josh picked up guitar lessons at age 12, started writing original songs as a sophomore in high school and recorded his first EP "It's You" (unreleased) in his parents garage at age 18. Josh moved to Nashville, TN in 2010 where he recorded his second EP "Sky Is Falling" released in 2011. He then self produced and recorded is first full length project "No Holds Barred" and released it online in 2013. While living in Nashville, Josh opened for Rick Springfield, Steve Miller Band, Billy Bob Thornton and the Boxters, Jake Owen, Carbon Leaf and many more artists. Josh also played solo acoustic set in front of thousands at Firefly Music Fest in Dover, DE. Josh recently moved back to his hometown in NWA where he's writing and planning his next release. Josh's lyrics are about real life. He matches them with catchy melodies and easy going rock and roll music. Josh's favorite thing about music is how it brings people together and changes lives. Follow him on Instagram and FaceBook to catch his next show live.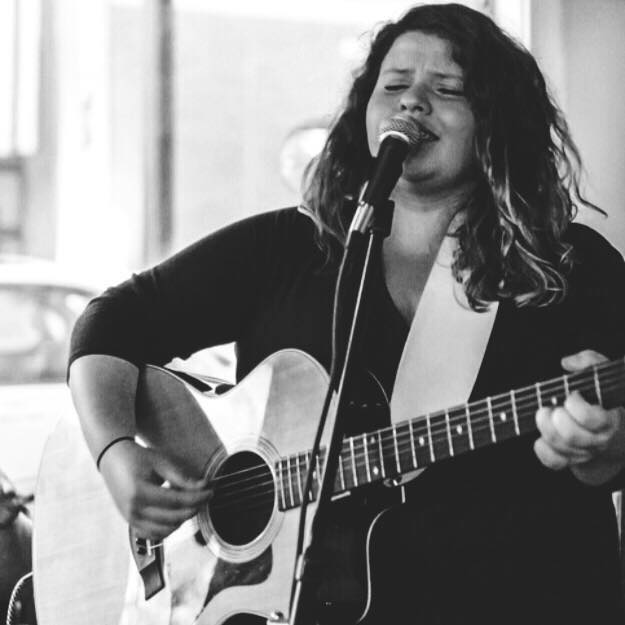 Brittany Moore
Ozark Regional Songwriter Association February Showcase Winner
Performing: April 28
---
Brittany Moore is a 25 year old singer/songwriter from Fayetteville, Arkansas. She began writing at fifteen after her choir teacher encouraged her to pick up the guitar. In the years following, she has won multiple local and state talent competitions as well as auditioned for shows such as The Voice and American Idol.  More recently, Brittany has been playing throughout the region with her band and has been in the studio recording.  She currently has two singles available on iTunes and other streaming platforms.  Her single "Where to Find You" was just selected as a Top 24 finalist for the Tin Pan South Songwriter's Festival Seminar. Brittany hopes to one day move to Nashville and pursue songwriting for the country music industry full time.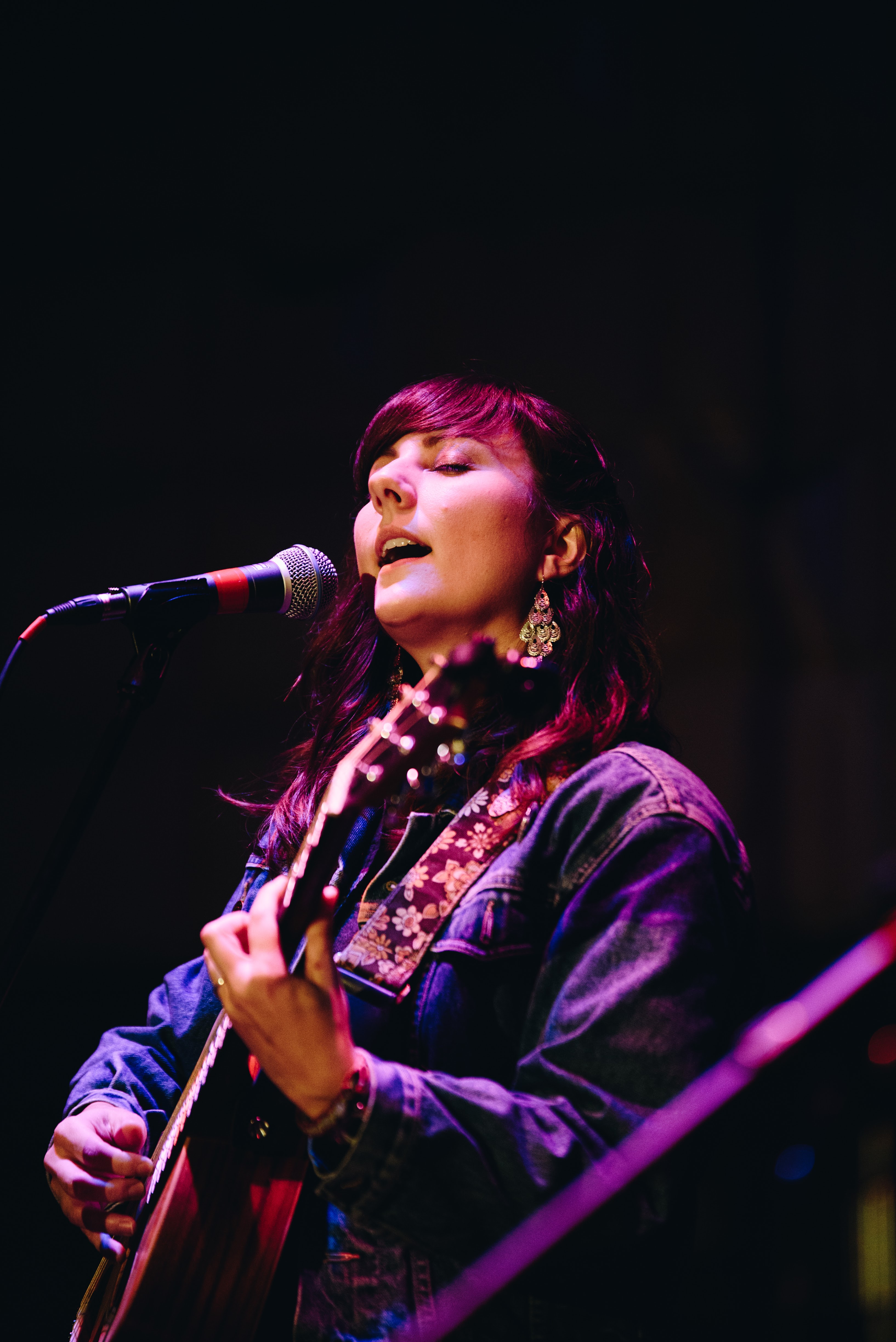 Candy Lee
Songwriter - You Can Fly Program
Ozark Regional Songwriter Association January Showcase Winner
Performing: April 26, 27, 28 & 29
---
Candy Lee is a "golden voiced" singer/songwriter who truly has her own unique style. After a live performance, many people ask her "What do you call that? What's your genre?" She often responds with, "Ozark-Indie-Folk-Jazz." That might sound like a jumble, but it blends together quite nicely. It's a witchy brew of Ozark mountain feels, jazzy vocals, and folksy lyrics, with an indie twist.  Her incredible vocal range lends to the tenderest lilting love songs, driving foot-stompers, and even powerful blues belters.
Candy Lee is a 2011 Northwest Arkansas Music Award Winner for Best Female Singer/Songwriter and Best Female Vocalist in a Band. She was also a Grassy Hill New Folk Finalist in 2015. Her song, "Here in Arkansas," was among the finalists of the Song of Arkansas Contest in 2013, along with American Idol sensation, Barrett Baber (who won the competition).
Candy Lee is also in a duo, Melody Pond, with singer/songwriter, Emily Rowland. The two take turns singing their original songs while the other sings back up harmonies, and plays along on their respective instruments. They create a full sound between the two of them, playing foot and hand percussion all at the same time. Their harmonies are unrivaled, and so tight they often get mistaken for sisters. http://melodypondmusic.com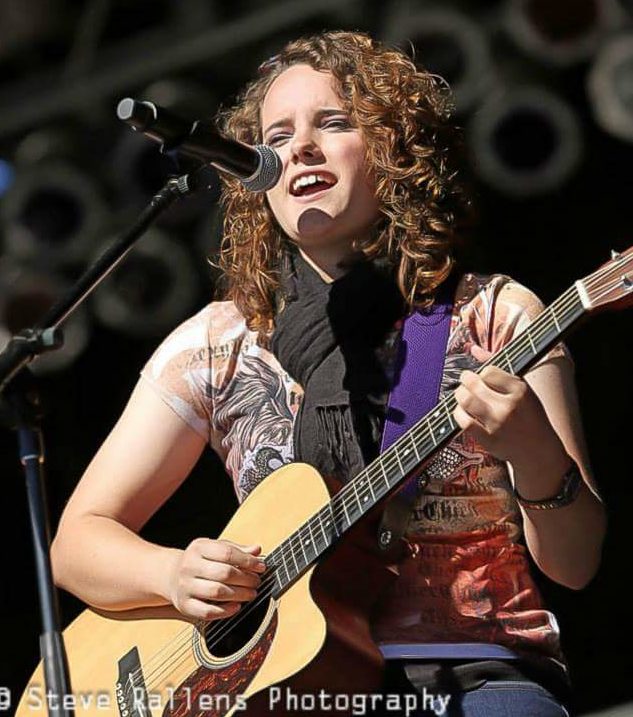 Hannah Who
Ozark Regional Songwriter Association October Showcase Winner
Performing: April 28
---
Hannah Who is based out of Bentonville, Ar. She is represented by the independent label Pharaoh Records. She has been surrounded by music her whole life and began her own musical journey when she was thirteen. She was involved in many projects through her teen years and used that time to grow as an artist.
Currently, her music is a blend of jazz and folk with a mainstream feel. She grew up watching old movies and listening to the music of the 70's and before. This stuck with her as she developed her own sound and the influence can be heard in many of her songs. She is inspired by many classic artists such as Ella Fitzgerald and Frank Sinatra as well as newer artists such as Keane and John Mayer.
Hannah Who's most notable achievements include winning the 2013 Texaco Showdown at local and state level. She also more recently won the October Song Writers Showcase in Bentonville Arkansas. Hannah Who will soon be performing at the Power of Music Festival along with award winning songwriters.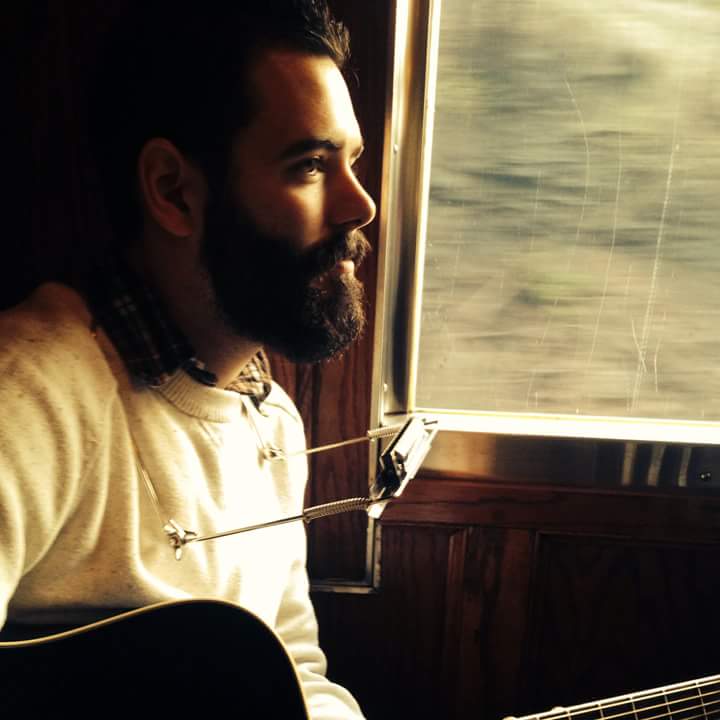 Andrew McLaughlin
Ozark Regional Songwriter Association March Showcase Winner
Performing: April 28
---
Andrew McLaughlin is an acoustic singer songwriter based in Fayetteville, Arkansas. Andrew is a self-taught guitar, mandolin, banjo and harmonica-playing songwriter. He graduated from the School of Worship in Costa Mesa, California in 2017. Born and raised in Arkansas, Andrew's music is thick with an apparent love for nature and the earth and has a front-porch folk feel along with an alone in the desert sensation. Some of his music influences include Guy Clark, Josh Garrels, Neil Young, Elliott Smith, Gregory alan Isaakov, and John Prine.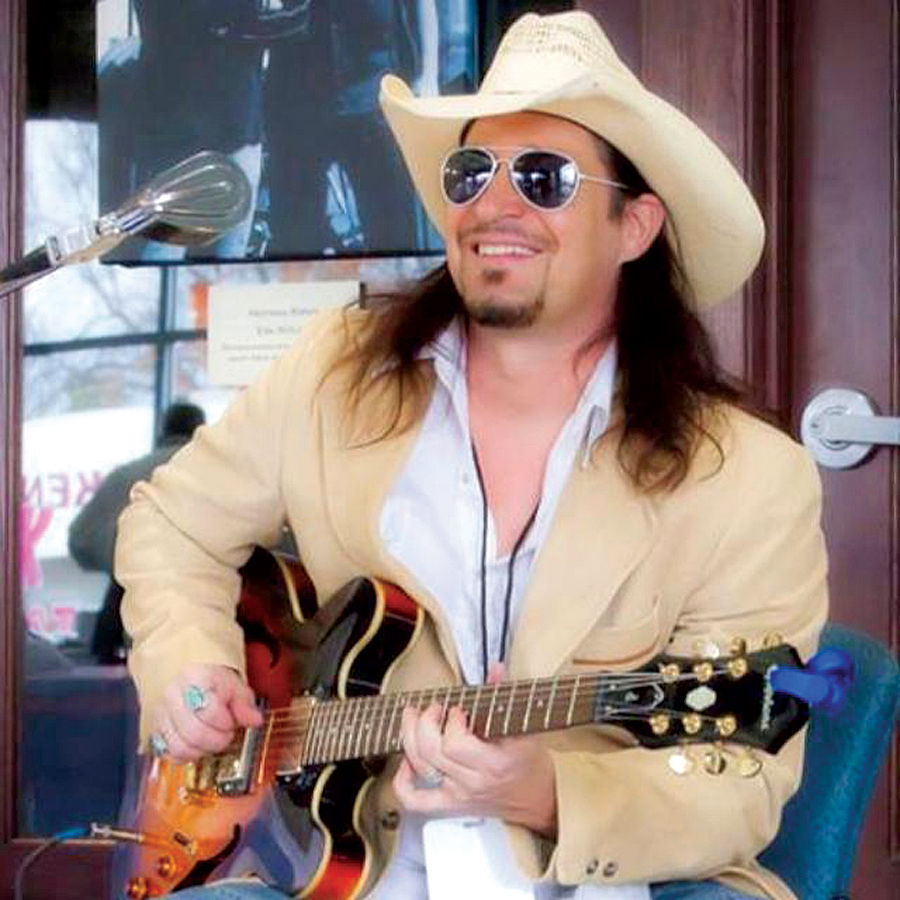 Harley Hamm
Performing: April 27 & 28
---
Harley Hamm is the original Funky Mutha, a master of jazz, R&B, and shreds a guitar like it was buttered toast. A former member of The Full Flava Kings, Harley spent time in Nashville and Minneapolis before returning to his home of Muskogee and now performs as the best Stevie Ray Vaughn tribute act on the Planet.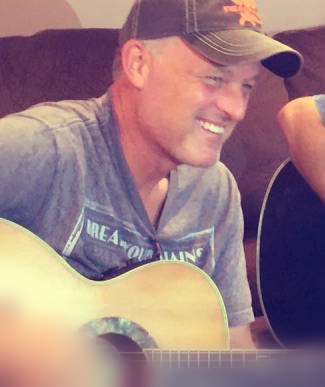 Jim Pollock
Performing: April 28
An Ohio original, Jim Pollock began his songwriting journey with his grandpa banging out Hank Williams, Johnny Paycheck and bluegrass songs in Central and Southern Ohio.  Over the years Jim's songwriting has been described as honest, feel good, from the heart "story strong".  He has written and performed since High School and college at Ohio University at Athens, OH where he earned his BBA in Finance.
Jim's music has been picked up for film/tv music licensing along with a variety of independent cuts in the United States. 
In 2015, his song "Bury Me With My Boots On" (co-writers Terry B. Smith and Sandy Ramos) was released by Australian Country artist, Travis Collins for his album, "Wired".  "Boots On" held #1 for 5 weeks on Australia's Top 30 Radio Airplay chart and #5 on the Top 40.  In August of that year, Australian artist Kristy James announced her new single release of Jim's song "Friends Like You" (with cowriters Terry B. Smith and Anne E. DeChant).  
Jim and his friend, Terry B. Smith, co-founded SongRiders "Live" in Conway, AR in 2014 - SongRiders Live.  SRL brings veteran, newer artists and professional singer/songwriters together for up-close and personal music events.
Guests and Arkansas notables have included Lance Carpenter, Heath Wright (of Ricochet), Erin Enderlin, Steve Dean, Victoria Venier & Bill Whyte (Hits and Grins), Buddy Case, Rodger King, Jason Campbell (of Singletree), Micheal Lee Collins (Haven Hill and Further Down), Buh Jones, Casey Lee Penn, and Courtney Sheppard.

Jim works with a variety of co-writers and stays active in the craft of songwriting with showcases and workshops. He is a BMI songwriter and Regional Coordinator for the Nashville Songwriters Association International - NSAI - Little Rock, AR Chapter. 
Jim and his wife Susan currently live in Conway, AR. Find more information on ReverbNation, Facebook, YouTube and on his page at www.songriderslive.com.
---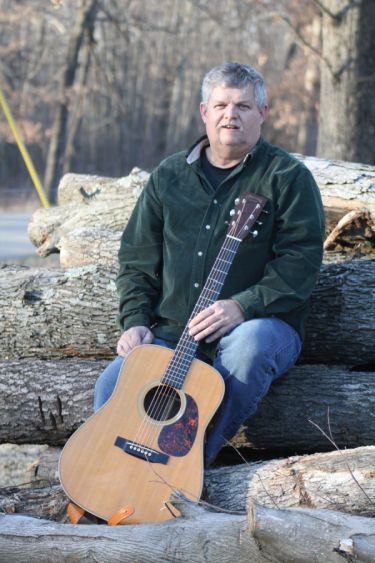 Chuck Williams
Columbus Songwriters Association
Performing: April 27 & 28
Chuck Williams was born and raised in southeastern Licking County, Ohio living on my Great Grandparents farm. I grew up working on the farm, plowing fields, making hay, and raising cattle. Every Sunday morning we attended Church, then family dinner at Grandparents and Grandma's. It was a family affair, with grandparents, aunts, uncles, and cousins. You might say it was a simple life, it was and a great way of life too.
As a young boy growing up in the foothills of Appalachia, I learned to love the outdoors. Spending hours in the woods and along the Brushy Fork Creek.
Early influences of music came from listening to my mother sing in Church. She had a most wonderful voice! Also, my dad would put on a whole stack of 33lp records on the console stereo. Old country like Hank Williams Sr, Jim Reeves, Hank Locklear, and others. Like most country folks we watched HeeHaw, Midwestern Hayride, The Jimmy Dean Show and of course The Grand Ole Opry.
After graduating from high school I went to work on cable tool drilling rigs. Finished concrete, went to Nebraska and worked as a Welder for a short time. Then back to Ohio and the oil rigs. Then in the early 80's I started cutting timber. Once I got sawdust in my veins, I never could get it shook out. I ended up cutting timber, having my own timber company for 25 years.
I bought my first guitar a HD28V, Martin in 2005 at the age of 45. I had always loved country and Bluegrass music and wanted to play the guitar. In October of 2006 I was in a serious logging accident which ended my logging career.
I retrained as a Welder, working at Rolls-Royce Energy Systems. Then in 2012 a layoff came. It was during the two year layoff that I really began to focus on the music. On a trip to Tennessee, I stopped at The Rt 23 Country Music Museum in Paintsville, KY. I fell in love with the people and music of East Kentucky. Each week on Thursday, I would drive the 250 miles one way, to the Country Music Museum just to jam with the many bluegrass musicians there. Then on Friday evening to " The Mountain Arts Center " in Prestonsburg, Ky. Where I would song at their Front Porch Pickin.
Do to the early influence of Country and Bluegrass, and Gospel you can definitely hear it in the songs I write. I only know how to write about the life that I have lived. True life experience songs brought about from experiences I have lived such as…life on a family farm, and child from divorced parents, having lost all I worked for due to an accident and divorce of my own, having been in three separate life threatening accidents, and the loss of a woman who I loved more than life itself.
I tell most everyone this, "What is the difference between singing a lie, and telling a lie? Nothin'! A lie is a lie! So I can only write songs from the true life experiences of my life, or the life of others."
So if you like simple Country, Folk, Bluegrass, Gospel, Americana with a bit of Celtic influence… then my music is for you.
Thank you for your time and reading this. I hope you enjoy listening to my stories and songs. God bless you all.
---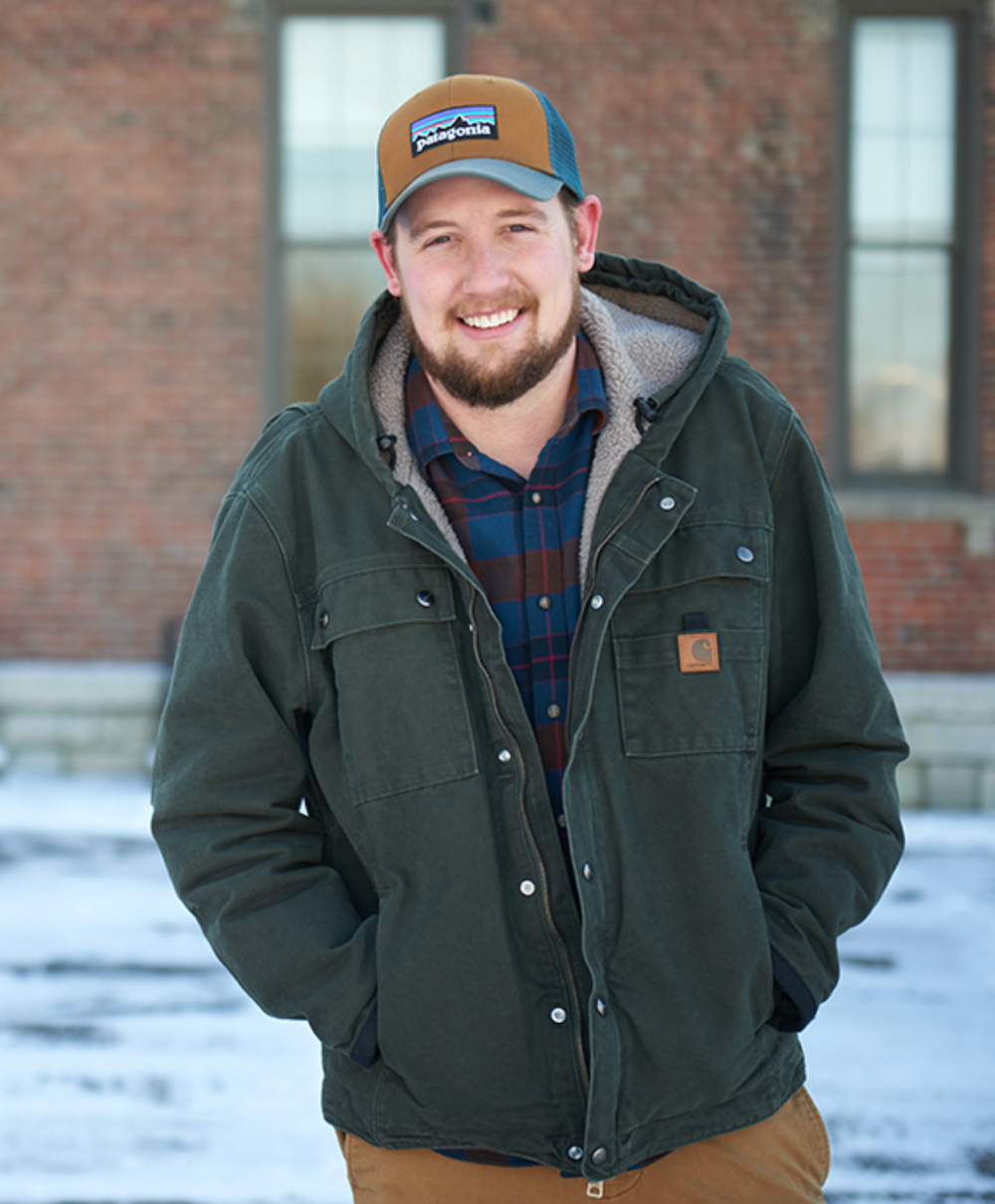 Joey Viola
Columbus Songwriters Association
Performing: April 27 & 28
---
Joey Viola is a singer-songwriter, storyteller, and marketing consultant that was born and raised in Clintonville a small section of Columbus, Ohio. His music has been described as a modern fusion folk/soul. He enjoys writing about the socio-political climate and everyday life. With much of the modern world in a chaos of smartphones, hyper-connectivity, and instant gratification of the "millennium" America, one cannot deny times are changing and the masses are, arguably, losing a grip on our reality.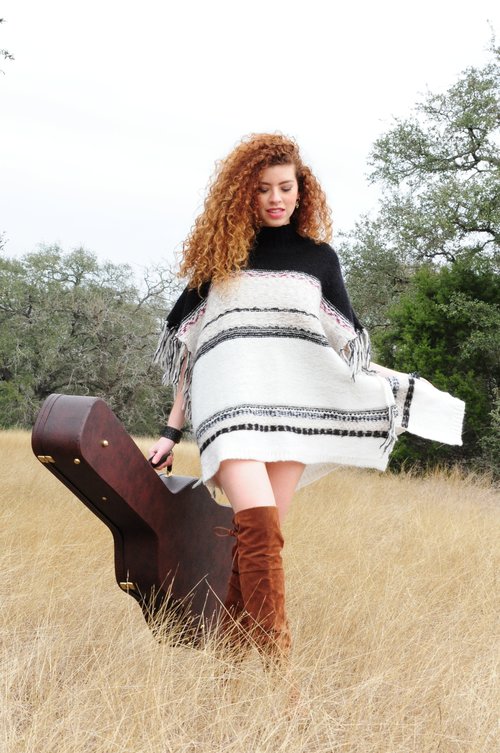 Lesly Reynaga
House of Songs
Performing: April 26
Rising Austin-based artist Lesly Reynaga learned her first song at age four in her native Monterrey, Mexico and was tapped for a national Mexican television reality show as a singing talent at age 14. Today, she continues to create a buzz as an emerging recording artist, singer-songwriter and performer.
The striking Reynaga is noted for her passion-filled showmanship, an extraordinary vocal range, a bilingual song catalogue—quelled from a unique knowledge of pop, rock, urban, Americana, traditional Latin and mariachi music—and as a multi-instrumentalist on guitar, vihuela and keyboards. With the release of her first studio recording, "Fool's Paradise," in 2017, she has drawn critical acclaim while captivating audiences from Austin to New York City.
On March 1, 2018, she was bestowed the honor of "Lesly Reynaga Day" by Austin Mayor Steve Adler in recognition of her burgeoning career. That recognition follows a burst of activity which has taken her from her first bows as an award-winning mariachi vocalist in McAllen, Texas to featured soloist of the University of Texas Mariachi Paredes de Tejastitlán to an acclaimed full time musician.
Reynaga's debut EP, produced by Michael Ramos (John Mellencamp, Paul Simon, Patty Griffin), earned praise for its original pop-rock tunes and a powerful cover of "Spanish Words" by renowned Austin musician Charlie Sexton. With music influences ranging from Linda Ronstadt and Janis Joplin to Latin American artists like Shakira and Rocío Dúrcal, Reynaga is developing a unique, cross-genre sound.
The former lead actress in the ZACH Theatre/Teatro Vivo musical, "Mariachi Girl," Reynaga's music video "Silent Film" shows a natural proclivity for acting. But her first love is music, and as a serious student of contemporary pop stylings and socially conscious lyrics—studying Beyoncé's artistry and Bob Dylan's literary canon in equal measure—Reynaga hopes to make a cultural impact of her own.
From her cross-border compositions to her signature mariachi-style outfits, Reynaga is on the cusp of a promising musical career. She is currently in the recording studio working with notable Austin music luminaries on a 2018 release.
...... More to be added soon!