Songs to be completed by writers from around the globe and performed at concerts in Bella Vista, AR and at AmericanaFest in Nashville, TN
Bentonville, Arkansas (September 6, 2016) – The I'll Fly Away Foundation,
a non-profit organization that brings songwriting into schools, has announced a partnership with the House of Songs, an Austin based company that brings together songwriters from around the world to collaborate and create songs.
Together the two entities will bring songwriters from Australia, Austin and Nashville to complete the lost songs of Albert E. Brumley, the creator of the most recorded song of all time, "I'll Fly Away." "It's truly exciting to see this Legends unfinished work lovingly and thoughtfully reopened by such inspiring new international talent" says Troy Campbell of the House of Songs.
Songwriters Kelly Menhennett, Tassha Coates and Dan Crannitich (pictured left) will travel from Adelaide, South Australia to The House Of Songs in Austin and team up with some of Austin's most talented songwriters, Graham Wilkinson, Akina Adderly and Dawn & Hawkes to begin the challenge of finishing a handful of lost songs from Albert E. Brumley recently discovered by the Brumley family. At the same time, Jim Lauderdale will be finishing some songs in Nashville. "To have this whole dream of finishing Grandpa's songs come to fruition is humbling yet overwhelming" said Betsy Brumley, Albert's granddaughter and founder of the I'll Fly Away Foundation.
On Wednesday September 14, the songwriters will travel to Northwest Arkansas. This is where Albert E. Brumley originally taught traveling singing schools while composing  some of his most famous works, such as "I'll Fly Away", during the late 1920's and early 1930's. The night will end with a concert at the Mildred B. Cooper Memorial Chapel, 504 Memorial Dr, Bella Vista, AR. This concert will be free and donations will be accepted for the I'll Fly Away Foundation. Dawn & Hawkes and Graham Wilkinson from Austin and Kelly Menhennett, Dan Crannitich and Taasha Coates from Adelaide, South Australia will perform. The songwriters will also attend the weekly "Picking on the Square" event held in downtown Bentonville, AR.
The songwriters will then travel to Nashville to perform the completed songs at AmericanaFest in Nashville on September 23 at 2 PM at the Sheraton Hotel, 623 Union St.
The show is available only to AmericanaFest pass holders and will include a panel discussion on the process of finishing these songs, the legacy of Albert E. Brumley and the journey they took to get here. The panel at AmericanaFest will be hosted by Americana Lifetime Achievement Award Winner Jim Lauderdale of Nashville (pictured right), featuring songwriters Akina Adderley, Hawkes & Dawn and Graham Wilkinson from Austin and Kelly Menhennett, Dan Crannitich and Taasha Coates from Adelaide, South Australia.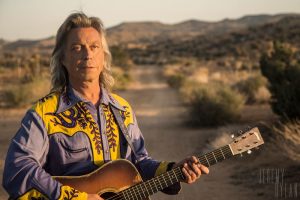 Albert E. Brumley, who was born in Spiro, Oklahoma, began writing in the late 1920s and never imagined his songs would go on to become some of the most popular and recorded Gospel and Americana music of our time. If it wasn't for hits like "I'll Fly Away" or "Turn Your Radio On," we wouldn't have some of the most profound and longstanding favorites of the industry. "I'll Fly Away" remains the most recorded song of all time.
One doesn't have to look far to sense the influence Brumley Music has had on the Gospel, Americana and Country music industry. Artists like Keith Urban, Bob Dylan, Elvis Presley, George Jones, Alison Krauss, Mumford & Sons, Alan Jackson, Vince Gil, Jars of Clay, Aretha Franklin, Johnny Cash, The Oak Ridge Boys, Crystal Gayle, The Blind Boys of Alabama, and even Kanye West have recorded or performed Brumley original songs. Most have which gone on to become Gold or Platinum selling albums.
Songs from Brumley Music have received 9 GRAMMY Awards, 25 GRAMMY nominations, won countless DOVE Awards, IBMA, CMA, ACM and Americana Awards. "I'll Fly Away" greatly influenced the TV show by the same name which won three Golden Globe Awards, five Golden Globe nominations, 3 Emmy Awards, received 23 Emmy nominations, won a Peabody Award and four NAACP Awards. Albert E. Brumley's music was also featured prominently in the legendary hit television series "The Waltons" and in Spike Lee's documentary "When the Levees Broke."  His music was also featured in the movie "O' Brother Where Art Thou" which starred George Clooney and the seven-time Platinum selling soundtrack.  The current hit HBO series "Treme" also featured music by Brumley.  And movies including "The Curious Case of Benjamin Button," "The Apostle" and "Daddy's Dyin, Who's Got the Will" also featured his music.
ABOUT I'LL FLY AWAY FOUNDATION: I'll Fly Away Foundation, located in Bella Vista, Arkansas, is a 501c3 non-profit organization founded in 2011 by Betsy Brumley and her husband Kevin Bernier. It brings songwriters into schools to write songs about with the students about their curriculum. For more information on the I'll Fly Away Foundation, visit http://illflyawayfoundation.org/. More information can also be found at www.facebook.com/supportIFAF/
ABOUT THE HOUSE OF SONGS: The House Of Songs is located in Austin, Texas is an international collaborative songwriter program. It invites talented artists from various countries to collaborate and then share their work with audiences around the world building bridges using music as the handshake. For more information visit www.thehouseofsongs.com
NOTE:
For more information, to schedule an interview
with Betsy Brumley or Troy Campbell
Comments
comments
Powered by Facebook Comments