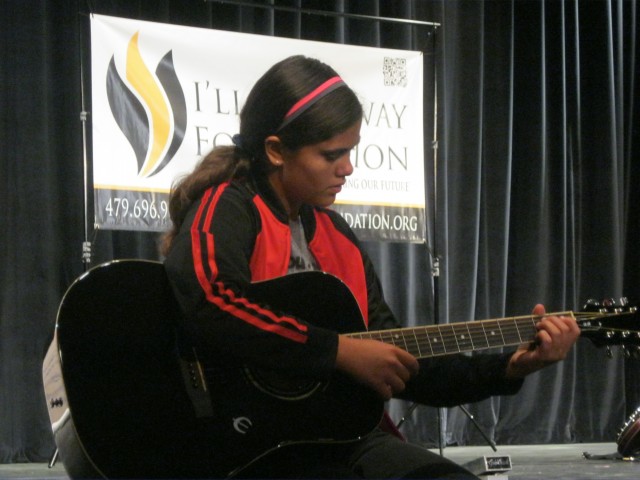 Mission Statement:
Our mission is to inspire youth with the power of music by imparting the fundamentals of songwriting. The artistry of songwriting provides youth with a means of self expression, a creative outlet to explore, and a voice to reach out to others.

Music Education statistics with children
High Schools Graduation Rates
Students in Music Programs 90.2%
Students without Music Programs 72.9%
High School Attendance Rates
Students in Music Programs 93.3%
Students without Music Programs 84.9%
96% of Principals feel music encourages and motivates children to stay in school.
According to the American Psychological Association, children with music education had a higher I.Q. by 7.2 points over children without any music education.
Can you imagine a world without music?
Who will be the next great musician? Where will they come from? The next great American musician could be your child if they were only given a chance. We are here to make sure your child is given every opportunity to learn as much about music as they want to.
GOAL #1
We have an aspiration of giving 25 $1,000 scholarships away by 2015. We must start now to raise the money needed.
We need $25,000 to send 25 kids to school.
If 250 people give $10 per month, we can reach our goal!
GOAL #2
To help young people gain interest in music and all it has to offer, we want to bring the music to them. Our objective is to introduce them to the different styles of music. We will be working with schools all around American to teach the children about our musical heritage and why it's important to music today.
We need $150,000 to present this program to our children at schools across America.
If 1,500 people will pledge $10 a month, we can take a dying musical art form to our children and save ir from becoming extinct.
$10 a month = $0.33 cents a day. For less than a cup of coffee a day, we can send a child to school to achieve their dream of becoming the next great American Musical Artist.
Thanks to you, our children will grow up with music in their hearts. Your gift can make a world of difference….to your child, to the kid in the church choir, to your niece or nephew – to you. It can make a difference to each person in the world who hears the message of song and receives it in their heart.