VIP Pass/Weekend Music Pass/At the Door
April 26, 2018 – 6:30pm – 8:00pm – Meteor Guitar Gallery
Referred to by Billboard Magazine as "One of Music Row's greatest veteran tunesmiths," Jerry Salley has had an incredibly successful songwriting career. The 2003 SESAC Country Music Songwriter of the Year, Jerry has had over 450 songs recorded in his multi-award winning career. To date Jerry's songs have sold in excess of 15.5 million records worldwide and internationally he has penned no less than seven (7) #1 Country hits in Australia. Writing and singing in Nashville since 1982, he has written multiple hits in Country, Bluegrass and Gospel Music and may well be the most successful songwriter to have earned equal recognition from all three genres of music
From Sir Elton John's only chart single to appear on the Billboard Country Chart ("Where We Both Say Goodbye" – duet with Australian artist Catherine Britt) to a Gospel song so popular it has been included in Church Hymnals ("His Strength Is Perfect") Jerry's long list of accomplishments speaks for itself. Most recently, Jerry was honored to have a song on Chris Stapleton's Traveller album ("Outlaw State Of Mind") which is certified double platinum. From songs recorded by some of today's biggest country stars like Chris Stapleton, Reba McEntire and Brad Paisley, to country music legends Loretta Lynn and The Oak Ridge Boys , Jerry is honored each and every time a song of his is recorded.
Born in the small southern Ohio town of Chillicothe, he signed with Performing Rights Organization SESAC at eighteen years old. Some of his country hits include the Reba McEntire smash "I'm Gonna Take That Mountain", "Breakin' New Ground" (Wild Rose/Universal Records), "I Fell In The Water" (John Anderson/BNA Records), "How Do You Sleep At Night" (Wade Hayes/DCK/Columbia Records), and four other Billboard chart records. He has written eight (8) #1 Gospel hits, several #2 Gospel hits and over a dozen other top ten/top twenty gospel songs. In addition to songs recorded by the previously mentioned artists, he has had songs recorded by Sara Evans, Patty Loveless, Joe Nichols, Darryl Worley, Travis Tritt, Tracy Lawrence, Neal McCoy, Mark Chesnutt, Cece Winans, The Whites, and many others. He is a seven-time Dove Award nominee, having won a prestigious Dove for the 1990 Inspirational Song of the Year "His Strength Is Perfect", recorded by and co-written with Steven Curtis Chapman.  In addition to his Dove recognition from the Gospel Music Association, Jerry has received numerous awards from different associations for his songwriting accomplishments (IBMA, NSAI, SESAC, GOSPEL VOICE MAGAZINE, etc.). In 2006, Jerry received his second IBMA Award for his contribution (as an artist) to the 2006 IBMA "Album of the Year" – "Celebration of Life" (Skaggs Family Records).
Along with friends Carl Jackson and larry Cordle, the trio (Cordle, Jackson & Salley) recorded the song "You're Running Wild" on the Louvin Brothers Tribute on Universal South Records, which features numerous country music stars singing songs made famous by the legendary duo. Entitled "Livin', Lovin', Losin' – Songs Of the Louvin Brothers", this project won the 2003 Grammy for Country Album Of The Year.
AS AN ARTIST, Jerry has performed on numerous stage shows, including the honor of performing as a soloist many times on the world famous Grand Ole Opry. His television appearances include Late Night With David Letterman, Regis And Kathy Lee, NBC'S Today Show and several different TNN (The Nashville Network) shows.
In 2007, Jerry released his first solo project, New Songs, Old Friends on the Mountain Home Records Label. A Bluegrass CD which includes all new songs written by Jerry and performed by him along with some of his favorite singers – all of whom have recorded his songs. Guests like The Oak Ridge Boys, Rhonda Vincent, Vince Gill, Ricky Skaggs & Sharon White, Darryl Worley, Del McCoury, Doyle Lawson, Sonya Isaacs, Alecia Nugent, Jamie Johnson, Lisa Shaffer and buddies Carl Jackson and Larry Cordle. The project was one of the final nominees for the 2007 IBMA "Recorded Event of the Year".
Jerry Salley, followed up his debut, New Songs, Old Friends , with yet another outstanding lineup of original tunes, entitled Showing My Age. This project was released late summer of 2012, with tracks that appeal to lovers of Americana, gospel, bluegrass, and country. It contains never before recorded songs and others with his own take on hits he has penned for chart-topping artists such as Reba, Brad Paisley, The Isaacs, The Lonesome River Band, and more!
Showing his bluegrass roots, and with his five-year-old granddaughter gracing the cover, Gospel From My Grassroots (released in October 2015) is Jerry's first all bluegrass gospel album. It shines with 13 original, heartfelt tunes that range from the energetic, up-tempo song "How High Is That Mountain," to the finger-snapping a cappella song, "Just Drink The Water." Jerry breathes new life into these self-penned songs, most of which were previously recorded by bluegrass and gospel greats. Guest vocalist Steven Curtis Chapman sings with Jerry on an acoustic, stripped-down translation of their co-written gospel classic, "His Strength Is Perfect," and IBMA Female Vocalist Of The Year, Dale Ann Bradley, lends her warm angelic voice to "Send The Angels Down," a song that she previously recorded. The project also includes Jerry's original versions of "It's Not What You Know" and "You Don't Have To Go Home," which have been recorded multiple times in the bluegrass and gospel worlds; and "I Want To Thank You," a #1 song for Karen Peck and New River
Multi-Grammy winning producer, musician and songwriter, Carl Jackson says: "Jerry is not only a friend, in the truest sense of the word, he is also a songwriter's songwriter… an artist that completely understands the idea of "painting a picture" using the marriage of lyric and rhyme; someone that fully grasps the art of crafting a song, rather than throwing words against the page. His paintbrush is a pen, his canvas a legal pad and his goal always another masterpiece."
---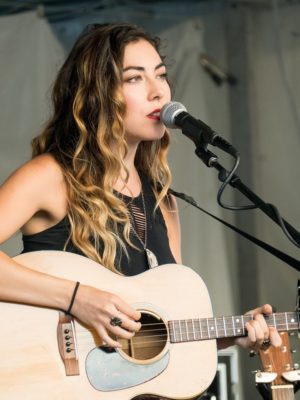 Massachusetts writer and song-singer Heather Maloney celebrates the release her 2018 EP, Just Enough Sun. The six songs (five new originals and a cover of Dylan's "A Hard Rain's A-Gonna Fall") were recorded as mostly single-take, live performances in a room where instruments bled into vocal mics and vocals into instruments. The result is a raw and deeply vulnerable collection songs that follow Maloney's literate and often heartbreaking exploration of family history, childhood dreams and the adulthood realities that butt-up against them; loss, misogyny, unrequited love, poverty, and even the moral dilemma of sending monkeys into space for the sake of science. The daughter of a psychotherapist and a carpenter, Heather's songwriting is equal parts introspective and relatable.
JUST ENOUGH SUN is released by the celebrated indie record label, Signature Sounds and co-produced by accompanist Ryan Hommel. The recording effortlessly captures Hommel and Maloney's dynamic live performances as a duo, with subtle instrumentation that lifts the songs up to new places without ever shifting the focus too far from Maloney's stunningly visceral voice and thought-provoking lyrics.
Maloney's 2015 record Making Me Break was produced by Bill Reynolds (Band of Horses, Avett Brothers, Lissie) and features an all-star backing band including members of Band of Horses (Bill Reynolds, Tyler Ramsey), The Wallflowers, My Morning Jacket, and Darlingside.
Upon the release of Making Me Break, Maloney landed on SPIN Magazine's "Artist to Watch", with enthusiastic reviews from The Huffington Post, Consequence of Sound, and No Depression. The last song on the record, "Nightstand Drawer", became Maloney's first major television song placement on the CBS series "Elementary".
As a Signature Sounds artist, Maloney has toured nationally as a headliner as well as in support of acts like Lake Street Dive, Rodrigo y Gabriela, Gary Clark Jr., Colin Hay, Mary Chapin Carpenter, and many more. In 2014 she collaborated with the rising Boston quartet Darlingside on the Woodstock EP, a tribute to the Joni Mitchell-written / Crosby, Stills, Nash & Young-covered 60's anthem. The cover was featured on the New York Times and garnered attention from Graham Nash himself, who called the performance, "Delicious, really excellent."
Raised on a record player instead of a TV, Maloney dug deep into per parents' record collections for entertainment, obsessing over the Beatles Joni Mitchell, Fleetwood Mac, C.S.N.Y., Bob Dylan, and more. So it's no surprise that the folk, pop, and rock greats of the 60's and 70's found their way into her own music. With those influences as a foundation, and a strong dose of 90's radio hits (from women like Fiona Apple, Alanis Morisette, Bonnie Raitt, Sheryl Crow, and of course, Mariah Carey), Maloney was forming her sound long before she even wrote a single lyric.
According to her mother, her singing career began in the aisles of a Northern New Jersey grocery store, where she developed a reputation for serenading shoppers. The writing would come much later, after spending the first few years of her early 20's in a state of self-proclaimed "Musical A.D.D.". After training her voice in classical operatic, improvisational jazz and classical Indian vocal techniques, Maloney was suddenly and overwhelmingly compelled to drop all things musical. Actually, to quit making sounds or noise, altogether.
She found herself living at a silent meditation retreat center in Central Massachusetts, where she would practice for almost 3 years, studying and Vipassana Meditation, pouring over Rumi and Rilke, and keeping a journal documenting daily life at her cottage in the woods. It was in this place of quiet that, ironically, she began writing her first songs. Songs largely inspired by her experiences in meditation, including equal parts of the dark / uncomfortable / twisted parts of the human mind, as well as the sparkling and brief moments of that longed-for, ever elusive thing called insight. Maloney said that if she hadn't started writing songs at the meditation center, she would be "completely covered in tattoos, because each song is about something I really, really want to remember badly … so I wouldn't have to go through it again."
And with the same sudden and overwhelming resolve that led her to the meditation center in the first place, she re-emerged into the music space with a guitar and a few songs that meant something to her. In the years since Maloney has left her life of silence and reflection, she has toured almost constantly, written hundreds of songs, and slept on over a thousand different pillows.
---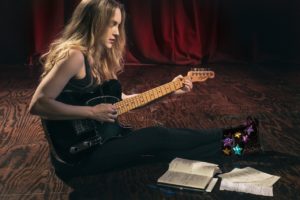 Some artists have to work hard to find their way creatively, and other artists inherently know how to forge their own identity from the very moment they start making music. One artist who's very much in the latter category is Nashville-based singer/songwriter CeCe Hetrick.
"I remember always knowing music was part of me," Hetrick says. "It was never something I just decided one day and thought I might be good at. As soon as I got my first guitar, I knew that this was my thing." Hetrick is also able to translate that level of self-confidence to the live stage. "I love playing shows," she admits. "And I love watching people in the audience come together, whether I'm performing myself or attending someone else's show and seeing people who don't know each other at all singing the same lyrics. I think that's so cool. At the end of the day, we all want the same things — we want people to love us, and we want to be happy. I'm just really into the idea of writing music that can get everyone on the same page."
Hetrick's infectious, come-together energy can be found well within the grooves of her recent indie release, Find Your Way, an album that shows the 25-year-old Georgia native to be a master of many styles and moods. From the insistent pleading of "Don't Give Up" to the Dylanesque desires of "Close to You" to the acoustic/electric gut-check blend on "Ragged" to the sinewy, gospel-slide Allman Brothers vibe of the hopeful title track ("it's got that take-you-to-church feel I really love"), Hetrick finds a way to display a rare kind of songwriting thread that connects listeners across multiple genres and appeals to multiple generations to boot.
Right from the outset, Hetrick knew exactly how she wanted Find Your Way to sound. "In my mind, I wanted to put aside the idea that it should sound like a country record or that it should sound like a pop record," she explains. "I just wanted to take each song and look at it individually and decide what the song needed. It feels like it all came together as one piece."
Part of her gift is the ability to tell stories listeners can instantly identify with. "Real life is what everyone can relate to," Hetrick believes. "And I love telling stories, whether they're my own or those of friends or family members. Sometimes I'll write something that may not necessarily be true as far as the storyline goes, but the emotions are still real, which is how people can still connect with all of it. No matter how old you are, we're still trying to figure it all out. Whether or not you have a great career or a great family, everyone still has things they want or are still learning about. So I wanted to make something that people my age can relate to, as well as those listeners who are older than me."
As noted above, Hetrick began playing music at an early age. "The first song I learned to play on guitar was actually a three-chord church hymn," she recounts. "When I was 12, I taught myself the chords on the guitar while I was in my family room." At the beginning of her career, Hetrick absorbed whatever music she heard as inspiration. "My parents weren't very musical, so whenever I got in the car to go to school, they'd just turn on the radio, and whatever was popular then was how I got my exposure to music," Hetrick observes. "I was really into the pop-country culture at that point. But then I started writing my own songs, and it wasn't until my first year of college that I got into vinyl, classic rock, and the blues — all the things that influenced the other people I was now listening to, like the Eagles, Led Zeppelin, The Rolling Stones, and Elton John. It's kind of all over the map, but I love being open to listening to anything and everything. It only makes me a better artist to be exposed to things like that."
The aforementioned "Don't Give Up" demonstrates exactly how rhythm and melody are embedded in Hetrick's songwriting DNA. "I really wanted it to be an anthem song," she explains. "I like the idea of everyone joining in, singing along, and really feeling it in their souls. I had this vision of how we all have those days where everything is going wrong, and we're just failing miserably. That song is like, 'OK, we're all screwing up here, so let's just all have each other's backs.' And I love the way that track ends too — it's all just one voice, which I think helps get that message across."
And then there's "Killer Queen" — not a cover version of the classic Queen song, but very much a Hetrick original that features, well, a killer effect on her lead vocal. "I love the rawness of live-sounding music, so I was very hesitant to put many effects on my voice at first," she acknowledges. "But sonically, I think doing that fit really well with this song, which is about someone who grew up very sheltered from society who then had to hit the ground running in the harsh real world. It's basically about loving someone who's kind of a badass. It was interesting to figure out why they're like that, so I wanted the vocal effects to be a little rough around the edges."
What will Hetrick do next? "My next step is to do some co-writing, which I'm doing now," she reveals. "I basically wrote Find Your Wayall by myself, and it's so awesome and interesting to come together with another artist to create something together. It's a concept that's somewhat foreign to me, but it's something I want to be a part of. It's good for me. It's been a challenge, so I've been diving more into that."
Hetrick is steadfast in pursuing her own path creatively. "In the future, I want to be telling stories, writing good music, and reaching out to people, which is the same thing I've always been doing," she says. "Trying to create a name for yourself is always a challenge. It's so easy to say, 'I should be looking like this, or sounding like that.' But when you go to sleep at night, you have to tell yourself, 'This is my one shot. How would I do it, and how would I do it as me?' There's always that moment of thinking, 'OK, do I really want this for myself, or am I really just trying to prove a point?' It's tough."
No matter what, this determined singer/songwriter feels her future is quite bright. "For me, it's just a matter of when it will happen, not necessarily if it will happen," Hetrick notes. "Some people give up for whatever reason, but for me, I just know it's gonna happen. It's hard, though; it really is. Everyone gives off this illusion of being perfect in how they come across, and how they sound. You have to get through all of that and figure out what the thing is you want to leave behind. It's really all about finding your way."
Whatever destination Hetrick arrives at as an artist, one thing is clear: This is one badass singer/songwriter who knows how to share the joys of common musical ground and show everyone that there's a light in this darkness after all.
---
*Doors open to the venue 20 minutes prior to showtime for VIP Pass Holders, 15 minutes prior for Weekend/Day Pass Holders and 10 minutes prior for at the door sales. Tickets at the door will cost $10. Fees will be added for credit card purchases.
Comments
comments
Powered by Facebook Comments