VIP Pass/Weekend Music Pass/Friday Pass/At the Door
April 27, 2018 – 5:30pm – 7:30pm – Two25 Events
Referred to by Billboard Magazine as "One of Music Row's greatest veteran tunesmiths," Jerry Salley has had an incredibly successful songwriting career. The 2003 SESAC Country Music Songwriter of the Year, Jerry has had over 450 songs recorded in his multi-award winning career. To date Jerry's songs have sold in excess of 15.5 million records worldwide and internationally he has penned no less than seven (7) #1 Country hits in Australia. Writing and singing in Nashville since 1982, he has written multiple hits in Country, Bluegrass and Gospel Music and may well be the most successful songwriter to have earned equal recognition from all three genres of music
From Sir Elton John's only chart single to appear on the Billboard Country Chart ("Where We Both Say Goodbye" – duet with Australian artist Catherine Britt) to a Gospel song so popular it has been included in Church Hymnals ("His Strength Is Perfect") Jerry's long list of accomplishments speaks for itself. Most recently, Jerry was honored to have a song on Chris Stapleton's Traveller album ("Outlaw State Of Mind") which is certified double platinum. From songs recorded by some of today's biggest country stars like Chris Stapleton, Reba McEntire and Brad Paisley, to country music legends Loretta Lynn and The Oak Ridge Boys , Jerry is honored each and every time a song of his is recorded.
Born in the small southern Ohio town of Chillicothe, he signed with Performing Rights Organization SESAC at eighteen years old. Some of his country hits include the Reba McEntire smash "I'm Gonna Take That Mountain", "Breakin' New Ground" (Wild Rose/Universal Records), "I Fell In The Water" (John Anderson/BNA Records), "How Do You Sleep At Night" (Wade Hayes/DCK/Columbia Records), and four other Billboard chart records. He has written eight (8) #1 Gospel hits, several #2 Gospel hits and over a dozen other top ten/top twenty gospel songs. In addition to songs recorded by the previously mentioned artists, he has had songs recorded by Sara Evans, Patty Loveless, Joe Nichols, Darryl Worley, Travis Tritt, Tracy Lawrence, Neal McCoy, Mark Chesnutt, Cece Winans, The Whites, and many others. He is a seven-time Dove Award nominee, having won a prestigious Dove for the 1990 Inspirational Song of the Year "His Strength Is Perfect", recorded by and co-written with Steven Curtis Chapman.  In addition to his Dove recognition from the Gospel Music Association, Jerry has received numerous awards from different associations for his songwriting accomplishments (IBMA, NSAI, SESAC, GOSPEL VOICE MAGAZINE, etc.). In 2006, Jerry received his second IBMA Award for his contribution (as an artist) to the 2006 IBMA "Album of the Year" – "Celebration of Life" (Skaggs Family Records).
Along with friends Carl Jackson and larry Cordle, the trio (Cordle, Jackson & Salley) recorded the song "You're Running Wild" on the Louvin Brothers Tribute on Universal South Records, which features numerous country music stars singing songs made famous by the legendary duo. Entitled "Livin', Lovin', Losin' – Songs Of the Louvin Brothers", this project won the 2003 Grammy for Country Album Of The Year.
AS AN ARTIST, Jerry has performed on numerous stage shows, including the honor of performing as a soloist many times on the world famous Grand Ole Opry. His television appearances include Late Night With David Letterman, Regis And Kathy Lee, NBC'S Today Show and several different TNN (The Nashville Network) shows.
In 2007, Jerry released his first solo project, New Songs, Old Friends on the Mountain Home Records Label. A Bluegrass CD which includes all new songs written by Jerry and performed by him along with some of his favorite singers – all of whom have recorded his songs. Guests like The Oak Ridge Boys, Rhonda Vincent, Vince Gill, Ricky Skaggs & Sharon White, Darryl Worley, Del McCoury, Doyle Lawson, Sonya Isaacs, Alecia Nugent, Jamie Johnson, Lisa Shaffer and buddies Carl Jackson and Larry Cordle. The project was one of the final nominees for the 2007 IBMA "Recorded Event of the Year".
Jerry Salley, followed up his debut, New Songs, Old Friends , with yet another outstanding lineup of original tunes, entitled Showing My Age. This project was released late summer of 2012, with tracks that appeal to lovers of Americana, gospel, bluegrass, and country. It contains never before recorded songs and others with his own take on hits he has penned for chart-topping artists such as Reba, Brad Paisley, The Isaacs, The Lonesome River Band, and more!
Showing his bluegrass roots, and with his five-year-old granddaughter gracing the cover, Gospel From My Grassroots (released in October 2015) is Jerry's first all bluegrass gospel album. It shines with 13 original, heartfelt tunes that range from the energetic, up-tempo song "How High Is That Mountain," to the finger-snapping a cappella song, "Just Drink The Water." Jerry breathes new life into these self-penned songs, most of which were previously recorded by bluegrass and gospel greats. Guest vocalist Steven Curtis Chapman sings with Jerry on an acoustic, stripped-down translation of their co-written gospel classic, "His Strength Is Perfect," and IBMA Female Vocalist Of The Year, Dale Ann Bradley, lends her warm angelic voice to "Send The Angels Down," a song that she previously recorded. The project also includes Jerry's original versions of "It's Not What You Know" and "You Don't Have To Go Home," which have been recorded multiple times in the bluegrass and gospel worlds; and "I Want To Thank You," a #1 song for Karen Peck and New River
Multi-Grammy winning producer, musician and songwriter, Carl Jackson says: "Jerry is not only a friend, in the truest sense of the word, he is also a songwriter's songwriter… an artist that completely understands the idea of "painting a picture" using the marriage of lyric and rhyme; someone that fully grasps the art of crafting a song, rather than throwing words against the page. His paintbrush is a pen, his canvas a legal pad and his goal always another masterpiece."
---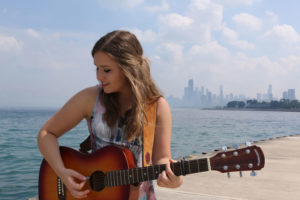 Singer/songwriter Gracie Schram is already a veteran of the music industry. Since releasing her debut album at the age of 10, Gracie has continued to create and record music while developing her signature indie-pop sound that combines soulful vocals with subtle but powerful acoustics and soaring harmonies.
Her latest EP, entitled Dear Fall released September 2016 and features collaborations with producers Rick Seibold and Brad Corrigan (Dispatch). With wistful, achingly beautiful melodies, Gracie explores a new vulnerability as she sings of "stepping out from behind my shadow" in Walls and discovers the freedom of love and partnership in Anywhere You Go.
Dear Fall is just the latest in Gracie's illustrious music career which includes opening on tour for David Archuleta, as well as performing other opening acts for Ingrid Michaelson, Lauren Alaina and Crystal Bowersox. In addition to playing at numerous music festivals including SXSW, CMA Fest, Middle of the Map Fest, and Summerfest, Gracie was also a Featured Fridays Artist-In-Residence at the historic Hotel Phillips in her hometown of Kansas City. She has performed the national anthem at NFL, MLB, NASCAR and MLS games including all of her favorite KC teams. Always ready with her guitar, Gracie has even performed on Southwest Airlines flights. Her original CD, I Am Me was produced by Grammy-award winner Charlie Peacock (The Civil Wars, Kris Allen, Lone Bellow, Switchfoot) and released in 2015 while Gracie was still in high school.
But what sets Gracie apart isn't just her youth, talent, and style – it's her incredible sense of purpose. Ever since her debut album, Showers from God, a portion of the proceeds from Gracie's music is given to humanitarian causes amounting to more than $40,000 to date. It is her hope that her songs and her story will empower people to make a positive change in the world around them.
"I want people who hear my music to know that when you are your own true self, you can make a difference." 
---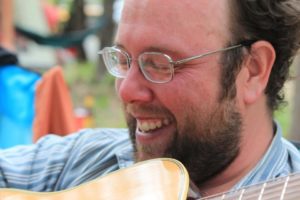 Oklahoma native Joe Mack has been performing and writing music for an overwhelming majority of his life, blending all his favorite genres of music into a style that is undeniably his own. When performing solo, he's oft compared to Leo Kottke and Keller Williams for his orchestral approach to the six-string; when paired with other singer/songwriters in the round, the tones of David Rawlings and Jerry Garcia seemingly appear both instrumentally and vocally.
To date, Joe has been fortunate enough to fill concert halls, clubs, festivals and co-bills with the likes of Tim Reynolds, George Clinton & Parliament Funkadelic, Drew Emmitt & Vince Herman (of Leftover Salmon,) Hosty Duo, Travis Linville, Randy Crouch, Split Lip Rayfield, Umphrey's McGee, Carter Sampson, Elephant Revival, My-Tea Kind, Thomas Trapp, Sky Smeed, Turnpike Troubadours, and the Jacob Fred Jazz Odyssey.
Mack also serves the arts and entertainment community via print and online media, most recently serving as Editor-in-Chief for The CurrentBUZZ Magazine. "It's the best way to stay connected to this (music) community that you could ever imagine," Mack commented, "And it's great to have another avenue to bring good news and great artists into other peoples' lives."
In addition to his busy full time journalism career, Mack is also a sought after collaborator, joining forces with fellow Okie musicians like Carter Sampson, Sky Smeed, Bill Erickson, Meandering Orange(alongside three of the four members formerly of My-Tea Kind; guitarist James Townsend, bassist Anna Paine and drummer Sarah Garde), The Macktet (a mashing of Tulsa instrumental jazz wizards The Movetet and Mack's zany catalog of creations, yielding heady results), The Skillbillies (a guitar-driven, progressive bluegrass band), and whoever else heeds the beckoned call.
Mack's 2008 release, This Crazy World, features several songs which have received rotation on local NPR and college radio stations, including the swinging roots stomp "Thrift Store Shoes," the mystic "Fortune Teller" (co-written with Dango Rose of Elephant Revival) and "Hillbilly Reggae Girl."
The 2012 follow-up, Pieces, was initially tracked back in 2003-2004 and offers a stripped-down session of a young, firebrand rhythm guitarist/songwriter in the prime of his creative youth with the melody-centered grooves of "Running Back", "Pieces", "Ain't Nunna Her I'm Gonna Miss", "Planets" and more.
In 2016, Mack continues to record and write a new album, releasing the digital exclusive EDM version of "Ever Any Nothing", which also donned a debut official music video shot, directed and edited by Corey Johnson. You can find all of Joe's music at www.cdbaby.com and your favorite digital retailers.
---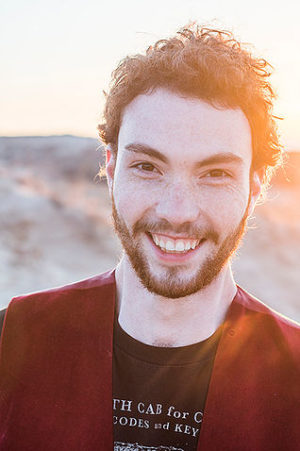 Hailing from the suburb of Northville, in Detroit, Michael Dause banged on pots and pans at the early age of one…and never really stopped. The first "real" instrument he learned to "destroy" was those mini kid drum sets, at the age of two. Two years later, at the age of four, Dause's grandfather got him a full-sized drum set for Christmas. At seven, he began his first lessons. In middle school, Dause taught himself how to play the guitar, and began writing his own songs in ninth grade.
Dause has released a couple of solo albums in 2014 and 2017 that can be found HERE.
Dause joined the Accidentals in 2014 after they met at a music festival.  When he plays with Katie and Savannah, their styles allow him to get back to his drumming roots and focus on the parts as pieces, not as a whole. "They're fantastic musicians, and I love being able to lock in with them on stage."
---
*Doors open to the venue 20 minutes prior to showtime for VIP Pass Holders, 15 minutes prior for Weekend/Day Pass Holders and 10 minutes prior for at the door sales. Tickets at the door will cost $10. Fees will be added for credit card purchases.
Comments
comments
Powered by Facebook Comments