VIP Pass/Weekend Music Pass/Friday Pass/At the Door
April 27, 2018 – 9:15pm – 10:45pm – Bike Rack Brewery Brew Room
Jim Paul Blair – Born in Odessa, Texas, Jim Paul Blair spent most of his years growing up in Clayton, Oklahoma. Being the son of former Texas Playboys member Ramona Reed, he was exposed to the music of Bob Wills at an early age. After ten years of playing in bands around Stillwater and Oklahoma City (The Red Valley Barnstormers, Garth Brooks, Jim Alexander, Hickory Wind), Jim moved to Nashville in 1989 where he became an original member of The Neverly Brothers and The Neverly Hillbillies.
After moving back to Oklahoma in 1998, Jim plays more music now than ever.  He can be seen performing live in various bands, each focusing on a different style of music including Rock, Country, and Bluegrass.  He has toured Europe with country band City Moon, which is now focusing on their Hank Williams tribute, "Hankerin' 4 Hank".  Jim also performs periodically with bluegrass bands The Bonham Revue and The Bluegrass Bullies.  You will also see Jim periodically performing with rock bands The Neverly Brothers and The Grease Monkeys and in the unique acoustic funk duet with Harley Hamm called the "Harley Hamm Jimmy Jamm".  Most recently, Jim portrayed Buddy Holly in Muskogee Little Theatre's production of "The Buddy Holly Story".
In early 2009, Jim began performing in "Hankerin' 4 Hank", a Hank Williams tribute band.  In August 2009, Jim portrayed Hank in Muskogee Little Theatre's production of "Lost Highway" in nine consecutive sold out shows.  Hankerin' 4 Hank continues to draw standing room only crowds in theaters, fairs, and festivals throughout the United States.  In 2013, "The Buddy Holly Story" again sold out nine shows during production.
"Fresh Off The Strings" was Jim Paul Blair's first solo release in 2003 and is currently available at CDBaby.com or on iTunes.  City Moon's "Down Our Road" was released in 2007 and features a number of original and classic country tunes.  "Down Our Road" is available at CDBaby.com.    Other collaborations were issued with The Neverly Hillbillies and The Bonham Revue along with guest appearances on recent recordings of Don Morris, Randy Pease, Greg Jacobs, Eddie Glen, and Jana Jae.
Jim now resides in Muskogee and currently serves as Executive Director/Host of Oklahoma Music Shop, a weekly TV show that features local and national talent.  Jim also serves on the Board of Directors of the Oklahoma International Bluegrass Festival.
---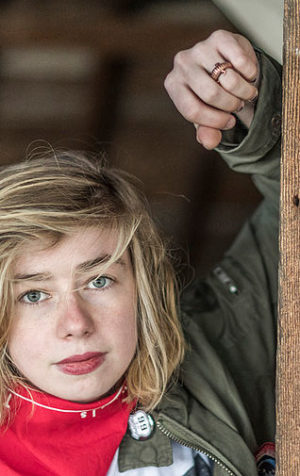 Savannah Buist (Sav) was ​born in Nashville TN, her birth announcement came by way of Whispering Bill Anderson on the Grand Ole Opry stage where her father played piano.   Sav's love of music began on a tour bus when she was three months old. Surrounded by musicians, and mesmerized by anything with strings, ​it really wasn't a question of "would she play" but "what" would she play.  Now the question is "what doesn't she play?"  Sav writes most of her songs on her Takamine guitar or Liquid Violin and colors them with a bit of viola, banjo, mandolin and upright bass/Fender electric bass.
---
*Doors open to the venue 20 minutes prior to showtime for VIP Pass Holders, 15 minutes prior for Weekend/Day Pass Holders and 10 minutes prior for at the door sales. Tickets at the door will cost $10. Fees will be added for credit card purchases.
Comments
comments
Powered by Facebook Comments