VIP Pass/Weekend Music Pass/Friday Pass/At the Door
April 27, 2018 – 7:30pm -9:00pm – Haxton Road Studio
Randy is always associated with a unique style and outstanding execution whether in songwriting, producing, or performing. Born in Arkansas, Randy was influenced by the many original American Music forms that originated in that region: jazz, blues, country, rhythm and blues, and rock and roll. "Part of the reason my writing and playing is so diverse is because of where I grew up," Goodrum has said. "In order to work you had to be able to play it, sing it, and write it all, and do it authentically."
Randy has also penned these hits: "All Over Again" (Ronan Keating-duet hit in multiple countries with guest singers from each country), "You Needed Me" (Boyzone, #1 in Europe), "Now and Forever (You And Me)" (Anne Murray-ASCAP Country Song of the Year), "If She Would Have Been Faithful" (Chicago), "Lesson in Leavin'," "I'm Gonna Put You Back on the Rack," "Leaving's for Unbelievers" (Dottie West), "What're We Doin' in Love" (Kenny Rogers and Dottie West), "It's True Love" (Loretta Lynn and Conway Twitty), "She's Mine" (Steve Perry), "If I Had My Wish Tonight" (David Lasley), "Tell Me Tomorrow" (Angela Bofill), "Silhouette" (Randy Goodrum), "The Fool In Me" (Sonny James), "Foolish Heart" (Sharon Bryant), "Fallin' In Love" (Sylvia), "I Will If You Will" (John Berry), "Melanie" (Toto), and "20-20" (George Benson).
Goodrum has had a considerable number of songs appear in major motion pictures and TV, such as: three songs in Stir Crazy (Gene Wilder and Richard Pryor), one song in Back to School (Rodney Dangerfield), Oh, Sherrie in the final season of Breaking Bad,one song in Cowboy (Ted Dansen), one song in Why Would I Lie (Lisa Eicher), one song in Chipmunk Adventure, three songs in Heavenly Kid, and one song, If You Believe, in the motion picture Prancer Returns, which was awarded 2001 Best Original Song in a Motion Picture at the Variety Video Awards. Randy received a Cable Ace Awards Nomination for Song of the Year in 1994 for a song in the Cable TV hit series, Roundhouse. Goodrum and Dave Grusin co-wrote the theme for the daytime TV drama, One Life To Live.
Goodrum's grounding in various styles has provided him with a songwriting passport that's been stamped by a wide array of artists, including: Phoebe Snow, Tammy Wynette, Russ Malone, The Raybon Brothers, Gladys Knight, Reba McEntire, Brian Kennedy, Earl Klugh, Alabama, Johnny Lange, Avalon, Christopher Cross, John Berry, Bryan White, Ray Charles, Steve Wariner, Chakka Kahn, Russ Taff, Glen Medeiros, Patty Austin, Mark Knopfler, Rick Trevino, The Memphis Horns, David Benoit, Dave Grusin, Judy, Ronnie Milsap, Helen Reddy, Bobby Caldwell, Amy Grant, Lori Morgan, Michael McDonald, K.T. Oslin, Rita Coolidge, Al Jarreau, Chet Atkins, Natalie Cole, Floyd Cramer, Princess Vaughn, The Commodores, Olivia Newton-John, B.J. Thomas, Kansas, Maura O'Connell, Billy Joe Walker, Dusty Springfield, Vince Gill, Trisha Yearwood, Bill Medley, Debby Boone, Teddy Pendergast, Michael Bolton, David Pack, The Imperials, David Gaither, Chesney Hawkes, Billy Joe Walker, Roger Whitaker, Agnetha Faltskog, The Jefferson Starship, Deodato, James Galway, Isaac Hayes, Millie Jackson, Ferrante and Teichner, Peobo Bryson, Jeffrey Osborne, Wendy Moten, Stacy Lattisaw, Rick Price, Amanda Stott, Tommy Emmanuel, and the list goes on and on.
Goodrum has received numerous awards he has received for his work. In Oct. 2000, Randy was inducted into the prestigious Nashville Songwriters Hall of Fame, and has won dozens of ASCAP Songwriter and Publisher Awards for his many hits throughout his prolific career. In 1981, he won six ASCAP Awards in a single year, and was named ASCAP Country Songwriter of the Year, having already received a Grammy Nomination for "You Needed Me" as Song of the Year. "You Needed Me" was also Song of the Year for The Academy of Country Music, The National Music Publishers Association, and The Nashville Songwriters Association. Goodrum's song, "Now and Forever (You and Me)," recorded by Anne Murray was 1986 ASCAP Country Song Of The Year. "You Needed Me" was named one of the Top 10 ASCAP Songs of the Decade as well as being awarded one of the Top Ten Country ASCAP Songs of the Twentieth Century.
Other interesting achievements associated with Randy's songs are "So Soft, Your Goodbye" (Grammy awarded to Chet Atkins and Mark Knoffler for Best Country Instrumental Performance), "You Needed Me" (Grammy for Best Female Vocal to Anne Murray), "What're We Doin in Love" (Grammy Awarded to Dottie West and Kenny Rogers for Best Country Duo), Arkansan of the Year award from the Arkansas Broadcasters Association, induction into the Hot Springs High School Hall of Fame, in 1996 Randy was inducted into the Arkansas Entertainment Hall of Fame as well as receiving the Governor's Award for special merit, and in 1997 he received the President's Choice Award from the Nashville Songwriter's Association International for meritorious service toward the songwriting community.
Randy received a prestigious honor from his college Alma Mater, Hendrix College (Class of 1969, Bachelor of Music). The honor was the 2010 Hendrix College Odyssey Award in the category of Artistic Creativity.
Goodrum's diversity has also served him well as a producer and session and touring keyboardist, where he's worked with such artists as Roy Orbison, Dionne Warwick, B.J. Thomas, Olivia Newton-John, Jerry Reed, Patti Austin, Earl Klugh and George Benson.
Goodrum is also a recording artist. His albums include Fool's Paradise, Caretaker of Dreams, An Exhibition and Words and Music.
Randy's latest projects include multiple JaR albums (a collaboration with famed session guitarist Jay Graydon and a new solo project underway with legendary LA Musician, Larry Williams as co-producer featuring many world class players.
---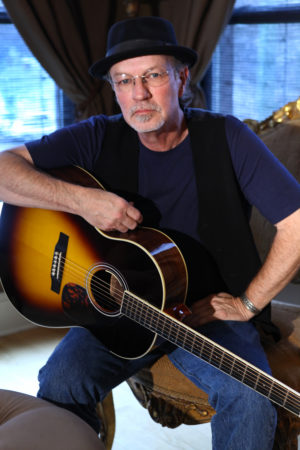 David Starr owns a thriving guitar store in the heart of Cedaredge, Colorado, yet he believes his most compelling instrument is his voice – a strong, beautiful baritone that is the cornerstone of his EP, The Head and Heart.
Starr wrote or co-wrote five of the six songs on The Head and Heart, which was produced and arranged by John Oates and recorded in Nashville. The longtime friends decided to let the recordings have some breathing room, while still giving the city's brilliant session players an opportunity to shine.
"I've always done my own producing and it was liberating to let someone else take the reins,"  Starr says. "I told John, 'I really want you to push me to sing better.' I have a tendency when I get in the studio to say, 'Yeah, that's in key and I got all the words right. Let's move on.' On a number of songs, he said, 'That's great. Get back in there and do it one more time.' I can hear where he pushed me a little bit."
The Head and Heart begins elegantly with "Edge of the World," which began as a story about the complexity of women, but also applies to the mysteries of music. The thoughtful title track conveys that dramatic distance between what you think and what you feel.
It was Oates' suggestion to include The Mamas & The Papas' classic "California Dreamin'." Without the familiar four-part harmonies of the original recording, Oates' atmospheric production draws attention to Starr's soulful singing.
"I like John's energy and his work ethic," Starr says. "He's willing to take a song and reimagine it in any number of ways. In other words, just because you're locked into hearing it a certain way doesn't mean that's the only way."
Starr's intriguing melodies elevate songs like "Waiting in the Dark," which alludes to the drug addictions that haunted a number of his friends in the 1980s. Meanwhile, "I've Come for You" hints at timeless late-night temptations. "Dancing With My Pride," co-written with his friend Bob Liepman at a songwriting workshop in California, is inspired by a character in a book written by his grandfather Fred Starr.
David Starr grew up in Northwest Arkansas and started playing drums at 10, then picked up guitar at 13. He has released eight albums (including The Head and Heart) and opened shows for Survivor, Clint Black, Restless Heart, The Marshall Tucker Band and The Guess Who.
He launched Starr's Guitars in Little Rock in 1998, then relocated to Cedaredge in 2001. Today, the store is such an institution that Cedaredge proclaimed the musician's birthday as David Starr Day in 2016. The year before, Starr released the album Love and Sabotage with special guests like John Oates, Richie Furay, Dana Cooper and Steve Cropper.
As with previous albums, Starr is planning to divide his time between operating his guitar store and touring internationally to attentive, appreciative audiences.
"In a perfect world, I would be playing in a room where everybody's listening," he says. "That's why I like a situation like a house concert or listening room because I like to tell a story. I like to talk about the inspiration behind the song. I just like connecting and that's what I hope to do with this new music."
---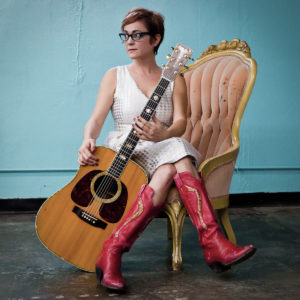 Carter Sampson is an Okie-born singer/songwriter with a big voice.
The Oklahoma City-based artist is blessed by a musical family legacy that includes talents like Roy Orbison.
Her journey as a naturally independent, free-spirited musician has seemed almost predestined at times. At age 15 she began experimenting with sound as a way to pass the time; now her creativity has matured into the dedicated and passionate performance that makes her a favorite female vocalist.
"I'm pretty much the same me working on the same goals … maybe a little more grown up. I think I am more confident than I was when I first started playing. I've always been brave, but I'm more sure of myself now," Sampson exuded.
As a relatable artist, her empowering music appeals to a wide range of folks, who are incredibly and admirably loyal to her and her work. She's the founder and director of Oklahoma City's Rock 'n' Roll Camp for Girls, which always partners with nonprofit organizations that empower girls and women through music education.
The inspiring artist also averages about 220 shows annually – in areas like Oklahoma and Arkansas, as well as Colorado, New Mexico and Texas. But as the self-penned 'Queen of Oklahoma,' Sampson's red boots are happiest when they're on her home turf.
"I am proud to be from Oklahoma and really proud of the music that is coming out of the state right now. I wish we were more progressive in a lot of areas, but it feels like slowly change is happening."
Though she travels for the love of making music, she's no stranger to awards. She was named a Top 12 Finalist in the 2012 Mountain Stage NewSong Contest and performed at Lincoln Center in New York. This year, she won first place in the general category of the Chris Austin Songwriting Contest at Merlefest in Wilkesboro, N.C. – with her song "Wild Bird", which was additionally released by Pinecastle Records.
She also won fourth place in the Colorado-based Telluride Troubadour Contest at the Telluride Bluegrass Festival and was a Top 10 Finalist in the Rocky Mountain Folks Festival's Songwriters Showcase in Lyons, Colo.
Her third album, Good for the Meantime, was released in 2008. Then in 2011, she launched a Kickstarter project for Mockingbird Sing, in which she gave supporters rewards to help secure adequate funds within 30 days. After that huge success, she recorded a five-track acoustic EP, Thirty Three, at Treelady Studios in Pittsburgh/Turtle Creek, Penn.
"I feel like I am right where I am supposed to be doing exactly what I am supposed to be doing," Sampson said, reflecting on the long road that led to right now.
Her fourth full-length studio album, Wilder Side, was released on Tuesday, Jan. 12, 2016. Like Good for the Meantime it features the heady handywork of producer/multi-instrumentalist Travis Linville, who, like Sampson, has a unique sound all his own.
"I loved working with Linville on Good for the Meantime; he was so laid back, encouraging and fun to be around. I'd been thinking about asking him to engineer my new project, and when I heard his last EP (Sun and Moon) I knew I wanted him to help me with it (Wilder Side). I love the dreamy feel that EP has and there's a lot of that on Wilder Side," Sampson said.
---
*Doors open to the venue 20 minutes prior to showtime for VIP Pass Holders, 15 minutes prior for Weekend/Day Pass Holders and 10 minutes prior for at the door sales. Tickets at the door will cost $10. Fees will be added for credit card purchases.
Comments
comments
Powered by Facebook Comments