VIP Pass/Weekend Music Pass/Friday Pass/At the Door
April 27, 2018 – 8:30pm – 10:30pm – Two25 Events
SaulPaul is a Musician with a Message. After being named 2017 Austinite of the Year, SaulPaul began 2018 with his song Rise (Remix) topping the charts and becoming one of the #1 songs on Sirius XM radio.
Part rapper/part singer songwriter, SaulPaul travels the world entertaining and inspiring audiences as he blends his voice, his guitar and his loop pedal to create a live show that is nothing less than an EXPERIENCE.
In addition to writing songs, he writes books. He is the author of Dream in 3D and Rise. SaulPaul is the lead character in the mobile gaming app SaulPaul: Dream in 3D (available on iTunes and GooglePlay). He is also a nationally renowned motivational speaker as well as the subject of the critically acclaimed autobiographical documentary Tower to Tower. SaulPaul has impacted nearly a million students and student leaders across the world through ReRoute, a non-profit organization he founded. "SP" has been featured on America's Got Talent, MTV and the LA Times.
SaulPaul annually produces his own #DreamIn3D Music and Arts Festival, where he exclusively visits middle schools and high schools and entertains students as well as introduces them to careers and opportunities in all fields of the arts. Since he began his career, SaulPaul has impacted more than 500,000 students and student leaders across the globe.
In addition to being a live performer, SaulPaul has established himself as a go-to guy when it comes to writing, producing and delivering original music for film, television, interactive media, and advertising. Previous and current clients include ESPN Radio, the NFL, the NBA, SXSW, Johnson & Johnson, Honey Bunches of Oats and numerous others. He is a thought leader who has shared his ideas at multiple TEDx Talks and is one of a few select individuals who has been invited to share his/her heart, art and thoughts at Google HQ. SaulPaul is also GRAMMY Governor on the Board of Governors at the Texas Chapter of the Recording Academy where he serves on the Education Committee.
SaulPaul proudly serves as an official Creative Ambassador for the City of Austin. And each year he celebrates June 12th because it's the day that the City of Austin officially proclaimed SaulPaul Day. Visit SaulPaul.com for more music, movies and motivation or download his new app which is now available on iTunes and Google Play.
---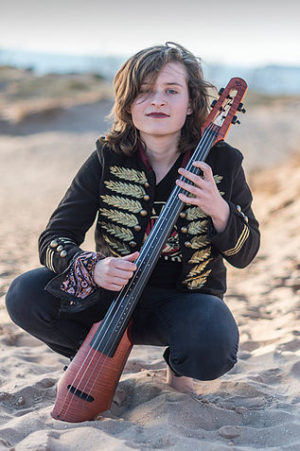 Katie Larson is a 21 year old singer-songwriter and multi-instrumentalist. In elementary school she began studying classical cello, and in high school she joined her school's jazz band on electric guitar. She grew up in a musical family, where the living room speakers often blared music ranging from The Red Hot Chili Peppers to broadway soundtracks, to jazz singers like Blossom Dearie. Her mother studied voice in college, and her father is a collaborative pianist at Interlochen Center for the Arts. In 2014 Katie graduated from Interlochen Arts Academy after studying songwriting and music technology, cello with Crispin Campbell, voice with Scott Skiba, and jazz improv with Bill Sears. During her time there she collaborated on projects with filmmakers and orchestra's.  She continues to collaborate across film, music and art projects.
---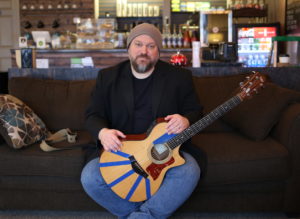 Some Guy Named Robb a.k.a. Robb McCormick is an award-winning Singer-Songwriter, multi-instrumental, Author, Blogger, Poet, Guest Speaker, and DJ who is native to Arkansas.​ He grew up spending his summers playing music in Colorado and has since traveled the world continuing to write record and play his own particular style of music.
Husband to one, father to two, friend to many, Robb has recently been on tour across the ocean in the United Kingdom, in England and France, as well as touring from New Mexico, through Colorado, Oklahoma, Texas, Nashville, Tennessee, all the way through Mississippi to Alabama. Taking a moment to stop in Memphis and recording at the world famous Sun Studios with Grammy winning producer Matt Ross-Spang. (Jason Isbell)
Robb has toured both nationally and internationally to critical acclaim, playing his original, Indie Folk-Rock music and unique blend of often eclectic covers.
Robb has written over a thousand songs, played almost 6000 shows, released and sold 7 original albums and played to hundreds of thousands of people. He is currently in the studio recording his newest release "The Folkster" which has already garnered an astonishing $15,000 in pre-orders in only 27 days!
You can find his music all over the Internet on Spotify, Amazon and Apple Music and available to purchase on his own website, www.sgnrobb.com!
Robb is the winner of the Beaux Arts Academy, Performer of the Year award as well as numerous nominations and accolades from many platforms.
---
Harley Hamm –
---
*Doors open to the venue 20 minutes prior to showtime for VIP Pass Holders, 15 minutes prior for Weekend/Day Pass Holders and 10 minutes prior for at the door sales. Tickets at the door will cost $10. Fees will be added for credit card purchases.
Comments
comments
Powered by Facebook Comments