VIP Pass/Conference Pass/At the Door
April 26, 2018 – 9:30am – 12:00pm – DoubleTree Suites
Learn how to craft a hit song with tips from Multi-Grammy award winning songwriter, Jerry Salley. Jerry will on hand to give song critiques for artists.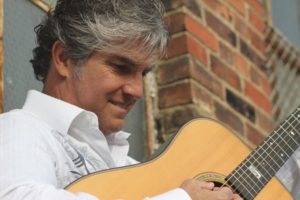 Jerry Salley – Referred to by Billboard Magazine as "One of Music Row's greatest veteran tunesmiths," Jerry Salley has had an incredibly successful songwriting career. The 2003 SESAC Country Music Songwriter of the Year, Jerry has had over 450 songs recorded in his multi-award winning career. To date Jerry's songs have sold in excess of 15.5 million records worldwide and internationally he has penned no less than seven (7) #1 Country hits in Australia. Writing and singing in Nashville since 1982, he has written multiple hits in Country, Bluegrass and Gospel Music and may well be the most successful songwriter to have earned equal recognition from all three genres of music
From Sir Elton John's only chart single to appear on the Billboard Country Chart ("Where We Both Say Goodbye" – duet with Australian artist Catherine Britt) to a Gospel song so popular it has been included in Church Hymnals ("His Strength Is Perfect") Jerry's long list of accomplishments speaks for itself. Most recently, Jerry was honored to have a song on Chris Stapleton's Traveller album ("Outlaw State Of Mind") which is certified double platinum. From songs recorded by some of today's biggest country stars like Chris Stapleton, Reba McEntire and Brad Paisley, to country music legends Loretta Lynn and The Oak Ridge Boys , Jerry is honored each and every time a song of his is recorded.
Born in the small southern Ohio town of Chillicothe, he signed with Performing Rights Organization SESAC at eighteen years old. Some of his country hits include the Reba McEntire smash "I'm Gonna Take That Mountain", "Breakin' New Ground" (Wild Rose/Universal Records), "I Fell In The Water" (John Anderson/BNA Records), "How Do You Sleep At Night" (Wade Hayes/DCK/Columbia Records), and four other Billboard chart records. He has written eight (8) #1 Gospel hits, several #2 Gospel hits and over a dozen other top ten/top twenty gospel songs. In addition to songs recorded by the previously mentioned artists, he has had songs recorded by Sara Evans, Patty Loveless, Joe Nichols, Darryl Worley, Travis Tritt, Tracy Lawrence, Neal McCoy, Mark Chesnutt, Cece Winans, The Whites, and many others. He is a seven-time Dove Award nominee, having won a prestigious Dove for the 1990 Inspirational Song of the Year "His Strength Is Perfect", recorded by and co-written with Steven Curtis Chapman.  In addition to his Dove recognition from the Gospel Music Association, Jerry has received numerous awards from different associations for his songwriting accomplishments (IBMA, NSAI, SESAC, GOSPEL VOICE MAGAZINE, etc.). In 2006, Jerry received his second IBMA Award for his contribution (as an artist) to the 2006 IBMA "Album of the Year" – "Celebration of Life" (Skaggs Family Records).
Along with friends Carl Jackson and larry Cordle, the trio (Cordle, Jackson & Salley) recorded the song "You're Running Wild" on the Louvin Brothers Tribute on Universal South Records, which features numerous country music stars singing songs made famous by the legendary duo. Entitled "Livin', Lovin', Losin' – Songs Of the Louvin Brothers", this project won the 2003 Grammy for Country Album Of The Year.
AS AN ARTIST, Jerry has performed on numerous stage shows, including the honor of performing as a soloist many times on the world famous Grand Ole Opry. His television appearances include Late Night With David Letterman, Regis And Kathy Lee, NBC'S Today Show and several different TNN (The Nashville Network) shows.
In 2007, Jerry released his first solo project, New Songs, Old Friends on the Mountain Home Records Label. A Bluegrass CD which includes all new songs written by Jerry and performed by him along with some of his favorite singers – all of whom have recorded his songs. Guests like The Oak Ridge Boys, Rhonda Vincent, Vince Gill, Ricky Skaggs & Sharon White, Darryl Worley, Del McCoury, Doyle Lawson, Sonya Isaacs, Alecia Nugent, Jamie Johnson, Lisa Shaffer and buddies Carl Jackson and Larry Cordle. The project was one of the final nominees for the 2007 IBMA "Recorded Event of the Year".
Jerry Salley, followed up his debut, New Songs, Old Friends , with yet another outstanding lineup of original tunes, entitled Showing My Age. This project was released late summer of 2012, with tracks that appeal to lovers of Americana, gospel, bluegrass, and country. It contains never before recorded songs and others with his own take on hits he has penned for chart-topping artists such as Reba, Brad Paisley, The Isaacs, The Lonesome River Band, and more!
Showing his bluegrass roots, and with his five-year-old granddaughter gracing the cover, Gospel From My Grassroots (released in October 2015) is Jerry's first all bluegrass gospel album. It shines with 13 original, heartfelt tunes that range from the energetic, up-tempo song "How High Is That Mountain," to the finger-snapping a cappella song, "Just Drink The Water." Jerry breathes new life into these self-penned songs, most of which were previously recorded by bluegrass and gospel greats. Guest vocalist Steven Curtis Chapman sings with Jerry on an acoustic, stripped-down translation of their co-written gospel classic, "His Strength Is Perfect," and IBMA Female Vocalist Of The Year, Dale Ann Bradley, lends her warm angelic voice to "Send The Angels Down," a song that she previously recorded. The project also includes Jerry's original versions of "It's Not What You Know" and "You Don't Have To Go Home," which have been recorded multiple times in the bluegrass and gospel worlds; and "I Want To Thank You," a #1 song for Karen Peck and New River
Multi-Grammy winning producer, musician and songwriter, Carl Jackson says: "Jerry is not only a friend, in the truest sense of the word, he is also a songwriter's songwriter… an artist that completely understands the idea of "painting a picture" using the marriage of lyric and rhyme; someone that fully grasps the art of crafting a song, rather than throwing words against the page. His paintbrush is a pen, his canvas a legal pad and his goal always another masterpiece."
Comments
comments
Powered by Facebook Comments