VIP Pass/Weekend Music Pass/Friday Pass/At the Door
April 27, 2018 – 10:00pm – 11:30pm – Haxton Road Studio
Steve Dorff – 3 time Grammy and 6 time Emmy nominated Steve Dorff has written songs sung by the likes of Barbra Streisand, Kenny Rogers, Celine Dion, Whitney Houston, Anne Murray, George Strait, Garth Brooks and countless others, while also establishing himself as a gifted film and television composer. He's tallied over 40 BMI awards with hits like Rogers' "Through the Years," Murray's "I Just Fall in Love Again" (Billboard's top country hit of 1979), Strait's "I Cross My Heart," Lee Greenwood's "Don't Underestimate My Love for You," and Eddie Rabbitt's "Every Which Way But Loose"—the title track from Clint Eastwood's 1978 film. His songs have charted in 5 successive decades, with #1 records across 4 decades.
Dorff has also composed TV music for Spenser: For Hire, Murphy Brown, The Singing Bee, Just the 10 of Us, Growing Pains, Murder She Wrote, Columbo and Reba; his other film contributions include songs and scores for Bronco Billy, Rocky IV, Pure Country, Tin Cup and Honky Tonk Man.
Key songs in the Dorff catalog include: * Through The Years * I Just Fall In Love Again * Heartland * Every Which Way But Loose * Hypnotize The Moon * I Cross My Heart, and countless others recorded by over 250 Artists from all genres of music.
His many TV and cable movie credits include the Emmy nominated CBS mini-series "Elvis", the Hallmark Hall of Fame "Rose Hill", the animated Christmas classic "Annabelle's Wish", "Babe Ruth", "The Quick and The Dead", "Moonshine Highway" and "The Defiant Ones". Dorff's many movie songs and scores have been featured in "Bronco Billy", "Blast From The Past", "Rocky IV", "Pure Country", "Tin Cup", "Michael", "Dudley Do-Right", "Dancer, Texas", "The Last Boy Scout", "Curly Sue" and "Honky Tonk Man".
Perhaps Dorff's most ambitious move to date has been a giant leap into his first love, musical theater. He currently has two projects making their way to the stage: "Josephine" (The Josephine Baker Story) and "Pure Country" (The Musical).
---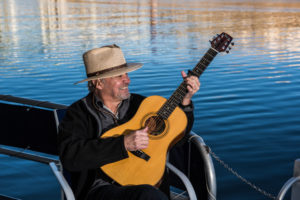 Keith Sykes – Once upon a time in the summer of 1967, Keith Sykes hitchhiked to the Newport Folk Festival and saw Arlo Guthrie perform "Alice's Restaurant." In the fall of that year he got a copy of the album, learned the whole song and sang it at a Holiday Inn in Charleston, South Carolina. They hired him on the spot for a regular gig playing music in the hotel.
It's pretty perfect that such a rambling tale should be at the start of Keith's own rambling tale – in the more than 40 years that followed, he would become a troubadour and storyteller, a massively successful songwriter with more than 100 songs recorded by artists as diverse as Rosanne Cash and George Thorogood. He would tour every corner of America and play in just about every conceivable kind of venue, appear on Saturday Night Live and Austin City Limits, and host songwriter nights on Memphis' legendary Beale Street with many of music's most talented songwriters. He would join Jimmy Buffett's Coral Reefer Band, tour the country and record the Volcano album – the title track for which he co-wrote with Jimmy.
To date, recordings of Keith's songs have sold more than 25 million copies worldwide. With 13 full-length albums released – and great success with his own publishing company, credited with signing John Kilzer to Geffen Records and the discovery of Todd Snider – Keith Sykes has proven to be nothing short of prolific.
And of course, he's not done just yet. Keith continues to tour relentlessly, and will release Songs From A Little Beach Town in 2016.
---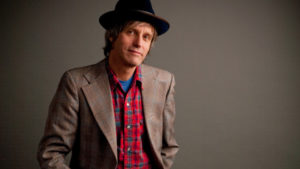 Steve Poltz – To suggest that Steve Poltz isn't normal is about as safe a statement as one could make. You would basically require the powers of the Hubble space telescope to locate Steve Poltz from any region of normalcy.
For music fans on both sides of the equator, this is a very good thing.
Born among the hearty seafaring folk of Canada's Halifax, Nova Scotia, Poltz has lived most of his life in Southern California, where the sun treated his rocky Canadian DNA like clothes in a dryer. Naturally a spectrum of cultural and emotional tensions arose and he eventually sought refuge in the art of songwriting, where he tapped into an unforgettable and often horrifying depth of unhinged genius.
Among the music cognoscenti, Steve Poltz is regarded as one of the most talented and prolific songwriters of our time. His songs have been among the longest running ever on the Billboard Top 100 and they regularly appear in movie soundtracks, television shows, and even the odd commercial. His touring schedule is ferocious, ping ponging between continents with enough frequency to earn him manic followings in scores of different accents and languages.
Any musician who has traveled as extensively as Poltz will have their share of colorful road stories, but Poltz' adventures read like a bucket list. Starting out auspiciously, Poltz recalls meeting Elvis Presley at a small airport and beaming proudly as The King hugged his sister for an inordinately long time. Growing up in Palm Springs, California, he trick-or-treated at Liberace's house and was Bob Hope's favorite altar boy. In an alcohol-soaked haze, he infamously accosted David Cassidy, who had summoned him to Las Vegas to write a hit song for the aging Tiger Beat cover boy.
His rich and colorful legacy is the stuff of legend, but it is his distinctive style of songwriting that has caused the world to offer up its stages, clubs, and alleys. Poltz' sound is entirely unique- from his inhuman fingerstyle techniques to the inimitable melodies that roll from his guitar like cool waterfalls, you know a Poltz song as soon as you hear it. To see Steve to perform live is one of the most entertaining shows a human could ever see. Frenzied, aggressive, hilarious, and heartbreakingly sincere, his live performances have become bona fide events, with sub-cultures popping up all over the globe to entice him to come and tour. As relentless as he is in concert, he is also the guy who famously co-wrote the timeless ballad "You Were Meant For Me" with platinum-selling songwriter Jewel. Of course, because we're talking about Steve Poltz, it should surprise no one to learn that the song was written on a lazy Mexican beach, where Poltz and Jewel were soon snapped up and sequestered by Mexican Federales and required to witness and eventually assist in a large marijuana bust on the beach. Don't believe it? See for yourself in the pictures on his web site.
Poltz, an ex high school wrestler (98 pound class), is also an obsessive baseball fan, a die-hard yoga practitioner, a hopeless romantic, a smart-ass philosopher and a child-like adventurer with an absurdist's view of the planet and all of its curious life forms.
Music fans have adored him since he first fronted the hallowed punk-folk legends, The Rugburns, whose live shows earned the band a following that is best described somewhere between the terms "cult" and "crazed substance-abusing fanatics." Once touring over 300 days a year, the Rugburns occasionally reunite for wildly popular sold-out shows.
Poltz' solo body of work is an impressive collection of ballads, rockers and uniquely melodic acoustic numbers that reflect his incomparable style of alternate tunings and savage finger picking techniques. Guitar geeks fall prostrate at his feet trying vainly to learn how to play his stunningly gorgeous and deceptively complex songs. To see him play guitar is a visual feast so frenetic that close proximity to his playing exposes one to risk of seizure.
His albums reflect the depth and expanse of his influences throughout the years (One Left Shoe, Chinese Vacation, Traveling and Unraveling). He has also released a children's album (The Barn), a performance DVD (Tales From The Tavern) and a collection of other recordings that defy categorization, such as Answering Machine – a 56-track collection of 45 second "songs" culled from his answering machine's outgoing messages. Neil Young has ranked it as a favorite album.
Steve Poltz's latest recording project brought him back to Halifax, where he collaborated with Joel Plaskett, an award-winning Canadian songwriter, performer, producer and eminently kindred spirit. The two holed up in Joel's Scotland Yard studio with a 2 inch,16 track analog tape machine, a 24 hour work ethic, their comfy clothes, and all the mojo they could conjure. The result was Dreamhouse," Steve's most accomplished and focused album to date. Critically acclaimed across the globe, it has been singled out by some critics as the 2010 Album of the Year.
His live shows have captivated audiences far and wide with a mix of singing, storytelling, shredding, and the occasional spoken word rants which have been known to incite riots. He can take an audience from laughter to tears and back again in the space of the same song. Steve Poltz transcends the word "talented." He is unforgettable in all the right ways.
---
*Doors open to the venue 20 minutes prior to showtime for VIP Pass Holders, 15 minutes prior for Weekend/Day Pass Holders and 10 minutes prior for at the door sales. Tickets at the door will cost $10. Fees will be added for credit card purchases.
Comments
comments
Powered by Facebook Comments