VIP Pass Only
April 26, 2018 – 6:30pm – 8:30pm – Two25 Events
To suggest that Steve Poltz isn't normal is about as safe a statement as one could make. You would basically require the powers of the Hubble space telescope to locate Steve Poltz from any region of normalcy.
For music fans on both sides of the equator, this is a very good thing.
Born among the hearty seafaring folk of Canada's Halifax, Nova Scotia, Poltz has lived most of his life in Southern California, where the sun treated his rocky Canadian DNA like clothes in a dryer. Naturally a spectrum of cultural and emotional tensions arose and he eventually sought refuge in the art of songwriting, where he tapped into an unforgettable and often horrifying depth of unhinged genius.
Among the music cognoscenti, Steve Poltz is regarded as one of the most talented and prolific songwriters of our time. His songs have been among the longest running ever on the Billboard Top 100 and they regularly appear in movie soundtracks, television shows, and even the odd commercial. His touring schedule is ferocious, ping ponging between continents with enough frequency to earn him manic followings in scores of different accents and languages.
Any musician who has traveled as extensively as Poltz will have their share of colorful road stories, but Poltz' adventures read like a bucket list. Starting out auspiciously, Poltz recalls meeting Elvis Presley at a small airport and beaming proudly as The King hugged his sister for an inordinately long time. Growing up in Palm Springs, California, he trick-or-treated at Liberace's house and was Bob Hope's favorite altar boy. In an alcohol-soaked haze, he infamously accosted David Cassidy, who had summoned him to Las Vegas to write a hit song for the aging Tiger Beat cover boy.
His rich and colorful legacy is the stuff of legend, but it is his distinctive style of songwriting that has caused the world to offer up its stages, clubs, and alleys. Poltz' sound is entirely unique- from his inhuman fingerstyle techniques to the inimitable melodies that roll from his guitar like cool waterfalls, you know a Poltz song as soon as you hear it. To see Steve to perform live is one of the most entertaining shows a human could ever see. Frenzied, aggressive, hilarious, and heartbreakingly sincere, his live performances have become bona fide events, with sub-cultures popping up all over the globe to entice him to come and tour. As relentless as he is in concert, he is also the guy who famously co-wrote the timeless ballad "You Were Meant For Me" with platinum-selling songwriter Jewel. Of course, because we're talking about Steve Poltz, it should surprise no one to learn that the song was written on a lazy Mexican beach, where Poltz and Jewel were soon snapped up and sequestered by Mexican Federales and required to witness and eventually assist in a large marijuana bust on the beach. Don't believe it? See for yourself in the pictures on his web site.
Poltz, an ex high school wrestler (98 pound class), is also an obsessive baseball fan, a die-hard yoga practitioner, a hopeless romantic, a smart-ass philosopher and a child-like adventurer with an absurdist's view of the planet and all of its curious life forms.
Music fans have adored him since he first fronted the hallowed punk-folk legends, The Rugburns, whose live shows earned the band a following that is best described somewhere between the terms "cult" and "crazed substance-abusing fanatics." Once touring over 300 days a year, the Rugburns occasionally reunite for wildly popular sold-out shows.
Poltz' solo body of work is an impressive collection of ballads, rockers and uniquely melodic acoustic numbers that reflect his incomparable style of alternate tunings and savage finger picking techniques. Guitar geeks fall prostrate at his feet trying vainly to learn how to play his stunningly gorgeous and deceptively complex songs. To see him play guitar is a visual feast so frenetic that close proximity to his playing exposes one to risk of seizure.
His albums reflect the depth and expanse of his influences throughout the years (One Left Shoe, Chinese Vacation, Traveling and Unraveling). He has also released a children's album (The Barn), a performance DVD (Tales From The Tavern) and a collection of other recordings that defy categorization, such as Answering Machine – a 56-track collection of 45 second "songs" culled from his answering machine's outgoing messages. Neil Young has ranked it as a favorite album.
Steve Poltz's latest recording project brought him back to Halifax, where he collaborated with Joel Plaskett, an award-winning Canadian songwriter, performer, producer and eminently kindred spirit. The two holed up in Joel's Scotland Yard studio with a 2 inch,16 track analog tape machine, a 24 hour work ethic, their comfy clothes, and all the mojo they could conjure. The result was Dreamhouse," Steve's most accomplished and focused album to date. Critically acclaimed across the globe, it has been singled out by some critics as the 2010 Album of the Year.
His live shows have captivated audiences far and wide with a mix of singing, storytelling, shredding, and the occasional spoken word rants which have been known to incite riots. He can take an audience from laughter to tears and back again in the space of the same song. Steve Poltz transcends the word "talented." He is unforgettable in all the right ways.
---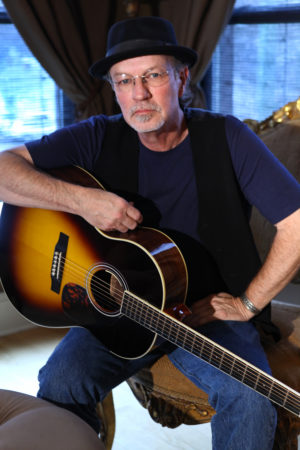 David Starr owns a thriving guitar store in the heart of Cedaredge, Colorado, yet he believes his most compelling instrument is his voice – a strong, beautiful baritone that is the cornerstone of his EP, The Head and Heart.
Starr wrote or co-wrote five of the six songs on The Head and Heart, which was produced and arranged by John Oates and recorded in Nashville. The longtime friends decided to let the recordings have some breathing room, while still giving the city's brilliant session players an opportunity to shine.
"I've always done my own producing and it was liberating to let someone else take the reins,"  Starr says. "I told John, 'I really want you to push me to sing better.' I have a tendency when I get in the studio to say, 'Yeah, that's in key and I got all the words right. Let's move on.' On a number of songs, he said, 'That's great. Get back in there and do it one more time.' I can hear where he pushed me a little bit."
The Head and Heart begins elegantly with "Edge of the World," which began as a story about the complexity of women, but also applies to the mysteries of music. The thoughtful title track conveys that dramatic distance between what you think and what you feel.
It was Oates' suggestion to include The Mamas & The Papas' classic "California Dreamin'." Without the familiar four-part harmonies of the original recording, Oates' atmospheric production draws attention to Starr's soulful singing.
"I like John's energy and his work ethic," Starr says. "He's willing to take a song and reimagine it in any number of ways. In other words, just because you're locked into hearing it a certain way doesn't mean that's the only way."
Starr's intriguing melodies elevate songs like "Waiting in the Dark," which alludes to the drug addictions that haunted a number of his friends in the 1980s. Meanwhile, "I've Come for You" hints at timeless late-night temptations. "Dancing With My Pride," co-written with his friend Bob Liepman at a songwriting workshop in California, is inspired by a character in a book written by his grandfather Fred Starr.
David Starr grew up in Northwest Arkansas and started playing drums at 10, then picked up guitar at 13. He has released eight albums (including The Head and Heart) and opened shows for Survivor, Clint Black, Restless Heart, The Marshall Tucker Band and The Guess Who.
He launched Starr's Guitars in Little Rock in 1998, then relocated to Cedaredge in 2001. Today, the store is such an institution that Cedaredge proclaimed the musician's birthday as David Starr Day in 2016. The year before, Starr released the album Love and Sabotage with special guests like John Oates, Richie Furay, Dana Cooper and Steve Cropper.
As with previous albums, Starr is planning to divide his time between operating his guitar store and touring internationally to attentive, appreciative audiences.
"In a perfect world, I would be playing in a room where everybody's listening," he says. "That's why I like a situation like a house concert or listening room because I like to tell a story. I like to talk about the inspiration behind the song. I just like connecting and that's what I hope to do with this new music."
---
Singer/songwriter Gracie Schram is already a veteran of the music industry. Since releasing her debut album at the age of 10, Gracie has continued to create and record music while developing her signature indie-pop sound that combines soulful vocals with subtle but powerful acoustics and soaring harmonies.
Her latest EP, entitled Dear Fall released September 2016 and features collaborations with producers Rick Seibold and Brad Corrigan (Dispatch). With wistful, achingly beautiful melodies, Gracie explores a new vulnerability as she sings of "stepping out from behind my shadow" in Walls and discovers the freedom of love and partnership in Anywhere You Go.
Dear Fall is just the latest in Gracie's illustrious music career which includes opening on tour for David Archuleta, as well as performing other opening acts for Ingrid Michaelson, Lauren Alaina and Crystal Bowersox. In addition to playing at numerous music festivals including SXSW, CMA Fest, Middle of the Map Fest, and Summerfest, Gracie was also a Featured Fridays Artist-In-Residence at the historic Hotel Phillips in her hometown of Kansas City. She has performed the national anthem at NFL, MLB, NASCAR and MLS games including all of her favorite KC teams. Always ready with her guitar, Gracie has even performed on Southwest Airlines flights. Her original CD, I Am Me was produced by Grammy-award winner Charlie Peacock (The Civil Wars, Kris Allen, Lone Bellow, Switchfoot) and released in 2015 while Gracie was still in high school.
But what sets Gracie apart isn't just her youth, talent, and style – it's her incredible sense of purpose. Ever since her debut album, Showers from God, a portion of the proceeds from Gracie's music is given to humanitarian causes amounting to more than $40,000 to date. It is her hope that her songs and her story will empower people to make a positive change in the world around them.
"I want people who hear my music to know that when you are your own true self, you can make a difference." 
---
Melody Pond is the song that dances on the water, echoes on the wind, and enchants your ear drums. It is a duo made up of singer/songwriters, Candy Lee and Emily Rowland, who take turns backing each other up on their songs, both vocally and instrumentally. Though Candy and Emily are each talented performers in their own right, magic happens when they perform together. The pair have a been singing together in various band formations for almost a decade, perfecting their tight, seamless harmonies. Their sound ranges from fun and powerful to honest and tender. Rooted in the earthiness of folk, Melody Pond keeps it fresh by merging modern indie influences with throwback moods of funk and blues, with jazz. The duo has been compared to modern artists Rising Appalachia, First Aid Kit, and The Ditty Bops.
---
Comments
comments
Powered by Facebook Comments